CLUB DELEGATE PROGRAM
We are in the process of recruiting active Pennsylvania Golf Association members, to be a Club Delegate for your club.
---
KEYSTONE PARTNERSHIP
The Keystone Partnership has been created by the Pennsylvania Golf Association in order that serious golfers can synergize with us in our efforts towards promoting Golf for the Commomwealth!

---
FAQS
Who and what is The Pennsylvania Golf Association? Check out Frequently Asked Questions (FAQs) for all your answers.
---
Pennsylvania Senior Amateur Public Links
Dauphin Highlands Golf Course
May 22, 2005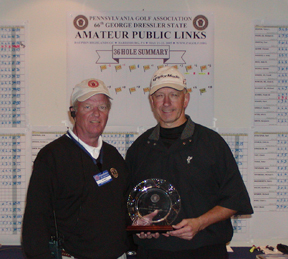 HARRISBURG, Pa. - The second round of the George Dressler Pennsylvania Senior Amateur Public Links was held on Sunday on the 6381-yard par 72 Dauphin Highlands Golf Course in Harrisburg, Pa. The course played firm and fast in the cool windy conditions.
Jack Fugal of Hidden Valley, Pa. held off Ed Strickler of Huntingdon, Pa. by one stroke. Fugal and Strickler were tied after yesterday's first round and both men came of firing at one another this morning, making birdies on Holes # 2 and 5 to shoot 1-under par 35 on the front nine. Strickler would falter on the back nine with bogies on holes # 10, 15 and 16 to open the door for Jack Fugal to capture the Championship.
Senior Amateur Results:
| | | | | |
| --- | --- | --- | --- | --- |
| Name | City | Rd. 1 | Rd. 2 | Total |
| Jack Fugal | Hidden Valley, PA | 75 | 73 | 148 |
| Ed Strickler | Huntingdon, PA | 75 | 74 | 149 |
| Earl Stoltzfus | Enola, PA | 80 | 76 | 156 |
| Ramo Cirignano | Huntingdon, PA | 78 | 78 | 156 |
| Terry L. Peiffer | Hummelstown, PA | 80 | 81 | 161 |
| Orvis E. Rowles, Sr. | Thompsontown, PA | 80 | 82 | 162 |
| Tom Balog | Lower Gwynedd, PA | 84 | 81 | 165 |
| Frank W. Schnee | Robesonia, PA | 89 | 86 | 175 |
[ Back ]