High Temperatures Bring Low Scores
As the temperature rose at Glen Oak Country Club, Dalinka and Mahlstedt rose above the field.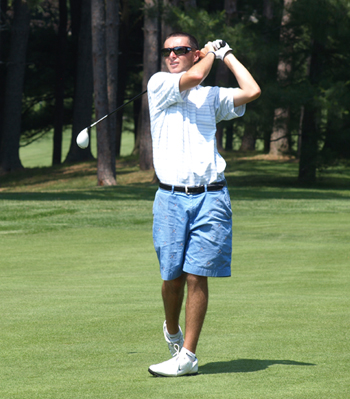 Brandon Dalinka hits this approach to the 18th
Clarks Summit, PA – The Northeast Qualifier at Glen Oak Country Club, would see temperatures reaching the mid 90's and two qualifiers carding subpar scores. Brian Mahlstedt, of Glen Oak country Club and a junior at the University of Pittsburgh, finished with a 2 –under 70.
"I played a solid round of golf," Mahlstedt said, " I hit mostly fairways and greens and had a bunch of 4-5 foot par putts to keep my round going."
A solid round of golf would be a drastic understatement; Mahlstedt would bogey just one hole (14th 411 yd. par 4 & 3rd most difficult hole statistically).
"I hit my driver into the trees on the 14th and played smart from there, " said Mahlstedt. "I chopped my second shot out into the fairway and took my medicine and took bogey."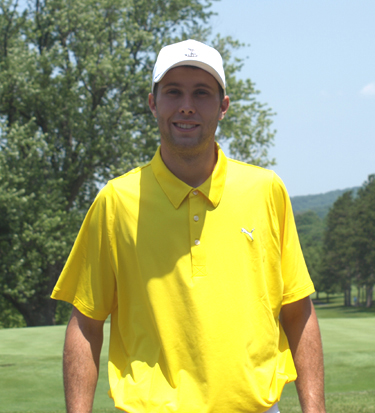 Brian Mahlstedt
Mahlstedt would finish strong on 18, laying up to play wedge to within twenty-five feet. He would stroke the twenty-five footer into the hole finishing with a birdie 4 and a solid 2 –under 70 for his round.
The day however, would belong to Brandon Dalinka. Dalinka, of The Ridge of Back Brook and a sophomore at the University of North Carolina, would turn in a tournament low 32 on his front nine, and take medalist honors with a 69.
"I played well for seventeen holes today," Dalinka commented. "I wanted to just qualify and felt I could. I played badly in the Philly Open qualifier and knew I needed to shoot around par here to qualify."
He would do just that. After birdies on the 2nd and 5th holes he would eagle the 7th (par 5 453 yards). The eagle would come after he blocked his tee shot right and be forced to make an impossible recovery shot onto the green. His second shot sailed over the green and he was just trying to save the hole with an up and down birdie. Instead, he chipped in from behind the green for an eagle 3 and headed to the turn at 4 –under.
He would start his back nine the way he finished his front. A birdie on 10 (par 3, 189 yards) would seem to be all he would need to keep his momentum going through the back nine.
That is until his tee shot on the 12th (par 4, 371 yards). "It was a bad shot," Dalinka said, "it was an easy hole though and I thought of it just like that and moved on to the next hole."
Dalinka would move on from the 12th and finish his round with five straight pars and a birdie on the 18th (par 5, 513 yards), to card a course leading 3 –under 69.
On the day, fourteen players would make the cut and qualify for the Amateur Championship at Rolling Green Golf Club. Six of the fourteen would finish their rounds with even par or lower, but the highlight of the day belonged to Fox Hill Country Club's Mariano Medico.
On 7, he would drive his tee shot into the rough and be forced with a decision to lay up or go at the pin. Medico took out his 4 hybrid and 1-hopped the 192-yard shot into the hole for a double eagle.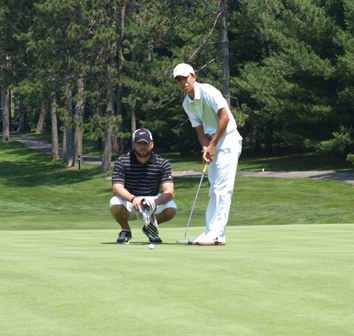 Mariano Medico and his caddie line up a putt
The Western Qualifier is next up for PAGA. The Club at Nevillewood will be hosting the 83-man field of which only 16 will qualify for the Amateur Championship.
A special thanks to the Glen Oak Country Club staff and superintendent for their hospitality and beautifully manicured course.
[ Back ]