Sean Knapp Wins First Senior POY Award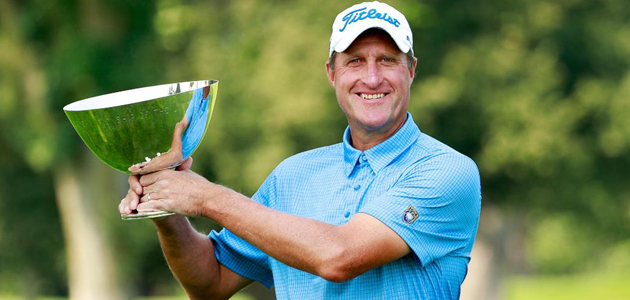 Sean Knapp poses with the U.S. Senior Amateur Trophy
BROOMALL, Pa. – In his first year of Senior division eligibility, Sean Knapp wasted no time entering the history annals by claiming his first W.C. Fownes, Jr. Senior Amateur Player of the Year honor. Knapp, who also won the Western Pennsylvania Golf Association's Senior Player of the Year, has been a model of incredible consistency throughout his career, compiling three Fownes Amateur Player of the Year awards (2004, 2010, 2012) to go along with a staggering 14 West Penn Amateur POY titles. However, one thing was missing on Knapp's resume, and in 2017, he finally got over the USGA hump with an impressive victory in the 63rd U. S. Senior Amateur at the Minikahda Club in Minneapolis, Minnesota.
Trying to sum up the satisfaction of his first national championship, Knapp said, "We'll smell the roses, no doubt. I made some deep runs in the past and came up just short. Particularly in the U.S. Mid-Am where I made the semifinals twice in a three-year span and lost both times. The next year, I'm 51 or 52 and playing the best golf of my life, and face Nathan Smith in the semifinals. Through about 14 or 15 holes, I'm 2up and eventually lose in extra holes. At that point it's getting a little late in your career and I kind of took a step back and made an inner-decision that it wasn't going to happen for me. In the semifinals this year, I certainly didn't take it for granted. I just always thought there would be another day. To come back and finally make it happen was very special, and it really frees up your game."
A key component to Knapp's first national triumph was a friend, roommate, fellow competitor, and eventual caddie, David Brown of Ligonier. Brown himself was medalist in the stroke play portion of the U. S. Senior Amateur and finished just 35 points behind Knapp in the Senior POY standings.
"Words can't express the gratitude I have toward Dave and I could not have won without him. When Dave grabbed the 1-seed and then lost in the round of 32, I was trying to offer him the car to get back to the airport the next day. He had none of it and just said, 'I'm going to stick around with you, I think something special is going to happen this week.' It's what golf is all about. Dave did every little thing right when he was on the bag, and little things done well become big things and that was the difference between winning and losing," said Knapp.
At the 14th R. Jay Sigel Match Play at Country Club of Scranton, Knapp and Brown roomed together throughout the event, both making deep runs in match play as Knapp eventually fell to Nathan Smith a semifinal match, then Brown lost to Smith in the final. Knapp and Brown had made an agreement over dinner that, whoever lost first had to travel outside the Pittsburgh area for a different U. S. Senior Amateur Qualifier, instead of competing against each other. When Knapp lost on Wednesday morning, he conceded to Brown that he would be the one going out of town to qualify. Brown was quick to stop him and said, "You're too late, I got up early this morning and registered for the Philadelphia area qualifier. You're staying in Pittsburgh."
"It's all humbling. To me, success is rooted in playing well and then let everything else take care of itself. As opposed to one shot at a time, just play well and don't focus on trying to do anything miraculous. It's great to win anything, but I look at the POY stuff as a process that unfolds on more of a tournament to tournament basis. I enjoy the camaraderie and the state Association, what they do, what they represent, and I look forward to it every year," concluded Knapp.
Knapp racked up a total of 792.5 points, highlighted by victories at the U. S. Senior Amateur, the Senior division of the Dressler at Indiana Country Club, a final four appearance in The Sigel, and a top five finish at the 58th Pennsylvania Senior Amateur at St. Clair Country Club.
W.C. Fownes, Jr. was the quintessential amateur golfer who led by example and whose good influence - personal and institutional - was extensive. W.C. Fownes' major golf credits include being a Pennsylvania Amateur and U.S. Amateur Champion, Walker Cup organizer, player and team captain, and USGA president.
The William C. Fownes, Jr. Amateur Player of the Year Award is given to the player that exemplifies the highest standards of excellence on the golf course in skill, sportsmanship, and etiquette in the Commonwealth of Pennsylvania.
Sean Knapp – What's in the Bag?
Driver – Titleist 917 D3 Diamana Red Shaft
3-Wood – Titleist 917 15* Diamana Red Shaft
Hybrid – Titleist 913H 19* Diamana White Shaft
Irons – Titleist 916MB 4-PW S300 True Temper Shafts
Wedges – Titleist Vokey SM6 54, 58, 62
Putter – Edel
Ball – Titleist Pro V1