Lutz and McCool Ride Birdie Train to Championship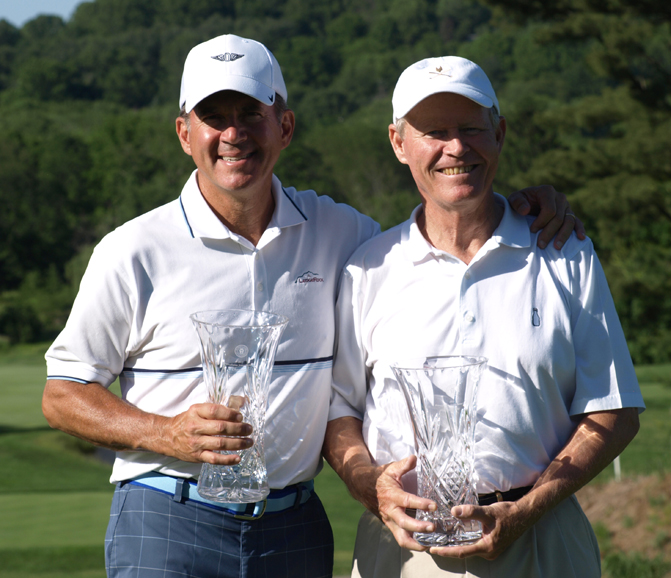 Chip Lutz (left) and Robin McCool
MALVERN, PA-Monday morning brought rain and wind to much ofthe greater Philadelphia area, but after just a short delay, play of the 21st Pennsylvania Senior Better-Ball Championship was underway at beautiful White Manor Country Club. The story of the day came in the morning wave, playing the front 9 with scattered showers before the sun broke through just before noon, Chip Lutz, of LedgeRock Golf Club, and Robin McCool, of Saucon Valley Country Club, birdied five of their last six holes on the front side to go out in 30 (5-under-par). They kept it going with a couple more birdies on the backside coming home in 34 (4-under-par) to post 7-under, 64, and a jolt to a first round lead.
The afternoon wave would see a few other teams enjoy the break from the rain and post red numbers. Frank Corrado and Wayne Bartolacci, of Jericho National Golf Club, used birdies on 3, 4, 6, 7, 11 & 17 en route to a 68 (3-under-par) and land themselves in Tuesday's final pairing with Lutz and McCool. Two-Time Senior Better-Ball Champions Tom Bartolacci, of Saucon Valley Country Club, and Roc Irey, of Lookaway Golf Club, also made a presence on the leaderboad in hopes of making a run for their third title. Two birdies on the backside helped Bartolacci and Irey post a 1-under par 70.
Frank Corrado (left) and Wayne Bartolacci
In the Super-Senior Division, defending champions Don Lamb, of Totteridge Golf Club, & Lee Lykens, of Clearfield-Curwensville Country Club, posted an even-par 71. Frank Polizzi, of Whitemarsh Valley Country Club, and Dave DeNezza, of Greensburg Country Club, jumped to the lead with a bogey-free 67 (4-under-par). Polizzi and DeNezza would be challenged by White Manor's own Don Donatoni and partner Mike Rose, of Talamore Country Club. Who shot 68 (3-under-par) in the first round. Two-time Super-Senior Better-Ball Champions and perennial contenders King Knox, of Lancaster Country Club, and Jim Sherratt, of Buck Hill Falls Golf Club, opened with a 72 (1-over-par).
Tuesday saw much brighter skies but appeared to bring some tougher scoring conditions as the golf course firmed up, the wind blew, and the field averaging scores over 2 strokes higher.
Lutz and McCool quieted any thoughts of being caught by the field by making birdies on both the 1st and 2nd holes. A birdie on the 8th would put Lutz and McCool into double figures at 10-under-par and a comfortable 7 stroke lead. After another birdie on the 11th, the pair would see their only blemish of the championship with a bogey on the challenging 405 yard, par-4, 16th, but would cruise to the clubhouse at 10-under-par and a 7 stroke victory over Tom Bartolacci and Roc Irey. Frank Corrado and Wayne Bartolacci would slip from 2nd to 3rd with a final round 72 (1-over-par). This was Chip Lutz's second Senior Better-Ball Championship after winning in 2010 with Gary Daniels, of Saucon Valley Country Club.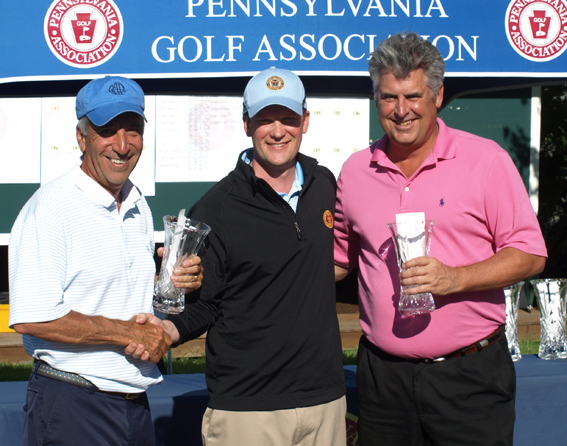 Tom Bartolacci (left) and Roc Irey (right) are awarded the 2nd Place
trophies from Tyler Riggin, Assoc. Dir. of Competitions
In the Super-Senior Division Polizzi and DeNezza held off Donatoni and Rose to claim their first Super-Senior Better-Ball championship. At the turn, Polizzi and DeNezza's lead had grown to 3 strokes after 3 bogies on the front by Donatoni and Rose. Their birdies on 11 & 12 gave them a larger cushion. A bogey on the par-3 14th would leave the duo with a 2-stroke lead. Pars on the final four holes gave them the trophy at 4-under-par for the championship.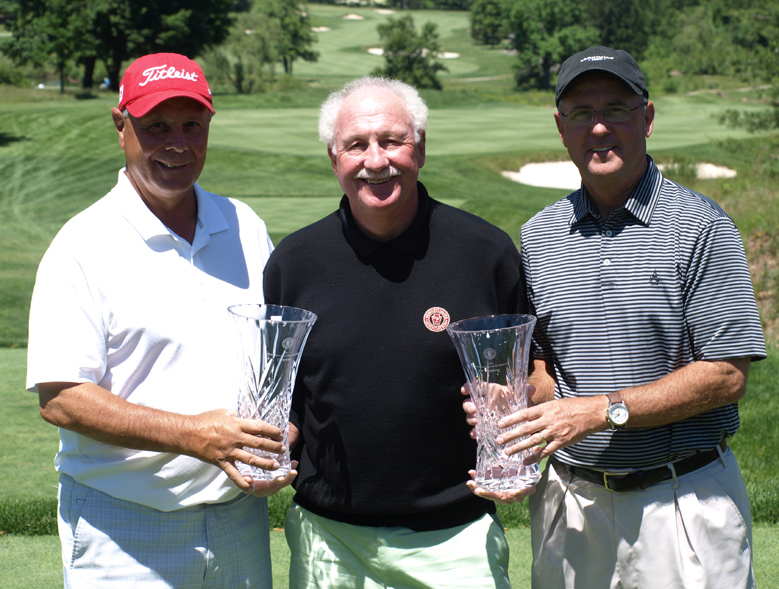 Dave DeNezza (left) and Frank Polizzi (right) are awarded the
Super-Senior Championship trophies from King Knox, Assoc. President
King Knox and Jim Sherratt, alongside the teams of Carl Everett, of Merion Golf Club, and William Lawler, of Fox Hill Country Club, and also the team of Jack Holland and Thomas Isola, of Whitford Country Club, would share 3rd place honors at 1-over-par for the championship.
The 22nd Pennsylvania Senior Better-Ball Championship will be hosted by Nemacolin Woodlands Resort in Farmington, PA on June 4-5, 2014.
[ Back ]