Great Scoring Conditions Lead to Low Scores
Both James Bea and Craig Hornberger took advantage of the slow and soft greens by shooting Tournament lows of 68.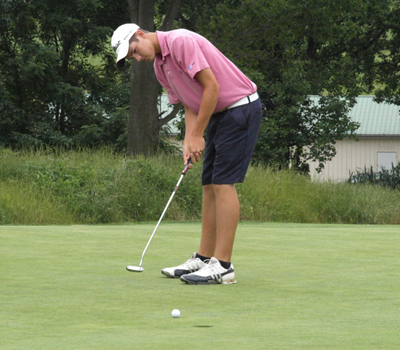 Craig Hornberger rolls this putt in on the 12th hole
West Chester, PA – It would take all day at the Concord Country Club for the Eastern Qualifying scores to go low. Both leaders would turn in an impressive score of 68 in a tournament where weather would not dictate the play, for once.
James Bea, of Spring Mill Country Club, and Craig Hornberger, of Lancaster Country Club, played their front nines almost identically. Hornberger & Bea would birdie 1 & 3, however Hornberger would turn in a 32 and Bea would turn in a 33.
"I got after it a little more on the front," said Bea. "I felt just as steady on the back. Got up and down. Made some par saves. Slipped up and made bogey's on 7 & 8, but made up for it on 9."
Bea did a little more than just slip up on 7. After hitting his drive down the middle he would have a fifteen footer for birdie and a three-stroke lead on Hornberger. Bea's birdie putt lipped out and left some work to save par. His work would go unrewarded however, as he carded his first birdie in thirteen holes. Bea would stumble again on the 8th (par 3, 183 yards), and hit his tee shot into the greenside bunker. A two-putt would leave him with a bogey 4 heading into the 9th (his final hole of the round).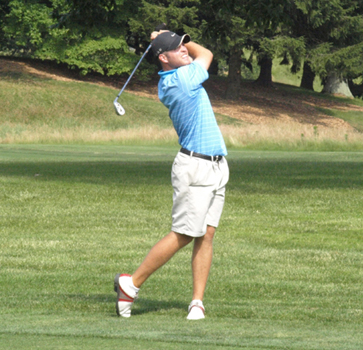 James Bea hits this approach to the ninth green
"I knew I had to recover on 9 and just make a solid shot," said Bea. He did just that finishing his round out by snuggling his second shot inside 20 feet for an easy two-putt par and a share of the tournament lead at 68.
Hornberger, fresh off of his junior year of high school, came in wanting to prove to himself, and any college coaches, that he is ready to play at the next level.
"I played pretty solid all day. I think I only missed one green on my front nine and maybe just as many fairways," Hornberger said.
He not only played his front nine solidly, he was able to overcome some adversity on the 16th. After crushing his drive, he duffed his second shot putting him in the front greenside bunker. Looking to get up and down for par, he failed to take into consideration just how loose the sand was and flopped his sand wedge a mere five yards onto the fringe, leaving him a long 20 foot par putt. He would narrowly miss his par putt and be tested by a daunting 4 footer. Much like Bea, Hornberger would stumble three holes from his finish. Hornberger's bogey putt lipped out and left him with his only double bogey of the day.
Hornberger would have his last two holes to make up those strokes. On 17, he would let his diver carry him up the slope and rely on his putting once again. He would hole out with a birdie 3, and look to the 18th to close his day out with a 3 under 68.
After crushing his driver down the left side of the fairway, he set himself up for an iron shot into the green and a possible eagle 3. Hornberger would play a conservative second shot leaving him a longer eagle putt, but a certain birdie two-putt. Hornberger would ease his eagle putt to within feet of the hole to close his round out with a birdie 4, and at the time, a tournament leading 68.
Not lost in the barrage of birdies and recovery shots made by Bea and Hornberger, were three scores of 69. Christopher Ault, George Henry, and Michael Beran all turned in impressive scores and performances.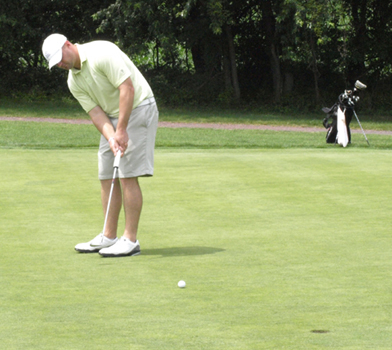 Chris Ault
Ault, a PAGA Individual Member, would play a consistent round of 18 making up for his mistakes with impressive saves and birdies. On 18, Ault would find his tee shot forty yards off the fairway in 3-foot tall grass. He composed himself and made a shot that would set up his par and lock in his final score of 69.
Henry, of Hartefeld National, played his front nine inconsistently and would turn a mediocre 37. After the turn, Henry appeared to be a completely different golfer. Henry would not have to worry about getting up and down or saving par for his last nine holes, as he would card a 32 and turn in the second best score of the day at 69.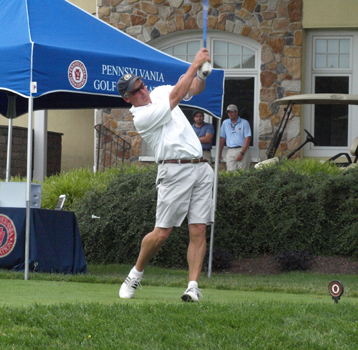 Michael Beran
Beran, of RiverCrest Golf Club & Preserve, would have an up and down front nine. He would trade a first hole birdie for a second hole bogey and then go on a string of pars before he would hole a birdie putt on 9 and turn at 34. The back nine would play exactly as his front with birdie, bogey, and a string of pars until the 17th. After his birdie on 17, Beran would play a disappointing second shot on 18 and leave a lot of work to be done to get to a final score of 68. An impressive recovery shot left Beran with a 20-foot birdie putt. He would come as close to the hole as he could without draining his birdie putt and settle for a second place 69 and a qualifying bid.
Twenty-five players qualified for the July 30th – August 1st Amateur Championship at the Rolling Green Golf Club. The cut line was an astounding 72 (+1) and held exactly twenty-five players. Of those twenty-five, fifteen were even par or better.
[ Back ]