Central Results; East Results; NE Results
Blustering Winds Carry Bangor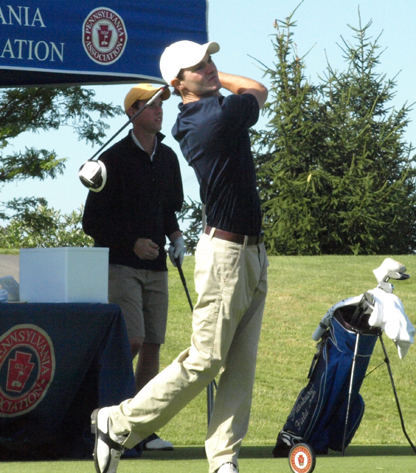 Ian Bangor on the 1st tee
Bridgeville, PA – Wind would be the dominant force at this year's Amateur Championship Qualifier (West) as the day would start with a light breeze gusting up to 10 mph and end with wind gusts exceeding 30 mph.
The morning players would turn in low scores on the front nine and out of these would emerge an overwhelming leader in Garrett Browning. Browning, of Cranberry Highlands Golf Course, turned in a course leading 32, 4 –under, and go out on his back nine as the favorite. Like much of the field, Browning would struggle on his back nine and end up carding an even par 72.
Browning would bogey three of his first five holes, including a disappointing bogey 6 on the 12th (par 5, 542 yards & 2nd easiest hole). Browning would hold onto his round and end up even par for the day after a birdie on the 15th (par 5, 533 yards & easiest hole) and finishing with two bogey's on 16 (par 4, 421 yards) and 17 (par 3, 181 yards). The highlight of Browning's round would come on the 18th (par 4, 440 yards) when he stroked his iron shot from the fairway on the green and over two water hazards for an easy two-putt to finish with an even par 4.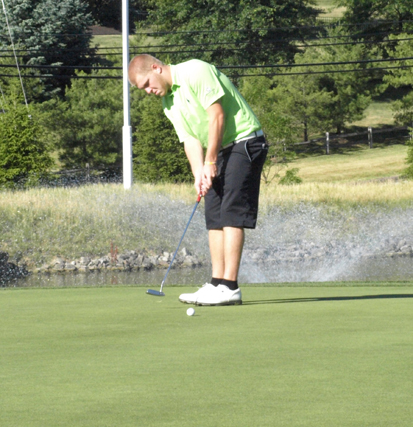 Garrett Browning
The day however, would belong to Ian Bangor from Sewickley Heights Golf Club. Coming off of a 12th place finish at the West Penn Amateur Championship, Bangor would play a shaky front nine carding an even par 36.
The uphill 10th, would have 30 mph wind gusts blowing into his face and pushing his tee shot down. This didn't phase Bangor as he drove the ball to within 100 yards of the green. His second shot would be one of the best shots all day as he came within feet of the hole and rolled in an easy birdie 3 to go 1 –under for his round.
Bangor would play the rest of his round consistently, including a birdie on 13th (par 3, 203 yards) and a bogey on the 17th, which would lead him into the 18th, the day's most difficult hole, averaging one stroke over par. Bangor would play the hole superbly by crushing his drive down the middle of the fairway and set himself up for an iron shot into the middle of the green and allow himself to two-putt for par.
"It's a huge fairway. And to carry the fairway bunker was 260 but with the wind blowing the way it was, it brings it into play. I hit a good drive down there. And I think I had about 160 yards but the wind was really blowing. I actually hit a little 4-iron, just because of how hard the wind was blowing and of course you can't miss short. I got the distance to the tier in the middle of the green and tried to hit it into the tier. I had about a 35-40 footer and I basically just touched it and it rolled down the hill, past the hole. That hole was just good par, given the conditions," said Bangor after his round.
He would finish his round with a 1–under 71, and medalist honors for the Amateur Championship Qualifier (West).
In addition to Browning and Bangor, seventeen other players qualified for this year's 99th Amateur Championship at Rolling Golf Country Club. Among these players were brothers Ronald and David DeNunzio and Justin Miller.
The DeNunzio's, of Greensburg Country Club, finished off a challenging week of golf after competing for the West Penn Amateur Championship in addition to the PA Amateur Qualifier.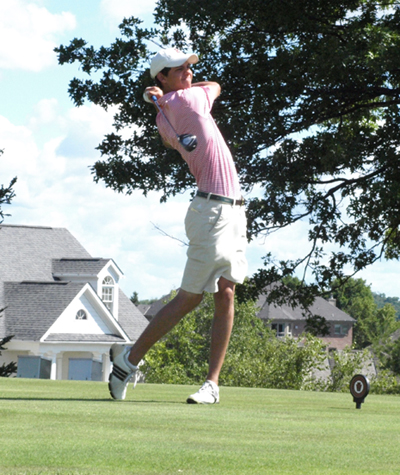 Justin Miller
Justin Miller would come into the event after a tie for 13th place at the West Penn Amateur Championship. Miller started his front nine off in disappointing fashion by making an 8 on the 2nd (par 4, 452 yards). He would save his front nine with two birdies and a 2 –over 38. Miller would qualify for the Amateur Championship with a 1 –over 37 on the back nine and a tie for 14th place.
A special thanks to The Club at Nevillewood staff and superintendent for their hospitality and phenomenally prepared course.
[ Back ]