66th George Dressler
Pennsylvania Senior Amateur Public Links
May 22, 2005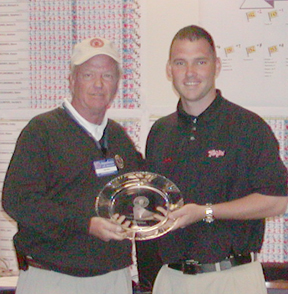 HARRISBURG, Pa. - The second round of the 66th George Dressler Pennsylvania Amateur Public Links was held on Sunday on the 6847-yard par 72 Dauphin Highlands Golf Course in Harrisburg, Pa. The course played firm and fast in the cool windy conditions. The field of 88 consisted of 80 Amateurs and 8 Senior Amateurs.
Late in the day on Sunday afternoon it was two familiar faces that showed up on top of the leader board looking to grab their 2nd Pennsylvania State tile. Jeff Daniels of Harrisburg, Pa. a newly reinstated amateur and 2001 Pennsylvania Open Champion and Peter Toole of Mt. Joy, Pa., the 2001 Pennsylvania Amateur Champion but it was Toole that would take the crown.
Toole carded five birdies and four bogeys in his final round, playing his last five holes 2-under par, to shoot a 1-under par 71 and edge out Jeff Daniels by one stroke.
| | | | | |
| --- | --- | --- | --- | --- |
| Amateur | | | | |
| Name | City | Rd. 1 | Rd. 2 | Total |
| Peter Toole | Mt. Joy, PA | 72 | 71 | 143 |
| Jeff Daniels | Harrisburg, PA | 72 | 72 | 144 |
| Alex Knoll | Bethlehem, PA | 73 | 73 | 146 |
| Andrew Boyle | Etters, PA | 70 | 76 | 146 |
| David Dankmyer | Gibsonia, Pa. | 73 | 73 | 146 |
| Matthew B. Mackley | Mechanicsburg, PA | 76 | 70 | 146 |
| Matthew Nesbit | Canonsburg, PA | 71 | 75 | 146 |
| Richard Mottura | Vandergrift, PA | 73 | 73 | 146 |
| Chuck Tait | Harrisburg, Pa. | 72 | 75 | 147 |
| Kevin Haag | Hummelstown, PA | 76 | 71 | 147 |
| Timothy Murphy | Greensburg, PA | 74 | 74 | 148 |
| Chris A. Storck | Sinking Spring, PA | 74 | 75 | 149 |
| John McNair | Harleysville, PA | 76 | 73 | 149 |
| Michael Schmidt Jr. | Palmyra, Pa | 73 | 76 | 149 |
| Derek McCarty | Mout Joy, PA | 71 | 79 | 150 |
| Greg A. Johnson | York, PA | 73 | 77 | 150 |
| Thomas S. Kefalas, III | South Williamsport, PA | 73 | 77 | 150 |
| James Bohn | Lewisburg, PA | 76 | 75 | 151 |
| Mark Leaman | Lancaster, PA | 74 | 77 | 151 |
| Richard E. Piger, III | Orefield, PA | 78 | 73 | 151 |
| Scott Kuhnle | Downingtown, PA | 75 | 76 | 151 |
| Erik Goserud | Landisville, PA | 78 | 74 | 152 |
| Erek A. Bylinowski | Sarver, PA | 80 | 73 | 153 |
| Frank Rinker, III | Bloomsburg, PA | 78 | 75 | 153 |
| Jerry Harvey | Hummelstown, PA | 76 | 77 | 153 |
| Jordan J. Griggs | South Williamsport, PA | 80 | 73 | 153 |
| Keita Aoki | Lewisburg, PA | 76 | 77 | 153 |
| Patrick M. Garrison | Folsom, Pa | 79 | 74 | 153 |
| Aric E. Sites | Shippensburg, Pa. | 74 | 80 | 154 |
| Mark Kuehner | Elizabeth, PA | 76 | 78 | 154 |
| Nate M. Reck | Lancaster, PA | 78 | 76 | 154 |
| Craig Costik | Middletown, PA | 79 | 76 | 155 |
| Jud Gemmill | East Petersburg, PA | 77 | 78 | 155 |
| Rich Nuse | Morgantown, PA | 76 | 79 | 155 |
| Stephen J. Boerner | Bethlehem, PA | 80 | 75 | 155 |
| Wally Bylinowski | Sarver, PA | 77 | 78 | 155 |
| Michael A. Bieler | Pottstown, PA | 79 | 77 | 156 |
| Bob Cunningham | Wayne, PA | 78 | 79 | 157 |
| Dustin S. McCormick | East Stroudsburg, PA | 83 | 74 | 157 |
| David C. Sirolly | Hummelstown, PA | 75 | 83 | 158 |
| Phil D'Amato | Harrisburg, PA | 79 | 79 | 158 |
| Steve Brenner | Lancaster, PA | 83 | 76 | 159 |
| Gary L. Dolan | Lock Haven, PA | 78 | 82 | 160 |
| Shane Cox | Boiling Springs, PA | 79 | 82 | 161 |
| Chuck Britton | Dillsburg, PA | 80 | 82 | 162 |
| Darren Riddle | Harrisburg, PA | 82 | 80 | 162 |
| Graham J. Desmond | West Chester, PA | 79 | 83 | 162 |
| Mark Searer | Thompsontown, PA | 80 | 83 | 163 |
| Michael Beskid | Harrisburg, PA | 83 | 80 | 163 |
| Robert Howell | New Cumberland, PA | 84 | 79 | 163 |
| Kyle McCandless | Landisville, PA | 84 | 80 | 164 |
| Kevin P. Lynch | Lewisburg, PA | 79 | 86 | 165 |
| Richard Webber | Palmyra, PA | 82 | 84 | 166 |
| Ryan Moran | Hershey, PA | 81 | 87 | 168 |
| Ben Ingles | Gap, PA | 87 | 82 | 169 |
| Brent Wily | Readng, PA | 84 | 85 | 169 |
| Michael C. Trymbiski | Chalfont, PA | 87 | 82 | 169 |
| Michael Millar | Norristown, PA | 85 | 84 | 169 |
| Douglas King | Lewistown, PA | 85 | 85 | 170 |
| J. Andy Ranieri | Harrisburg, PA | 84 | 86 | 170 |
| James J. Hayduk | Johnstown, pa | 85 | 85 | 170 |
| Matthew Lausch | Lancaster, PA | 85 | 85 | 170 |
| Bruce J. Gwin | Hershey, PA | 88 | 83 | 171 |
| Brian T. Alling | Lansdale, PA | 89 | 83 | 172 |
| Chad L. Wike | Lebanon, PA | 88 | 85 | 173 |
| Henry Wadsworth | Warrington, PA | 83 | 92 | 175 |
| Steven T. Brown | Palmyra, PA | 83 | 92 | 175 |
| Jerrold K. Clinton | Sellersville, PA | 88 | 88 | 176 |
| Matt A. Forrer | Lancaster, PA | 91 | 88 | 179 |
| Geoffrey C. Walsh | Newtown, PA | 87 | 94 | 181 |
| John Trevisani | West Chester, PA | 89 | 93 | 182 |
| Tom Prestia | Easton, PA | 85 | 97 | 182 |
| Benjamin Smith | Lancaster, PA | 78 | WD | WD |
| Brian M. Gardner | Chester Springs, Pa | 80 | WD | WD |
| Vincent Quinn | Lancaster, PA | 83 | WD | WD |
[ Back ]