President's Letter
February, 29, 2020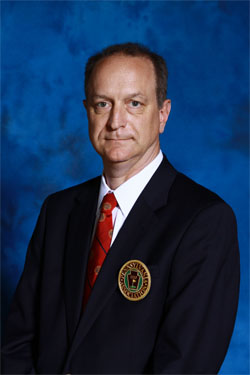 Dear fellow Golfers:
It is truly an honor to serve as President of the Pennsylvania Golf Association for 2020. At the PAGA, we have one central responsibility, and that is to organize and conduct the best statewide championship events possible for golfers throughout the Commonwealth. This is only accomplished through the generous support of our players, volunteers, staff, host venues and sponsors.
As we approach the start of the new season, I would like to highlight a few items of interest.
I would like to welcome our new title sponsor in DICKS'S Sporting Goods. DICK'S Sporting Goods will be the title sponsor for every event on the Association schedule. We are very fortunate to join DICK'S in this partnership and truly appreciate their support of golf in Pennsylvania. In addition, DICK'S will join event host UPMC Pinnacle in support of the Junior Championship and Women's Amateur Championship, as well as other Harrisburg-area qualifying events.
Given the completion of the merger with the Pennsylvania State Women's Golf Association in 2018 and the addition of two new events, we now offer state championship events for both men and women and players of all ages. In 2019, we held the inaugural Mixed Team Championship and added a Parent-Child division to the existing Father-Son Championship. In 2020, we are excited to implement the first Pennsylvania Senior Open Championship hosted by Lehigh Country Club.
There will also be a change of format for the 84th Women's Amateur Championship. The Women's Amateur will now consist of 36 holes of stroke play over two days for the Senior (50 years of age or older) and Super-Senior (65 years of age or older) divisions, as well as the newly created Middle-Amateur (25 years of age or older) division. The Women's Amateur Championship division will be 54 holes of stroke play over three days. This year's Women's Amateur will be held at Lebanon Country Club. Our women's schedule will also add a Senior Match Play Championship to be held concurrently with the men's edition at Radnor Valley Country Club.
Even more events of interest include the 107th Amateur Championship returning to a freshly renovated Seth Raynor design at Fox Chapel Golf Club, and the 104th Open Championship stopping next door at famed Oakmont Country Club. Both are sure to be popular and true tests of championship golf.
For those of you who have been playing in our events for many years, you have probably become conditioned to our past practice of tournament entries for all of our events opening on April 1. Please be aware that for 2020, entries for the Dressler and the Senior Open will begin this weekend, March 1.
That leads me to my final item to highlight. Please be aware of our new event registration process. We will be utilizing the USGA Tournament Management software powered by Golf Genius. To link to the new registration process, click here: New Registration Link
I am very excited to get the 2020 championship season underway. I hope you will all find time to play in one or more of our events, and I look forward to seeing you on the course.
Yours in Golf,
Jason Barkley
Recent Letter Archives