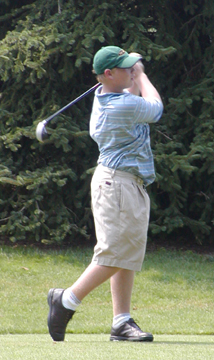 To ensure that its junior competitions are enjoyed by all and are in keeping with the traditions of the game, the Pennsylvania Golf Association requires competitors in these events to follow a Code of Conduct on and off the course while present at host facilities.

1) Competitors will be in violation of this Code of Conduct if they engage in abusive language, club throwing, disrespect of volunteers or officials, abuse of the golf course, smoking or chewing tobacco products, use of drugs or alcohol, not adhering to the dress code during any practice or tournament round, leaving the course during a competitive round without permission of an official, vandalism, abusive behavior to employees of host facilities, and otherwise failing to conduct themselves in keeping with the game's traditions, which include respect for fellow competitors.

2) Proper attire is required at all times at the host golf facility. The dress code prohibits short shorts, cargo shorts, tank tops, denim shorts and jeans. All hats/visors must be worn in their traditional style (brim to the front), males must remove hats and visors while inside the clubhouse, collared shirts must be worn and all shirts must be tucked in. Players should always be aware of the dress requirements of each event in which they compete and dress accordingly.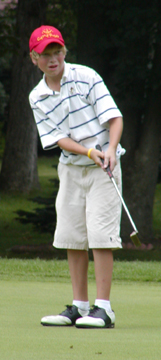 3) The Championship Committee of the Pennsylvania Golf Association may assess any or all of the following penalties based on the severity of the Code of Conduct violation:
Issue a written letter of warning to the player and his parents.
Rejection of entry or entries of the player including during the competition. i.e. Removal of a player from the course.
Suspend the player's eligibility for future events for a specified period or for an indefinite period.
In the event of suspension, the player and a parent or guardian will be required to submit a written account of the Code of Conduct violation to the Championship Committee within 30 days of the suspension. The Committee will review all submitted materials and then determine the length of the suspension. Any player whose eligibility is under suspension will not be eligible for any team or post-season honors of the association.
The Association may refuse to accept entries in tournaments it sponsors from players who have violated the Code of Conduct at tournaments sponsored by other associations and organizations.
PA JUNIOR CHAMPIONSHIP CADDIE POLICY
A player is prohibited from having a caddie over the age of 18 years old serve as his/her caddie during the stipulated round.

Penalty for Breach of Condition:

Stroke play – Two strokes for each hole at which any breach occurred; maximum penalty per round – Four Strokes (two strokes at each of the first two holes at which any breach occurred). A player having a caddie in breach of this condition must immediately upon discovery that a breach has occurred ensure that he/she conforms with this condition for the remainder of the stipulated round. Otherwise, the player is disqualified.