Sigel Amateur Match Play Championship Set for Stonewall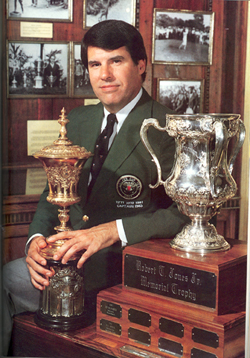 In 2004 the Pennsylvania Golf Association honored the legacy of R. Jay Sigel, arguably, the top amateur golfer ever born and raised in the Commonwealth of Pennsylvania by adding the R. Jay Sigel Amateur Match Play to its Championship calendar.
Sigel's many victories include 17 Pennsylvania state, five USGA and eight Champions Tour titles along with nine U.S. Walker Cup appearances. The former two-time U.S. Amateur and three-time U.S. Mid-Amateur Champion is a partner at Stonewall.
The 2nd annual R. Jay Sigel Match Play championship will be held May 2-4, at Stonewall in Elverson, Pa.
The Championship will be played on Stonewall's tough, rolling terrain dominated by tall fescue rough, five demanding par 3s and striking fairway vistas along 400-yard plus par 4s. Stonewall is currently ranked 61st by Golfweek's 100 Best Modern Courses.
The Amateur Match Pay is limited to 32 contestants. The field will consist of the top 31 players on the 2004 William C. Fownes, Jr., Amateur Player of the Year standings and the host facility's Club Champion.
The first two rounds of competition will take place on Monday, May 2, with quarterfinals and semifinals on Tuesday, May 3 and the 18-hole final on Wednesday, May 4.
In the inaugural Sigel Championship last year at Aronimink, Kyle Davis, a Unionville High School junior, defeated Greg Pieczynski, a junior at Penn State University, 5&4.
Entries are available on the Pennsylvania Golf Association's web site: www.pagolf.org. Deadline is April 20, 2005.
Sigel's Pennsylvania State Victories:
(17) 1960 Junior. 1961 Junior. 1962 Amateur. 1966 Amateur. 1968 Amateur. 1972 Amateur. 1973 Amateur. 1974 Amateur, Open. 1975 Amateur. 1976 Amateur. 1978 Amateur, Open. 1979 Amateur. 1981 Amateur. 1983 Open. 1990 Open.
Sigel's Amateur Victories:
(15): 1975 Porter Cup. 1976 Sunnehanna Amateur. 1978 Sunnehanna Amateur. 1979 British Amateur. 1981 Porter Cup. 1982 U.S. Amateur. 1983 U.S. Amateur, U.S. Mid-Amateur. 1984 Northeastern Amateur. 1985 U.S. Mid-Amateur, Northeastern Amateur. 1987 Porter Cup, U.S. Mid-Amateur. 1988 Sunnehanna Amateur. 1991 Northeastern Amateur.
Sigel's Champions Tour Victories:
(8) 1994 GTE West Classic. 1996 Energizer Tour Championship. 1997 Bruno's Memorial Classic, Kroger Senior Classic. 1998 Bell Atlantic Classic, EMC Kaanapali Classic. 2002 Farmers Charity Classic. 2003 Bayer Advantage Celebrity Pro-Am.
[ Back ]