Quartet tied at 3-under-par 68 after
Day One of Amateur Championship
PAOLI, Pa.–A former winner, a talented collegiate and a pair of teenage upstarts sit atop the 96th State Amateur Championship leaderboard after Monday's first round. Zachary Herr, 14, of Jericho National GC; Michael Kania, 18, of Overbrook GC; Tony Perla, 21, of Radnor Valley CC and 2002 champion Nathan Smith, 31, of Pinecrest CC, all carded 3-under-par 68s at Waynesborough CC (par 71, 6,918 yards) on a picture perfect summer day. In all, 20 of the 110 players competing carded rounds of even par or better.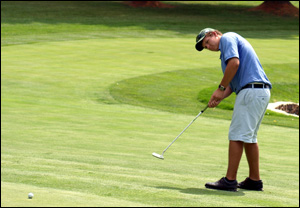 Zach Herr putts through
the fringe on No. 10.
Round 2 of the Amateur Championship begins at 7:30 a.m. tomorrow. The field will then be cut to the low 40 players and ties for Wednesday's third and final day.
"It's a really tough course. If [the course] keeps drying out, scores will go through the roof," said Smith, a runner-up in the last two Amateurs and three times overall. "You had to take advantage today. It's one of those 54-hole tournaments that's such a sprint. Everybody gets bottled up. It's always pretty exciting."
A total of 40 players stand within five shots of the lead.
"I wasn't thinking about going and winning it in the first two days," said Kania, a soon-to-be freshman at the University of Kentucky. "You want to put yourself in a good spot so Wednesday you can have a chance."
All four leaders did the things needed to be in front of a tournament, especially at a place like Waynesborough CC with its large and challenging undulating greens.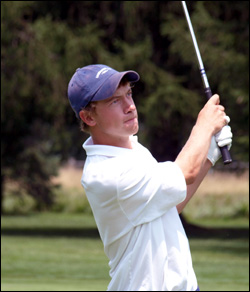 MICHAEL KANIA
Smith, of Pittsburgh, Pa., opened with four birdies and a bogey on his first nine holes – he started on the back – and registered zero three putts. Kania, of Haverford, Pa., too, didn't record a three putt en route to five birdies and two bogeys and Herr, of New Hope, Pa., hit 17 of 18 greens and 12 of 14 fairways. He had five birdies and one double bogey. Perla, of Collegeville, Pa., didn't post a three putt either and netted six birdies, a bogey and a double bogey.
"My plan was to go out and hit fairways and greens and the putts will fall," said Herr, an incoming freshman at Council Rock High School North.
Smith, competing in his first event since a Top 12 finish in the prestigious Porter Cup last week, opened his day with a bogey on No. 10 (par 4, 457 yards) when he pulled an 8-iron into the left greenside bunker. However, the smooth-swinging Smith registered four birdies in his next five holes to make the turn at 3 under. He hit a 30-yard chip on No. 12 (par 4, 341 yards) to eight feet; knocked a 100-yard sand wedge on No. 13 (par 4, 401 yards) to 10 feet; got up-and-down after coming up just short in two shots on the par 5, 15th hole (554 yards) and sent a 9-iron from 160 yards to 10 feet on No. 16 (par 4, 436 yards). Smith birdied No. 2 (par 4, 407 yards) with a 9-iron from 145 yards to 15 feet to get to 4 under, but missed a short par chance on No.3 (par 4, 441 yards) to give the shot back. He finished with six straight pars.
"I got some nice looks and was able to make a couple of putts," said Smith. "I made bogey on No. 10 from the middle of the fairway and was like oh boy. I made birdies on Nos. 12-13 and Nos. 15-16 and all of a sudden I was off and running."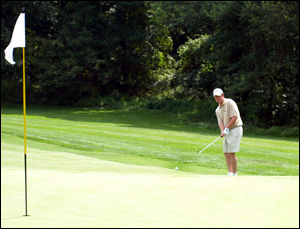 Nathan Smith sends a chip shot toward No. 3.
Kania, a recent graduate of the Haverford School and a two-time Inter-Ac League champion, carded three birdies on his front nine – a 9-iron from 143 yards on No. 2 (par 4, 407 yards); a nice 10-foot downhill sliding putt on No. 5 (par 4, 420 yards) and a short putt on No. 7 (par 4, 547 yards) after almost reaching the green in two – before finding the rough off the No. 9 (par 4, 447 yards) tee for bogey. Kania hit a 9-iron on No. 13 from 135 yards to 10 feet for birdie but knocked his 7-iron over the green on No. 14 (par 3, 175 yards) and failed to get up-and-down for a bogey. He birdied No. 15 when he two putted after just reaching the very front before finishing with three straight pars.
Herr, the youngest competitor in the field, birdied No. 6 (par 3, 195 yards) when he hit a 5-iron to five feet; No. 8 (par 4, 373 yards) with a gap wedge from 126 yards to 10 feet and No. 9 with a 9-iron from 145 yards in the right rough to three feet. He double bogeyed No. 11 (par 4, 420 yards) when his approach landed over the green and subsequently three-putted from 70 feet but answered with birdies on No. 16 (par 4, 436 yards) with an 8-iron from 160 yards to a foot and a 30-yard flop shot on the final hole, No. 18 (par 5, 539 yards), that also stopped a foot away.
Earlier this year, Herr finished second in the Junior Boys' Championship, falling to Tucker Koch of RiverCrest GC & Preserve, in a one-hole playoff.
Herr, Kania and Smith all began their rounds in the morning.
Perla, off in the second wave of the day, was the lowest afternoon finisher.
The Northwood University senior recorded three birdies on the front side – he hit wedges on No. 3 (par 4, 441 yards) and No. 5 to a foot and drained a 35-footer on No. 7 before getting a little wild on the back nine.
On No. 10, he recorded his first bogey of the day when his drive found the right trees. On No. 11 (par 4, 420 yards), his 6-iron from 195 yards stopped eight feet away but in a difficult sidehill position, yet he still made the birdie try. He hooked his drive left on No. 12 into the fescue and never found it before recording a double bogey but carded back-to-back birdies on Nos. 14 and 15 to get back to 3-under par. He made a nice 15 footer on the par 3, 14th after just missing the green left and chipped up his third shot on the par 5, 15th to a foot for another red figure.
"I've led after 18 holes in a college event before," said Perla, "but this is just more of a positioning day."
Perla said he played better in the spring semester for his NAIA school located in West Palm Beach, Fla., and was in contention for his conference title until the final day.
This is the first Amateur Championship for Herr, Kania and Perla.
Last year's champion, Michael Van Sickle of Treesdale G&CC, is not defending his title. He is competing in the Nationwide Tour event in Columbus, Ohio, this week.
| | |
| --- | --- |
| Name, club | Score |
| Zachary C. Herr, Jericho National Golf Club | 68 |
| Michael Kania, Overbrook Golf Club | 68 |
| Nathan Smith, Pinecrest Country Club | 68 |
| Tony R. Perla, Radnor Valley Country Club | 68 |
| Chad N. Warmbein, Rolling Hills Country Club | 69 |
| James P. Bea, Spring Mill Country Club | 69 |
| Christopher W. Ault, Yardley Country Club | 69 |
| Daniel R. Charen, Yardley Country Club | 69 |
| Conrad Von Borsig, Concord Country Club | 70 |
| Nathan Sutherland, Golden Oaks Golf Club | 70 |
| Eric W. Williams, Honesdale Golf Club | 70 |
| Brandon Detweiler, Lancaster Country Club | 70 |
| Tucker Koch, RiverCrest Golf Club & Preserve | 70 |
| Chad A. Bricker, Waynesboro Country Club | 70 |
| Matt Moot, Windber Country Club | 70 |
| Ed Chylinski, Chester Valley Golf Club | 71 |
| Robert T. Rohanna, Nemacolin Woodlands Resort | 71 |
| Cory M. Siegfried, Philadelphia Country Club | 71 |
| Matthew E. Mattare, Saucon Valley Country Club | 71 |
| Jeffrey L Griest, Waynesborough Country Club | 71 |
| Chris G. Esbenshade, Bent Creek Country Club | 72 |
| Brian Belden, Jr., Brookside C.C. of Allentown | 72 |
| Matt Vogt, Connoquenessing Country Club | 72 |
| Michael J. Vassil, Country Club of Scranton | 72 |
| Jon Pratkanis, Kittanning Country Club | 72 |
| Zak Drescher, Lancaster Country Club | 72 |
| Timothy L. Hager, Lookaway Golf Club | 72 |
| Anthony D. DeGol, Scotch Valley CC | 72 |
| Artie Fink, Jr., Sinking Valley Country Club | 72 |
| William Miller, St. Clair Country Club | 72 |
| Andrew Guaraldo, Waynesborough Country Club | 72 |
| Brian C. Creghan, Blue Bell Country Club | 73 |
| Jeff L. Frazier, Carlisle Country Club | 73 |
| Travis J. Howe, Corey Creek Golf Club | 73 |
| Adam Hofmann, Fox Chapel Golf Club | 73 |
| Christian S. Davis, Glenmaura National Golf Club | 73 |
| Ryan Schneiter, Lebanon Country Club | 73 |
| Chip Lutz, LedgeRock Golf Club | 73 |
| James Kania, Jr., Overbrook Golf Club | 73 |
| Kevin J. Reiber, Penn National Golf Club | 73 |
| Christopher L Schultz, Squires Golf Club | 73 |
| Brian P. Gillespie, St. Davids Golf Club | 73 |
| Stephen Dressel, St. Davids Golf Club | 73 |
| Matt Smith, Whitford Country Club | 73 |
| James M. Gardas, Honesdale Golf Club | 74 |
| Sean Sweithelm, Indiana Country Club | 74 |
| Kevin Huntington, Penn Oaks Golf Club | 74 |
| Jeff Benton, PGA Individual Member | 74 |
| P. Chet Walsh, Philadelphia Country Club | 74 |
| Sam Pancoast, Radley Run Country Club | 74 |
| Gregor A. Orlando, The Kahkwa Club | 74 |
| Frank Fairman, Totteridge Golf Club | 74 |
| Mark D. Miller, Yardley Country Club | 74 |
| Arnie Cutrell, Greensburg Country Club | 75 |
| Joe Bevevino, Huntsville Golf Club | 75 |
| Scott R. Klee, Indian Valley Country Club | 75 |
| Pierce Dever, Jericho National Golf Club | 75 |
| David DeNunzio, Latrobe Country Club | 75 |
| Christopher Storck, Moselem Springs Golf Club | 75 |
| Clayton C. Rotz, Penn National Golf Club | 75 |
| Dan Brown, Pine Meadows Golf Complex | 75 |
| Scott McNeil, Scranton Municipal Mens Golf Association | 75 |
| Eric A. Plisko, Wyoming Valley Country Club | 75 |
| Alexander Maguire, Jr., Brookside Country Club | 76 |
| Anthony J. DeNicco, Brookside Country Club | 76 |
| Al R. Kline, Jr., Bucknell Golf Club | 76 |
| Glenn Smeraglio, Commonwealth National Golf Club | 76 |
| Ryan P. Castanet, Hickory Heights Golf Club | 76 |
| Michael Domenick, Phoenixville Country Club | 76 |
| John A. Brennan, Spring Ford Country Club | 76 |
| Kevin M. Genuardi, Cedarbrook Country Club | 77 |
| Matthew Rebitch, Hannastown Golf Club | 77 |
| Brendan M. Borst, Hickory Heights Golf Club | 77 |
| Robert B. Galbreath, Jr., Huntingdon Valley Country Club | 77 |
| Brian T. Corbett, Huntsville Golf Club | 77 |
| Arthur J. Kania, Jr., Merion Golf Club | 77 |
| C.G. Mercatoris, IV, Pinecrest Country Club | 77 |
| Drew Panebianco, Talamore Country Club | 77 |
| Andrew Boyle, Dauphin Highlands Golf Course | 78 |
| Edward H. Knoll, Deer Run Golf Club | 78 |
| Byron W. Whitman, Golden Oaks Golf Club | 78 |
| Nicolas Milito, Greensburg Country Club | 78 |
| Thomas Hyland, Moselem Springs Country Club | 78 |
| Patrick C. O'Brien, North Hills Country Club | 78 |
| Ben Wolfe, Sunnehanna Country Club | 78 |
| David Liotta, Whitemarsh Valley Country Club | 78 |
| Patrick H. Serfass, Allentown Municipal Golf Club | 79 |
| Roc Irey, Lookaway Golf Club | 79 |
| Kyle T. Davis, Philadelphia Publinks GA | 79 |
| Colin P. Smith, Radley Run Country Club | 79 |
| Patrick Welsh, Huntingdon Valley Country Club | 80 |
| Jim Rattigan, Schuylkill Country Club | 80 |
| Christopher Zamias, Sunnehanna Country Club | 80 |
| Ronald DeNunzio, Latrobe Country Club | 81 |
| Marc A. Mandel, White Manor Country Club | 81 |
| Richard W. Graf, Allegheny Country Club | 82 |
| James D. Bohn, Bucknell Golf Club | 82 |
| L.J. H. Scurfield, Carlisle Country Club | 82 |
| JC Cardamone, Elmhurst Country Club | 82 |
| James J. Bryan, Latrobe Country Club | 82 |
| Ron A. Weaver, Meadia Heights Golf Club | 82 |
| Brad Flickinger, Country Club of Scranton | 83 |
| Rodney L. James, Five Ponds Golf Club | 83 |
| Joe Corsi, Hannastown Golf Club | 83 |
| Samuel F. Hockfield, White Manor Country Club | 83 |
| Lynn T. Kilduff, Huntsville Golf Club | 84 |
| Thomas Hart, PGA Individual Member | 84 |
| Kevin R. Melnick, Jr., Plymouth Country Club | 84 |
| Dave Caldwell, Hickory Valley Golf Club | 86 |
| Christopher D. Reedman, Makefield Highlands Golf Club | WD |
| | |
| WD-withdrawal | |
[ Back ]