*Day One results
*Final-round tee times
Steady Michael Kania of Overbrook GC grabs
one-shot lead in 96th Amateur Championship
PAOLI, Pa.–Michael Kania of Overbrook GC may only be 18 years old, but the Haverford, Pa., resident demonstrated patience beyond his years on Tuesday in the second round of the 96th Amateur Championship at Waynesborough CC (par 71, 6,943 yards). Not presented with many premium scoring opportunities early in his round, a patient Kania waited, and then cashed in with a pair of birdies on his inward side, to finish at 4-under-par 138 for the first two rounds and one-stroke ahead of the field. Home-club hopeful Jeff Griest, 22, of Glen Mills, Pa., and Chad Warmbein, 20, of McMurdy, Pa., and Rolling Hills CC, are a shot back. In all, 12 players carded two-day totals of even-par 142 or better.
The third and final round begins at 7 a.m. tomorrow with the leaders set to tee off at 9:20 a.m.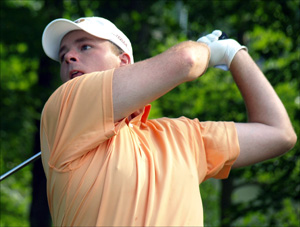 JEFF GRIEST
The field of 109 players was cut to 41. The cutline fell at 147.
"I really didn't get much out of the round on my first 12 holes. It was frustrating," said Kania, a soon-to-be freshman at University of Kentucky. "I finally got some closer looks on the back nine that I was able to make.
"I've played here a number of times, so coming into the week, I figured this was a good course for me and my game. I was comfortable and hopeful to play well and I figured if I did, I would be in contention."
Kania opened with 10 pars and a bogey in his first 11 holes – he started on the back nine and bogeyed No. 11 (par 4, 420 yards) when he missed a two-foot par save – but after a long string of pars started to gain a little momentum on No. 3 (par 4, 441 yards). He knocked a pitching wedge from 143 yards to 12 feet and made the uphill birdie try. On No. 7 (par 5, 547 yards), Kania rocketed a 3-wood over the green in two, chipped up to 15 feet above the hole and drained the speedy downhiller to move to 1 under on his round.
"Somehow it just went in," said Kania of his No. 7 putt.
Kania's overall steadiness resulted in him hitting 14 of 18 greens in regulation.
"Yeh, I definitely wanted to be in the final group," said Kania. "It'll be good to see what the other leaders are doing. My goal tomorrow will be to hit greens and not make too many bogeys. It'll be good to see what the other leaders are doing."
Kania, a two-time Inter-Ac League champion from the Haverford School, is a Golf Association of Philadelphia tournament veteran. This, however, is his first Pennsylvania Amateur Championship.
Kania's group mates will be Griest and Warmbein.
Griest, who played for the University of Delaware the last four years, carded six birdies and three bogeys on his round.
Starting on the back nine, Griest carded a bit of a wild 68. He opened with a bogey on No. 10 (par 4, 457 yards) when he pulled his drive left and was forced to lay up for his second shot. He almost drove No. 12 (par 4, 341 yards) and two-putted from 70 feet for birdie but bogeyed No. 14 (par 3, 175 yards) when he missed the green left. Griest answered that bogey with a birdie on No. 15 (par 5, 554 yards) when he knocked his 70-yard pitch shot to 10 feet and then made another four on No. 18 (par 5, 539 yards) when he got up-and-down from long of the green.
A bogey on No. 1 (par 4, 369 yards) kept his Dr. Jekyll and Mr. Hyde round going, but Griest carded birdies on No. 4 (par 3, 188 yards) with a 9-iron to 20 feet; No. 5 (par 4, 420 yards) when he knocked a wedge from 145 yards to six feet and an unlikely one on No. 8 (par 4, 373 yards) when he drove his 3-wood left into the trees and was forced to cut his sand wedge from 110 yards to four feet.
"I love the pressure of playing at home," said Griest. "I've felt good. I've been hitting it well. My putting was not on track yesterday but today it was."
Warmbein, a senior at Ohio University, carded a second-round 70 that could have been far better. He closed with bogeys on the final two holes.
"It's where I expected myself to be," said Warmbein. "I'm excited to have the opportunity. It should be fun being in contention in the final group."
Warmbein opened with a bogey on No. 2 (par 4, 407 yards) after a three-putt from 45 feet but responded with birdies on No. 3 after a wedge from 130 yards stopped six feet away and No. 8 (par 4, 373 yards) when his sand wedge landed eight feet from the hole. Warmbein kept his strong round going on No. 13 (par 4, 401 yards) with a birdie courtesy of a gap wedge to six feet, had a temporary hiccup on No. 14 (par 3, 175 yards) with a bogey four but birdied Nos. 15 (par 5, 554 yards) from 15 feet and 16 (par 4, 436 yards) with a 9-iron from 140 yards to two feet.
A poor tee shot on No. 17 (par 3, 208 yards) and failed up-and-down on No. 18 quelled a little bit of Warmbein's momentum.
A quartet of players lurk two shots behind Kania, including Nathan Smith of Pinecrest CC, the 2002 Amateur champion and the recent back-to-back Amateur runner-up.
Qualifiers

Name

Club

Rd 1

Rd 2

Total

Michael Kania

Overbrook Golf Club

68

70

138

Chad N. Warmbein

Rolling Hills Country Club

69

70

139

Jeffrey L. Griest

Waynesborough Country Club

71

68

139

Robert T. Rohanna

Nemacolin Woodlands Resort

71

69

140

Christopher W. Ault

Yardley Country Club

69

71

140

Nathan Smith

Pinecrest Country Club

68

72

140

Nathan Sutherland

Golden Oaks Golf Club

70

70

140

James P. Bea

Spring Mill Country Club

69

72

141

Travis J. Howe

Corey Creek Golf Club

73

68

141

Zak Drescher

Lancaster Country Club

72

70

142

Matt Moot

Windber Country Club

70

72

142

Daniel R. Charen

Yardley Country Club

69

73

142

Conrad Von Borsig

Concord Country Club

70

73

143

Tony R. Perla

Radnor Valley Country Club

68

75

143

Jon Pratkanis

Kittanning Country Club

72

71

143

Chad A. Bricker

Waynesboro Country Club

70

73

143

Christopher L Schultz

Squires Golf Club

73

70

143

Matt Vogt

Connoquenessing Country Club

72

71

143

Glenn Smeraglio

Commonwealth National Golf Club

76

68

144

Arnie Cutrell

Greensburg Country Club

75

69

144

Zachary C. Herr

Jericho National Golf Club

68

76

144

Cory M. Siegfried

Philadelphia Country Club

71

73

144

Brandon Detweiler

Lancaster Country Club

70

75

145

Anthony D. DeGol

Scotch Valley CC

72

73

145

P. Chet Walsh

Phila Country

74

71

145

Tucker Koch

RiverCrest Golf Club & Preserve

70

75

145

Eric W. Williams

Honesdale Golf Club

70

76

146

Andrew Guaraldo

Waynesborough Country Club

72

74

146

Artie Fink, Jr.

Sinking Valley Country Club

72

74

146

Joe Bevevino

Huntsville Golf Club

75

71

146

Eric A. Plisko

Wyoming Valley Country Club

75

71

146

Christian S. Davis

Glenmaura National Golf Club

73

73

146

Adam Hofmann

Fox Chapel Golf Club

73

73

146

Gregor A. Orlando

The Kahkwa Club

74

72

146

Pierce Dever

Jericho National Golf Club

75

72

147

David DeNunzio

Latrobe Country Club

75

72

147

Matt Smith

Whitford Country Club

73

74

147

Christopher Storck

Moselem Springs Golf Club

75

72

147

Anthony J. DeNicco

Brookside Country Club

76

71

147

Clayton C. Rotz

Penn National Golf Club

75

72

147

C.G. Mercatoris, IV

Pinecrest Country Club

77

70

147

Failed to qualify

Stephen Dressel

St. Davids Golf Club

73

75

148

Matthew E. Mattare

Saucon Valley Country Club

71

77

148

Brian C. Creghan

Blue Bell Country Club

73

75

148

Chip Lutz

LedgeRock Golf Club

73

75

148

Brian Belden, Jr.

Brookside C.C. of Allentown

72

76

148

Timothy L. Hager

Lookaway Golf Club

72

76

148

Alexander Maguire, Jr.

Brookside Country Club

76

72

148

William Miller

St. Clair Country Club

72

77

149

Ryan P. Castanet

Hickory Heights Golf Club

76

73

149

Jeff Benton

PGA Individual Member

74

75

149

James M. Gardas

Honesdale Golf Club

74

75

149

Ed Chylinski

Chester Valley Golf Club

71

78

149

Nicolas Milito

Greensburg Country Club

78

71

149

Mark D. Miller

Yardley Country Club

74

75

149

Kevin J. Reiber

Penn National Golf Club

73

76

149

Michael Domenick

Phoenixville Country Club

76

73

149

James Kania, Jr.

Overbrook Golf Club

73

77

150

Ryan Schneiter

Lebanon Country Club

73

77

150

Jeff L. Frazier

Carlisle Country Club

73

77

150

Frank Fairman

Totteridge Golf Club

74

76

150

Sam Pancoast

Radley Run Country Club

74

77

151

Sean Sweithelm

Indiana Country Club

74

77

151

Patrick H. Serfass

Allentown Municipal Golf Club

79

72

151

Dan Brown

Pine Meadows Golf Complex

75

76

151

Scott R. Klee

Indian Valley Country Club

75

76

151

Thomas Hyland

Moselem Springs Country Club

78

73

151

Chris G. Esbenshade

Bent Creek Country Club

72

79

151

Kevin M. Genuardi

Cedarbrook Country Club

77

74

151

Michael J. Vassil

Country Club of Scranton

72

80

152

Brian P. Gillespie

St. Davids Golf Club

73

79

152

Byron W. Whitman

Golden Oaks Golf Club

78

75

153

Marc A. Mandel

White Manor Country Club

81

72

153

Al R. Kline, Jr.

Bucknell Golf Club

76

77

153

Ben Wolfe

Sunnehanna Country Club

78

76

154

James D. Bohn

Bucknell Golf Club

82

72

154

Arthur J. Kania, Jr.

Merion Golf Club

77

77

154

Brendan M. Borst

Hickory Heights Golf Club

77

78

155

Ronald DeNunzio

Latrobe Country Club

81

75

156

Brian T. Corbett

Huntsville Golf Club

77

79

156

Kevin Huntington

Penn Oaks Golf Club

74

82

156

Robert B. Galbreath, Jr.

Huntingdon Valley Country Club

77

79

156

Roc Irey

Lookaway Golf Club

79

77

156

David Liotta

Whitemarsh Valley Country Club

78

78

156

Matthew Rebitch

Hannastown Golf Club

77

79

156

Rodney L. James

Five Ponds Golf Club

83

73

156

Scott J. McNeil

Scranton Municipal Mens Golf Association

75

82

157

Kevin R. Melnick, Jr.

Plymouth Country Club

84

73

157

Patrick Welsh

Huntingdon Valley Country Club

80

78

158

Edward H. Knoll

Deer Run Golf Club

78

80

158

Drew Panebianco

Talamore Country Club

77

83

160

Colin P. Smith

Radley Run Country Club

79

81

160

Jim Rattigan

Schuylkill Country Club

80

80

160

Christopher Zamias

Sunnehanna Country Club

80

80

160

Brad Flickinger

Country Club of Scranton

83

78

161

Andrew Boyle

Dauphin Highlands Golf Course

78

83

161

Richard W. Graf

Allegheny Country Club

82

80

162

Samuel F. Hockfield

White Manor Country Club

83

79

162

Joe Corsi

Hannastown Golf Club

83

80

163

Lynn T. Kilduff

Huntsville Golf Club

84

80

164

Patrick C. O'Brien

North Hills Country Club

78

86

164

Ron A. Weaver

Meadia Heights Golf Club

82

84

166

Kyle T. Davis

Philadelphia Publinks GA

79

87

166

J.C. Cardamone

Elmhurst Country Club

82

84

166

Dave Caldwell

Hickory Valley Golf Club

86

80

166

L.J. H. Scurfield

Carlisle Country Club

82

85

167

Thomas Hart

PGA Individual Member

84

83

167

James J. Bryan

Latrobe Country Club

82

87

169

John A. Brennan

Spring Ford Country Club

76

WD

WD

WD-withdrawal
[ Back ]