Mike Vassil Wins Art Wall, Jr.
Major in a 1-Hole Playoff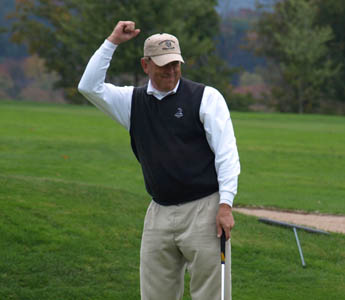 Mike Vassil, of Country Club of Scranton, celebrates
after rolling in the final putt
Thirty mile per hour wind and rain couldn't keep Mike Vassil from winning his second Art Wall, Jr. Major. In weather that kept most people inside, the competitors couldn't get enough of one of the best courses The Commonwealth has to offer.
After one round of competition in which we had about an inch of rain, one lightning delay, and wind gusts of 20 miles per hour, Mike Vassil held a 2-stroke lead after posting a stellar 2-under-par score of 70.
Right on Vassil's heels were fellow Country Club of Scranton member, Edward Mesko, and Tom Bartolacci, Jr., of Saucon Valley Country Club, who both posted even-par rounds of 72. Robert Gill, of Fox Hill Country Club, was also right in the mix with a first round score of 73, and a host of players at 2-over-par 74, which included the "who's who" of golf in this field.
Mike Vassil had to be the odds on favorite to win, but it wasn't going to be easy. If the weather wasn't enough to waiver his skills, the fine play of Art Kania, Jr., of Merion Golf Club, might do the trick. Kania was 3 groups in front of Vassil, and went out with a one-over-par 36, which included a birdie on the 490 yard, par 5, fourth hole.
At the turn, Vassil still held a 2-shot-lead, but had four bogies on his opening nine holes. He kept his composure and started his final nine with four pars and a bogey on a trecherous stretch of holes, 10 through 14. He then had his only double bogey of the two rounds on the 403 yard, par 4, 15th hole. At that point, Kania was finishing off his fantastic round of 73, the low round of the day by two strokes.
With leaderboards out on the course for the competitors to see, Vassil could see that he was one shot back of the leader in the house, Kania.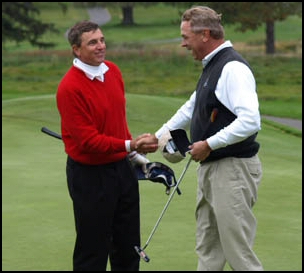 Art Kania congratulates Mike Vassil
When you look at the scorecard before your round, you don't circle the 215 yard, par 3, 17th hole (which was straight into the wind) as being the "birdie hole" you are looking for in a round. Vassil, on the other hand, had other ideas. He striped his drive to the green and drained the putt to put him in a tie for the championship.
He now had a chance to birdie the up-hill, 502 yard, par 5, 18th hole to seal the win. It was not to be, and Vassil tapped in his par putt to push the championship to a sudden death playoff.
So, Kania and Vassil headed back down the hill to the 18th tee. Kania found his tee shot in the rough and Vassil played the hole perfectly leaving himself with a twenty foot putt for eagle, which he narrowly missed and tapped in for birdie to win the 5th Art Wall, Jr. Major.
SENIOR DIVISION
Tom Bartolacci, Jr. finished his round by sinking a sidewinding putt from 35 feet to win the Senior Division (55-64 years old) by one shot over John Benson, of Totteridge Golf Club.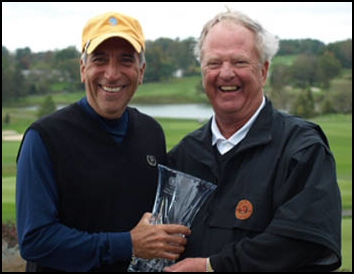 Tom Bartolacci is awarded the trophy by Ray Mott,
Association President
SUPER-SENIOR DIVISION
Ed Hennigan and Michael Kanoff finished in a tie for the Super-Senior Championship, at 16-over-par 160. They started the sudden death playoff on the 10th hole. Both players hit good drives, but Hennigan emerged with a par to beat Kanoff.
The Art Wall, Jr. Major is open to male golfers 45 years and older and is named for 1959 Master's Champion, Art Wall, Jr.
| | | | | |
| --- | --- | --- | --- | --- |
| Name | Club | Rnd 1 | Rnd 2 | Total |
| Michael J. Vassil | Country Club of Scranton | 70 | 77 | 147 |
| Arthur J. Kania, Jr. | Merion Golf Club | 74 | 73 | 147 |
| Timothy Burns | Country Club of Scranton | 74 | 75 | 149 |
| Thomas A. Bartolacci, Jr. | Saucon Valley Country Club | 72 | 78 | 150 |
| Robert Gill | Fox Hill Country Club | 73 | 78 | 151 |
| John Benson | Totteridge Golf Club | 74 | 77 | 151 |
| Michael Domenick | Phoenixville Country Club | 76 | 76 | 152 |
| Sam W. Lewis | Huntsville Golf Club | 76 | 77 | 153 |
| J. Kirk Luntey | Merion Golf Club | 77 | 76 | 153 |
| Thomas Fleig | Colonial Country Club | 76 | 77 | 153 |
| Thomas F. Sohns | Country Club of Scranton | 78 | 76 | 154 |
| Joe Ruby | Uniontown Country Club | 74 | 80 | 154 |
| Robert Andrejko | Scranton Municipal Golf Assoc. | 77 | 77 | 154 |
| Thomas Howe | Honesdale Golf Club | 74 | 80 | 154 |
| Len W. Coleman | Emanon Country Club | 74 | 81 | 155 |
| Ken Bolcavage | Elkview Country Club | 77 | 78 | 155 |
| Santo T. Lafoca | Huntsville Golf Club | 81 | 75 | 156 |
| Tom Bevevino | Huntsville Golf Club | 80 | 76 | 156 |
| Edward H. Knoll | Deer Run Golf Club | 81 | 75 | 156 |
| Marlin Detweiler | Lancaster Country Club | 77 | 80 | 157 |
| John Zavada | Elkview Country Club | 80 | 77 | 157 |
| Don H. Erickson III | Indiana Country Club | 79 | 78 | 157 |
| Ed Strickler | Huntingdon Country Club | 81 | 77 | 158 |
| Edward Mesko | Country Club of Scranton | 72 | 86 | 158 |
| Matthew R. Cuddy | Huntsville Golf Club | 78 | 81 | 159 |
| George E. Troutman | Deer Run Golf Club | 83 | 76 | 159 |
| Andrew Beechko | Country Club of Scranton | 81 | 79 | 160 |
| Bill Lydick | Indiana Country Club | 81 | 79 | 160 |
| Bill Seng | Golf Club at Felicita | 76 | 84 | 160 |
| Edward Gregorczyk | Glenmaura National Golf Club | 79 | 82 | 161 |
| Barry J. Westington | Country Club of Scranton | 80 | 81 | 161 |
| Rich Thon | The Springhaven Club | 79 | 82 | 161 |
| John P. Donnelly | Concord Country Club | 77 | 84 | 161 |
| Matthew F. Smith | Bon Air Country Club | 81 | 80 | 161 |
| Roc Irey | Lookaway Golf Club | 76 | 85 | 161 |
| Joseph M. Cordaro | Longue Vue Club | 75 | 86 | 161 |
| Patrick C. O'Brien | North Hills Country Club | 77 | 86 | 163 |
| Francis E. Hamm | Country Club of Scranton | 77 | 86 | 163 |
| Jim Simmons | Stonewall | 83 | 80 | 163 |
| Warren Rozelle | Country Club of Scranton | 76 | 87 | 163 |
| George Dimoff | West Shore Country Club | 79 | 84 | 163 |
| Jay R. Stoner | Deer Run Golf Club | 82 | 81 | 163 |
| Kenneth A. Phillips | Lancaster Country Club | 79 | 85 | 164 |
| Ron A. Weaver | Meadia Heights Golf Club | 80 | 84 | 164 |
| Joseph R. Grubb | Honeybrook Golf Club | 82 | 83 | 165 |
| Anthony G. Kondracki | Fox Hill Country Club | 78 | 87 | 165 |
| Thomas Hyland | Moselem Springs Country Club | 83 | 83 | 166 |
| William A. Chase | Deer Run Golf Club | 80 | 86 | 166 |
| George Elias | Irem Temple Country Club | 85 | 81 | 166 |
| Kenneth J. Nestor | Elkview Country Club | 82 | 84 | 166 |
| George E. Steinmetz | Spring Ford Country Club | 78 | 88 | 166 |
| William P. Lawler | Fox Hill Country Club | 80 | 89 | 169 |
| Gregory M. Smee | Colonial Country Club | 87 | 82 | 169 |
| Gregory N. Vladika | Elkview Country Club | 82 | 87 | 169 |
| Mark Occhipinti | Country Club of Scranton | 83 | 87 | 170 |
| William J. Vostinak | Lehigh Country Club | 82 | 89 | 171 |
| Rick A. Scott | West Shore Country Club | 90 | 82 | 172 |
| Albert A. Hazzouri, Jr. | Glenmaura National Golf Club | 86 | 88 | 174 |
| Joseph H. Karam | Country Club of Scranton | 92 | 82 | 174 |
| Joseph F. Fitzsimmons | Glen Oak Country Club | 90 | 85 | 175 |
| John O. Voigt | Country Club of Scranton | 92 | 87 | 179 |
| Gary R McNutt | Ligonier Country Club | 85 | 95 | 180 |
| Thomas P. Pratico | Glenmaura National Golf Club | 96 | 90 | 186 |
| Kenneth R. Ralston | Huntsville Golf Club | 85 | WD | WD |
| James E. O'Brien Jr. | Country Club of Scranton | 86 | WD | WD |
| | | | | |
| | | | | |
| Super-Senior | | | | |
| | | | | |
| Michael Kanoff, Jr. | Golf Club at Felicita | 82 | 78 | 160 |
| Ed Hennigan | Fox Hill Country Club | 79 | 81 | 160 |
| William Stasiulatis | West Shore Country Club | 82 | 84 | 166 |
| James J. Callaghan | Rolling Green Golf Club | 83 | 83 | 166 |
| James R. Sherratt | Old York Road Country Club | 83 | 84 | 167 |
| James Hoffer | West Shore Country Club | 81 | 86 | 167 |
| | | | | |
| | | | | |
| WD - Withdrawal | | | | |
[ Back ]