2009 Junior Boys Championship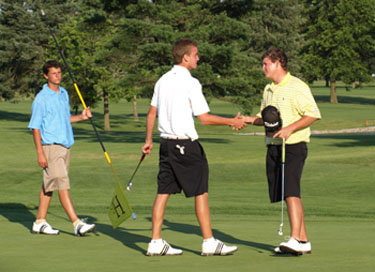 Zach Herr (right) congratulates Tucker Koch
after winning on the 1st playoff hole (#18)
Hershey Country Club hosted the 59th Junior Championship on July 6-7, 2009, measuring 6830 yards for the Championship Division. Tucker Koch, of RiverCrest Golf Club & Preserve won the event after a one-hole playoff with Zach Herr, of Jericho National Golf Club. This is the second year in a row that the Championship has been extended after 36 holes.
Koch had the low round after 18 holes of play, posting a score of 69, which included 5 birdies. Zach Herr and Easton Renwick, of Punxsutawney Country Club, sat in a tie for second with rounds of one-under-par 70's.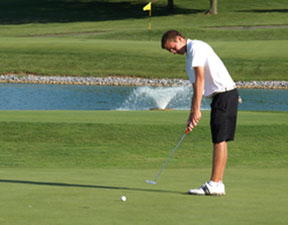 Tucker Koch rolls in the clutch 8 footer to
force a playoff with Zach Herr
The trio played together for the final round, and did not disappoint the 30 spectators that followed them around all day. Koch went out in 37 and Herr played the front nine at even par to place them in a tie for first place with nine holes to play.
Koch kept the pressure on parring the first 5 holes of the final nine, with Herr giving back a shot on the 414 yard par 4, 12th, but following it up with a birdie on the 160 yard par 3, 13th, and another bogey at the 540 yard par 5, 14th. Koch and Herr were tied going to the 16th tee, but Tucker pulled his drive into the bunker and was left with a short-sided, down hill shot. He was unable to get up-and-down, while Herr rolled in an 8-foot par putt to take the lead by one.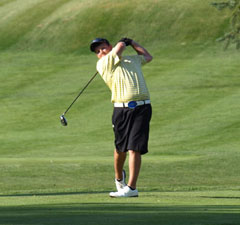 Zach Herr on the 17th tee
All three players in the group blistered drives down the fairway of the 379 yard par 4, 17th hole, with Herr and Koch ending up just in the rough. All three players tapped in for routine fours after missing their birdie putts.
Koch stood on the deadly 456 yard par 4, 18th hole needing to make a move to put some pressure on. Herr left his 3-wood just a foot or two into the rough, while Koch's drive went running down the fairway, leaving him with 125 yards left.
Herr's approach flew the green and he was left with a delicate chip shot with the green running away from him. He narrowly missed the flag stick and his shot ran 20 feet by. He would miss his par putt to leave Koch with a putt to force a playoff. Needless to say he rolled it in and we headed back to the 18th tee.
The playoff started with both players drilling their tee balls, leaving Herr with 158 yards and Koch with 154 yards. Herr's approach came up short of the green and left the door wide open for Tucker. He did not let this chance slide by. Koch perfectly played his shot to leave him with an 8 footer, up hill, to possibly win the Championship.
Herr was aggressive with his chip and missed long, with 10 feet for par. He missed his come-back put to score a bogey on the hole. Koch just had to two-putt to win, but that wasn't what he had in mind. He rolled in a great putt for birdie to finish as the 59th Pennsylvania Junior Champion.
Hershey Country Club has agreed to host the 2010 Junior Championship, so Zach Herr, the youngest player in the Championship Division, will get a few chances at redemption in the coming years.
13 & Under Division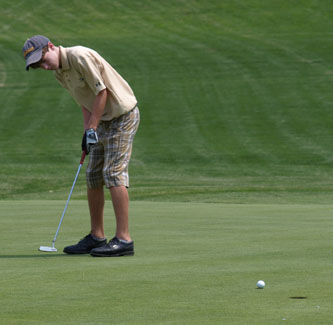 Luke Miller on the 16th green for birdie
The 13 & Under Division played the course at 6053 yards. Luke Miller, of Southpointe Golf Club, held a 5 shot lead after day one posting a 3-over-par 74. Andrew Willner, of White Manor Country Club, and Brandon Greenplate, of Country Club of York, were tied for second place with rounds of 79.
Luke Miller never let anyone get close in the final round, going out in 39, and following it up with a 38 on the back side. Luke carded four birdies for the Championship, and won by 4 shots.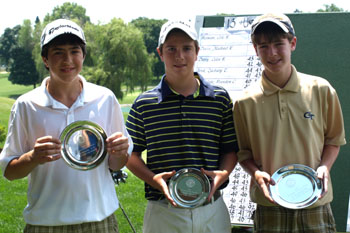 Andrew Willner (left), Jake Reilly, and Luke Miller
Andrew Willner finished in second place with a total of 156, and Jake Reilly, at his home course, finished in third place with a 159.
Team Championship
Commonwealth National Golf Club kept the trophy at home, taking the Team Championship for the second straight year. Peter Eiler and Connor McNicholas lead the team with rounds of 73 - 78, 151, while Kyle Hunter posted 75 - 83, and Matt Cocco posted 81 - 88. Eiler and McNicholas were also on the 2008 winning team.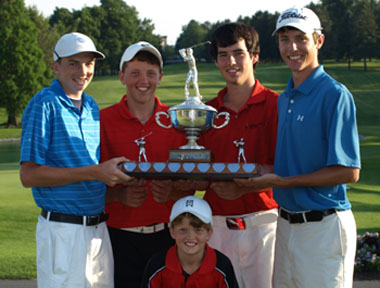 Matt Cocco, Kyle Hunter, Connor McNicholas, & Peter Eiler
with Cory Hunter (good luck charm)
The Team Championship is available for golf clubs that have 3 or more players in the field. The format is a best three of four scores for each round.
[ Back ]