Knapp Takes Mid-Am on 2nd Playoff Hole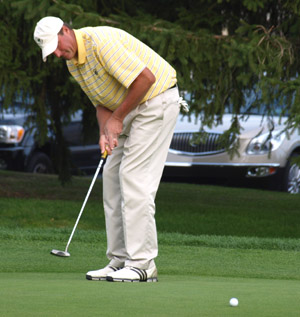 Sean Knapp leaves this putt just short and
taps in to win the Championship
Sunnehanna Country Club, in Johnstown, PA, played host to the 16th Pennsylvania Golf Association Middle-Amateur Championship. Sean Knapp has played in 18 Sunnehanna Amateur Championships. Needless to say, he didn't need a practice round to figure out the difficult greens.
"I have played in over 100 competitive rounds at Sunnehanna, and it has really been a struggle for me the last few years. I really thought it was my tournament to lose through 12 holes today, and I lost it down the stretch. I was lucky to save a par on 15, or else I would have played myself out of it." said Knapp.
It wasn't an easy victory. After 36 holes of play, four competitors were tied at 3-over-par, 143. Joe Corsi, of Hannastown Golf Club, was first to post a score. He finished the first day with a 73 and followed it up with a stellar even-par score of 70, after rolling in a clutch birdie putt on the 18th green.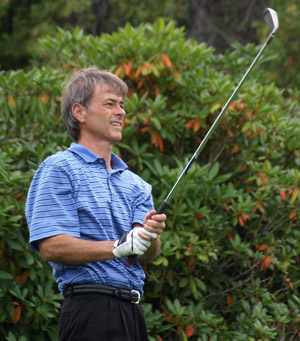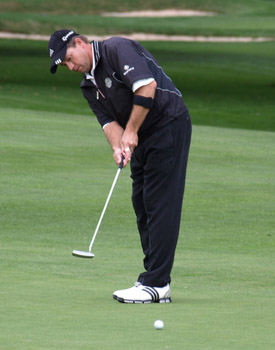 Joe Corsi, of Greensburg, PA William Smith, of Newville, PA
William Smith, of Chambersburg Country Club, and Sean Knapp, of St. Jude Golf Club, were paired together for the second round and both came in with scores of even-par 70 to join Corsi in a tie for the lead.
Gregor Meyer, of Pittsburgh Field Club, was last to finish, and had a difficult 20 foot birdie putt to clench the victory. It rolled over the edge and he tapped in to continue his quest for the Championship.
The players headed to the 450 yard, par 4, slight dog leg left, to begin the playoff. Corsi and Smith found the rough off of the tee as Knapp and Meyer striped drives down the fairway. That tee shot seemed to be the difference, as Corsi and Smith failed to advance to the second playoff hole.
The 373 yard, par 4, 18th hole was the final stage. Knapp hit a 3 iron just short of the bunker in the first cut of rough with 146 yards left, and Meyer found the fairway with his 3 wood, which left him with 100 yards. Knapp's approach found the back right corner of the green leaving him with a 12 foot putt for birdie. Meyer's wedge came up a few feet short and caught the lip of the greenside bunker.
Meyer's bunker shot did not release and he was left with a dicey 10 foot par putt. Knapp narrowly missed his birdie try and tapped in to assure that he would at least advance to the next playoff hole. Meyer's putt rolled over the right edge of the hole and sealed the win for Knapp.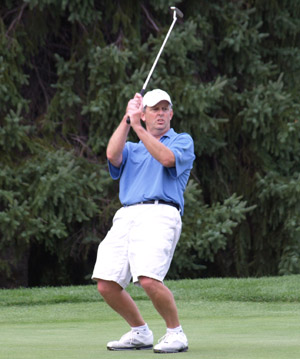 Gregor Meyer reacts after his par putt barely misses
"It was more of a relief than satisfaction to win this event at Sunnehanna. I've played there so many times, that I feel like I should always compete well. Although, I am thrilled to have won two state championships in one year," remarked Knapp.
Sean Knapp has been selected to the Pennsylvania Golf Association's 2009 USGA State Team, which will be held at St. Albans Country Club is St. Louis, MO, on September 23-25. Nathan Smith and Mike Van Sickle round out the team.
The 2010 Middle-Amateur Championship will be held at Lehigh Country Club.
| | | | | |
| --- | --- | --- | --- | --- |
| Name | Club | Rnd 1 | Rnd 2 | Total |
| Joe Corsi | Hannastown Golf Club | 73 | 70 | 143 |
| Gregor F. Meyer | Pittsburgh Field Club | 71 | 72 | 143 |
| William F. Smith | Chambersburg Country Club | 73 | 70 | 143 |
| Sean R. Knapp | St. Jude Golf Club | 73 | 70 | 143 |
| Artie Fink, Jr. | Sinking Valley Country Club | 74 | 70 | 144 |
| Gregory Ulp | Country Club of Harrisburg | 68 | 77 | 145 |
| Jim Sullivan, Jr. | Oakmont Country Club | 71 | 74 | 145 |
| David Brown | St. Clair Country Club | 73 | 72 | 145 |
| Michael Domenick | Phoenixville Country Club | 72 | 74 | 146 |
| Michael J. Vassil | Country Club of Scranton | 70 | 77 | 147 |
| Kevin P. Kelly | Philadelphia Cricket Club | 78 | 69 | 147 |
| Eric W. Williams | Honesdale Golf Club | 77 | 70 | 147 |
| Frank Fairman | Totteridge Golf Club | 74 | 74 | 148 |
| Nate M. Reck | PGA Individual Member | 73 | 75 | 148 |
| Chris G. Esbenshade | Bent Creek Country Club | 74 | 74 | 148 |
| Thomas Hyland | Moselem Springs Country Club | 72 | 76 | 148 |
| Don H. Erickson, III | Indiana Country Club | 70 | 78 | 148 |
| John Pash | Elkview Country Club | 78 | 70 | 148 |
| Glenn Smeraglio | Commonwealth National Golf Club | 71 | 78 | 149 |
| Chad Rittle | Nemacolin Country Club | 74 | 76 | 150 |
| Michael R. Brown | Philadelphia Publinks GA | 74 | 76 | 150 |
| P. Chet Walsh | Philadelphia Country Club | 78 | 72 | 150 |
| Donald J. Loeser | PGA Individual Member | 70 | 80 | 150 |
| Jack Anderson | Yardley Country Club | 77 | 74 | 151 |
| Jay R. Stoner | Deer Run Golf Club | 74 | 77 | 151 |
| Drew Panebianco | Talamore Country Club | 75 | 76 | 151 |
| Brad Flickinger | Country Club of Scranton | 75 | 76 | 151 |
| Marc A. Mandel | White Manor Country Club | 76 | 76 | 152 |
| Marlin Detweiler | Lancaster Country Club | 77 | 75 | 152 |
| Scott R. Klee | Indian Valley Country Club | 76 | 76 | 152 |
| Eric Fonner | Huntingdon Valley Country Club | 79 | 73 | 152 |
| Byron W. Whitman | Golden Oaks Golf Club | 77 | 76 | 153 |
| Arthur J. Kania, Jr. | Merion Golf Club | 79 | 74 | 153 |
| Mike Owsik | McCall Golf & Country Club | 80 | 73 | 153 |
| Jeffrey J. Dyer | Lone Pine Country Club | 77 | 76 | 153 |
| Wesley Turiano | Sunnehanna Country Club | 79 | 74 | 153 |
| Dan Brown | Pine Meadows Golf Complex | 77 | 76 | 153 |
| Donald Dubyak | Hannastown Golf Club | 75 | 79 | 154 |
| Michael Colville | Longue Vue Club | 76 | 78 | 154 |
| James M. Gardas | Honesdale Golf Club | 75 | 79 | 154 |
| Jason Barkley | Huntsville Golf Club | 76 | 78 | 154 |
| John L. Castleman | Merion Golf Club | 76 | 78 | 154 |
| Mick A. Hutchinson | Carlisle Country Club | 78 | 76 | 154 |
| Adam G. Langford | Totteridge Golf Club | 78 | 76 | 154 |
| Rodney L. James | Five Ponds Golf Club | 77 | 77 | 154 |
| Jeff Daniels | Dauphin Highlands Golf Course | 74 | 80 | 154 |
| Gregory Adams | Sportsmans Golf Course | 79 | 75 | 154 |
| Todd Vonderheid | Huntsville Golf Club | 81 | 74 | 155 |
| Christopher A. Hart | Treesdale Golf & Country Club | 82 | 73 | 155 |
| Ed Short | Carlisle Country Club | 75 | 80 | 155 |
| Rob J. Cimarolli | Hickory Heights Golf Club | 79 | 77 | 156 |
| Rich Thon | The Springhaven Club | 81 | 75 | 156 |
| Mike Marron | St. Jude Golf Club | 74 | 82 | 156 |
| Stephen Destefano | Sinking Valley Country Club | 76 | 80 | 156 |
| David Liotta | Whitemarsh Valley Country Club | 83 | 73 | 156 |
| Bob Crnjarich | Oak Tree Country Club | 81 | 76 | 157 |
| Ken Matt | Philadelphia Publinks GA | 79 | 78 | 157 |
| Rick Vano | Diamond Run Golf Club | 84 | 73 | 157 |
| Patrick C. OBrien | North Hills Country Club | 80 | 78 | 158 |
| Chris McNeal | Talamore Country Club | 83 | 75 | 158 |
| Matthew F. Smith | Bon Air Country Club | 80 | 78 | 158 |
| Anthony F. List, Jr. | Llanerch Country Club | 82 | 76 | 158 |
| Stephen C. Burkholder | Colonial Country Club | 78 | 81 | 159 |
| Robert Gill | Fox Hill Country Club | 79 | 80 | 159 |
| Brian T. Corbett | Huntsville Golf Club | 82 | 77 | 159 |
| Kevin T. Haag | Deer Run Golf Club | 79 | 80 | 159 |
| Bobby T. Stiffler | Bon Air Country Club | 80 | 79 | 159 |
| Stori Snider | Sunnehanna Country Club | 81 | 78 | 159 |
| Edward H. Knoll | Deer Run Golf Club | 77 | 82 | 159 |
| Jon E. Thomas | Pittsburgh Field Club | 78 | 81 | 159 |
| David T. Smith | Doylestown Country Club | 77 | 82 | 159 |
| George Knapp | Uniontown Country Club | 82 | 78 | 160 |
| Ed Reidy | Wildwood Golf Club | 78 | 82 | 160 |
| Damon C. Barbacci | Country Club of York | 78 | 82 | 160 |
| Jason A. Miller | Irem Temple Country Club | 79 | 81 | 160 |
| Lynn T. Kilduff | Huntsville Golf Club | 79 | 81 | 160 |
| Mark K. Johnson | Cedarbrook Country Club | 80 | 80 | 160 |
| George E. Troutman | Deer Run Golf Club | 81 | 80 | 161 |
| Jud Gemmill | Lancaster Host Golf Resort | 79 | 82 | 161 |
| Santo T. Lafoca | Huntsville Golf Club | 80 | 82 | 162 |
| Francis E. Hamm | Country Club of Scranton | 78 | 84 | 162 |
| David M. Fardon | Saucon Valley Country Club | 85 | 77 | 162 |
| Michael DiGiandomenico | French Creek Golf Club | 81 | 81 | 162 |
| Robert Howell | Golf Club at Felicita | 81 | 81 | 162 |
| Ric Sucro | Cedarbrook Country Club | 78 | 84 | 162 |
| Ruelle W. Wolfe, III | Penn National Golf Club | 80 | 83 | 163 |
| Andrew Speaker | Jericho National Golf Club | 85 | 78 | 163 |
| Ryan J. Gelrod | Commonwealth National Golf Club | 80 | 83 | 163 |
| George W. Connell, Jr. | Gulph Mills Golf Club | 84 | 80 | 164 |
| Charles W. Dennis | Glenmaura National Golf Club | 83 | 82 | 165 |
| Tom Bevevino | Huntsville Golf Club | 84 | 81 | 165 |
| Peter J. Moran | Edgmont Country Club | 81 | 84 | 165 |
| Del Markward | North Hills Country Club | 81 | 85 | 166 |
| Elliot S. Sheftel | Lehigh Country Club | 81 | 86 | 167 |
| John Rodney | Diamond Run Golf Club | 82 | 85 | 167 |
| Maurice Ferentino | Sewickley Heights Golf Club | 83 | 84 | 167 |
| Mark F. Fisher | Pleasant Valley Golf Club | 83 | 84 | 167 |
| John R. Barrett | PGA Individual Member | 87 | 83 | 170 |
| Kevin M. Wall | Old York Road Country Club | 88 | 87 | 175 |
[ Back ]