*Round 3 tee times
*Scorecards
McClellan, Butler share clubhouse lead
at 2-under par in Open Championship
OAKMONT, Pa.–Club professional Robert McClellan of Butler, Pa., and amateur Robert Rohanna of Waynesburg, Pa., are the leaders in the clubhouse at the 93rd Open Championship at 2-under par after a pair of sparkling second rounds on Tuesday at treacherous Oakmont CC (par 71, 6,949 yards). Darkness forced the suspension of play at 8:20 p.m. with 23 players remaining on the course. The second round will be completed beginning at 7:30 a.m. tomorrow.
Rohanna, 23, of Nemacolin Woodlands Resort, carded a second-round, tournament-low 66 while McClellan, 29, of Butler CC, playing in one of the final groups to complete their rounds, posted a 67.
The third and final round begins at 8:30 a.m. Wednesday. Rohanna and McClellan start their last 18 holes at 11:18 a.m.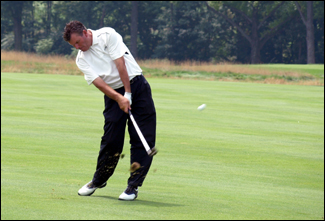 Stu Ingraham of Harrisburg, Pa., sends
his approach shot greenward on No. 5.
"My caddie and I had a good game plan. We talked about every shot and where not to miss it," said Rohanna, who graduated from Penn State University this spring. "I'm just trying to keep the course in front me. It's about hitting fairways and putting the ball in the right spots on the green. I made more putts than you can imagine especially considering how hard it is to putt here with all the undulations in the greens."
Rohanna smacked a 7-iron from 182 yards on No. 3 (par 4, 428 yards) to 40 feet and made the birdie chance to get his round going and then added another on No. 4 (par 5, 609 yards) by blasting a 15-yard bunker shot to three feet. He bogeyed the monstrous No. 8 (par 3, 225 yards) after missing the green but responded with a two-putt birdie on No. 9 (par 5, 477 yards) from 30 feet. Rohanna kept the momentum going when he rolled in a 20-footer straight up the hill on No. 11 (par 4, 379 yards) for a three and then two-putted from 40-feet away on the front apron of No. 12 (par 5, 562 yards). An 8-iron that resulted in a buried lie in the right greenside bunker temporarily halted his surge on No. 13 (par 3, 183 yards) before Rohanna answered back with birdies on No. 15 (par 4, 499 yards), a punch 9-iron to 12 feet, and No. 16 (par 3, 211 yards), a 5-iron to two feet.
"Yesterday I hit the ball pretty much the same but got a few bad bounces," said Rohanna. "The first round you always play not to get out of tournament. The second round you want to try and make some ground. I'm just trying to keep the course as easy as I can. This course is so hard that if you shoot under 75, you played well."
Rohanna noted that he hit a lot of irons off tees, making sure his drives found the fairway.
He also stated that his 66 could have been even better. He missed four makeable birdie tries, three that he said he left a foot or two short in the heart of the jar.
"I'm playing well, I want to keep it up for tomorrow," said Rohanna, who is looking to be the fourth consecutive amateur to win the Open Championship. "
"I didn't even want to hit balls after I was done. I like the way I'm hitting it. And when I'm missing it, I'm missing it in OK spots."
McClellan wasn't as accurate off the tee, but the lanky right-hander registered 13 greens in regulation and made every up-and-down he faced but one.
Starting his second round on the back nine, he drilled a 4-iron from 256 yards on No. 12 to 18 feet and two putted for birdie. At the reachable 17th (par 4, 313 yards), McClellan did just that with a driver that stopped 30 feet from the hole. He two putted again for birdie and made the turn in 2-under par for the day.
On No. 4, he was able to hammer a hybrid out of the upslope of the bunker to the right of the green and get up-and-down for birdie before adding a stellar 8-iron on No. 6 (par 3, 168 yards) that stopped a foot and half from the hole for a fourth birdie. He registered his lone bogey of Round 2 on No. 7 (par 4, 479 yards) when he came up short of the green on his second shot but undeterred by darkening conditions on No. 9, McClellan recorded a fantastic bunker save from the right front sand that ended three feet from the cup.
"It wasn't as firm as yesterday with all the rain, so even though I wasn't hitting the fairways, you could hit the greens and stop," said McClellan. "I made a lot of good up-and-downs and nice 12 to 15 footers."
McClellan opened the tournament with a 73, in a tie for sixth.
Ingraham a club professional from Harrisburg, Pa., finds himself a shot back of the leading duo.
The 49 year old finished at 3-over-par 74 in the afternoon but stated his intentions early in the morning with the completion of his first round.
Like Rohanna, Ingraham and the rest of Monday's afternoon starting times were forced to complete their first round Tuesday morning.
Ingraham, who had seven holes to complete, finished with a flurry. He carded two birdies and an eagle on his last four holes to finish with an opening-round 67 and a two-shot lead.
On No. 17 (par 4, 313 yards), Ingraham hit a 5-iron and then 130-yard pitching wedge to 18 feet that spun back in the hole for a two.
"I was feeling great, especially knowing what the scores [that finished yesterday] were," said Ingraham, a professional at MGOLF Driving Range and Learning Center in Newtown Square, Pa. "I had a pretty good feeling I was in the lead [at that point]."
Rohanna, who had two holes remaining, went bogey, birdie to finish at 3-over 74, tied for 11th place.
Amateur Mike Van Sickle of Wexford, Pa., the two-time reigning Open Champion, is currently tied for 16th.
[ Back ]