Chylinski, Domenick earn state Better-Ball title
HUNTINGDON VALLEY, Pa.–Michael Domenick of Phoenixville CC drained a tension-filled four-foot par putt on the final hole to secure a one-stroke victory for him and partner Ed Chylinski of Chester Valley GC in the 20th state Better-Ball Championship on Thursday at Huntingdon Valley CC.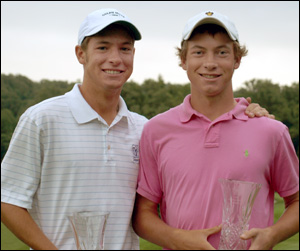 James Kania (left) and Michael Kania.
Chylinski and Domenick finished at 9-under par for the two rounds, one shot in front of brothers James, Jr. and Michael Kania of Overbrook GC. Three teams, including brothers Michael and Doug Gregor and the father-son duo of James Sullivan, Jr. and Sr., both home club hopefuls, finished at 8 under. Michael Brown of Philadelphia Publinks GA and Paul Polinsky of Manufacturers G&CC also finished two shots behind the winners.
"I've played in a lot of these so to win one feels great," said Chylinski, 59, of Gulph Mills, Pa. "It's good to be in the winner's circle."
Added Domenick, 54, of Phoenixville, Pa., "You don't really understand [how it feels to win] until it happens. You play in enough of these things and guys like me don't see a lot of wins. Actually yesterday was the day. That was the best round of golf I've ever played in a competition." He shot a 4-under-par 66 on his ball on Wednesday.
Chylinski and Domenick entered Day Two at 7-under par overall and two shots clear of the rest of the field. The Sullivans were the closer pursuers at 5 under. The Kanias started three back. However, with the golf course playing more difficult and the wind intensifying as the day grew longer, scores for Round 2 weren't nearly as low as Day One. That set up a mad dash to the finish line.
"When we got down the stretch, 15-16-17, we just figured if we could par in we could win," said Domenick. "Especially with the weather, it got windy and pretty tough."
As the day shook out, three teams, Chylinski and Domenick, the Kanias and the Sullivans, each controlled their own destinies.
The Kanias, playing two groups in front of the other pair, were the first to post a number, finishing at 8-under par after recording a 3-under 32 on the back nine.
"Our motto was to bring the heat and we didn't do that until the back," said James Kania, 20, a University of Kentucky sophomore from Haverford, Pa. "We were aiming for a 64 but we carded a 66 and we'll see where that leads us."
James birdied No. 11 (par 4, 372 yards), No. 13 (par 3, 180 yards) and No. 15 (par 5, 571 yards) on the inward nine. Michael, 18, of Haverford, Pa., who will also be attending the University of Kentucky as a freshman in the fall, carried the load on the front with birdies on No. 4 (par 4, 365 yards) and No. 7 (par 5, 550 yards), a hole which he had an eagle look from 30 feet. The two carded only one bogey on the day, that coming on No. 2 (par 4, 440 yards).
So that left Chylinski and Domenick and the Sullivans, both playing in the final grouping of the day, to match the Kanias final tally. And they both hovered right around that 8-under number throughout the final nine. The Sullivans recorded three birdies on the front, a sand wedge by James, Jr., to two feet on No. 1 (par 4, 390 yards) and a pair of 12 footers by James, Sr., on No. 4 and No. 9 (par 4, 450 yards), to move to 8 under with nine holes to go. However, the duo could not get over the hump on the way in and bogeyed the final hole (par 4, 425 yards) to fall by two shots to the eventual winners. Chylinski and Domenick, too, made the turn at 8 under, but birdied No. 11 and 13 to quickly jump into double digits. A bogey on No. 14 (par 4, 467 yards) costs the team a shot when both failed to get up-and-down after coming up short of the green but four straight pars to finish sealed a win. That par stretch, however, was far from mundane as Chylinski made a tremendously difficult up-and-down from the left greenside bunker on No. 16 (par 4, 385 yards) and Domenick made a nifty par save from off the green and right of the 17th (par 3, 211 yards) putting surface. On No. 18, a great finishing hole onto itself, Domenick played first and knocked his 3-hybrid from 181 yards to about 20 feet above the hole. Chylinski's approach effort landed just past Domenick's shot, but trickled off the green. Domenick's first putt then came up about four feet short and after Chylinski could only manage a five, left the tournament deciding stroke to Domenick.
"I just wanted to make it. I didn't want to let Eddie down," said Domenick. "I already missed two of those earlier today.
"That [shot from the fairway on No. 18] was ridiculous. Like I told Eddie, just stand out there and make a good swing and whatever happens happens. And that's one of my favorite clubs. It just worked out."
Yes it did.
| | | | |
| --- | --- | --- | --- |
| Name, club | Rnd. 1 | Rnd. 2 | Total |
| Ed Chylinski/Michael Domenick, Chester Valley GC/Phoenixville CC | 63 | 68 | 131 |
| James Kania, Jr./Michael Kania, Overbrook GC | 66 | 66 | 132 |
| Michael Gregor/Douglas Gregor, Huntingdon Valley CC | 68 | 65 | 133 |
| James Sullivan, Sr./James Sullivan, Jr., Huntingdon Valley CC | 65 | 68 | 133 |
| Michael Brown/Paul Polinsky, Phila Publinks GA/Manufacturers G&CC | 66 | 67 | 133 |
| Gary Daniels/Charles  Dowds, III, Applebrook GC | 66 | 69 | 135 |
| Patrick Sullivan/Travis Gahman, Philadelphia Publinks GA | 67 | 68 | 135 |
| Santo Lafoca/Byron Whitman, Huntsville GC/ Golden Oaks GC | 68 | 68 | 136 |
| Zach Rothaus/Brian Rothaus, Philmont CC | 66 | 70 | 136 |
| David Brookreson/Chip Lutz, Huntingdon Valley CC/LedgeRock GC | 67 | 70 | 137 |
| Edward Erickson/Ted Harris, Makefield Highlands GC | 68 | 69 | 137 |
| Cole Willcox/P. Chet Walsh, Philadelphia CC | 70 | 67 | 137 |
| Eric Williams/James Gardas, Honesdale GC | 66 | 72 | 138 |
| Edward Knoll/George Troutman, Deer Run GC | 67 | 71 | 138 |
| Jason Bernstein/Marc Mandel, White Manor CC | 68 | 70 | 138 |
| Scott Klee/Chris Esbenshade, Five Ponds GC/Indian Valley CC | 68 | 71 | 139 |
| Kenneth Phillips/Eric Buck, Lancaster CC | 66 | 73 | 139 |
| Craig Scott/Daniel Pinciotti, Jr., Huntingdon Valley CC | 70 | 69 | 139 |
| Brandon Detweiler/Marlin Detweiler, Lancaster CC | 66 | 73 | 139 |
| Christopher Gebhard/Michael Schmidt, Jr., Lebanon CC/PGA Indiv. Member | 70 | 69 | 139 |
| Michael Rose/Robert Galbreath, Jr., Philmont CC/Huntingdon Valley CC | 71 | 68 | 139 |
| Tim Deery/Alex Maguire, Jr., Meadia Heights GC/Brookside CC | 65 | 75 | 140 |
| Patrick Dougherty/Charles Scalzott, Talamore CC/Huntingdon Valley CC | 71 | 69 | 140 |
| Ryan Franks/Ryan Strickler, Standing Stone GC/Huntingdon CC | 68 | 72 | 140 |
| Fred Riley/Gray West, Toftrees GC | 74 | 67 | 141 |
| Chip Culp/Robert Robertson, Philadelphia Cricket/Sunnybrook CC | 73 | 68 | 141 |
| Thomas Soares/Jason Barkley, Moselem Springs GC/Huntsville GC | 72 | 70 | 142 |
| Corey Gast/Craig Kliewer, Meadia Heights GC | 71 | 71 | 142 |
| Chris Smedley/Mike Ellis, Coatesville CC/Loch Nairn GC | 71 | 72 | 143 |
| Patrick O'Brien/Patrick Rugg, North Hills CC/Rolling Green GC | 71 | 72 | 143 |
| Patrick Ross/Peter Nelson, Elmhurst CC/Glen Oak CC | 72 | 71 | 143 |
| Rich Thon/Andrew Harmer, The Springhaven Club | 74 | 69 | 143 |
| Bennett Boyer/Scott Pugh, CC of Harrisburg/Blue Ridge CC | 70 | 73 | 143 |
| Alex Pompey/David  Pompey, Jr., CC of Scranton | 69 | 75 | 144 |
| Matt Dietrich/Jim Simmons, Stonewall/Whitford CC | 70 | 74 | 144 |
| Bryan Winsko/Joe Dellicarpini, Philadelphia Cricket Club | 71 | 73 | 144 |
| Kevin Bondi/Edward Bondi, Huntingdon Valley CC | 71 | 74 | 145 |
| Gregory Ulp/Chris Crowley, CC of Harrisburg/PGA Indiv. Member | 75 | 70 | 145 |
| Brian Corbett/Robert Gill, Huntsville GC/Fox Hill CC | 73 | 72 | 145 |
| Gary Geldhof/Albert Hazzouri, Jr., Glenmaura National GC | 71 | 74 | 145 |
| Scott Orr/Marty Dorminy, Brookside CC/Golden Oaks GC | 70 | 75 | 145 |
| Brad Markey/T.J. Ostrom, Out Door CC/PGA Indiv. Member | 74 | 72 | 146 |
| David Strohl/David Blichar, Blue Ridge CC/Moselem Springs | 73 | 73 | 146 |
| Jeff Tamblyn/Thomas Howe, Honesdale GC | 73 | 74 | 147 |
| Matthew Hoover/Mark Answini, Fox Hill CC | 70 | 77 | 147 |
| Alex Maguire, Sr./Bo Maguire, Brookside CC | 71 | 76 | 147 |
| Rob Gilbert/Ben Rowe, Conestoga CC/Four Seasons GC | 72 | 75 | 147 |
| Thomas Isola/Jack Holland, Whitford CC | 74 | 74 | 148 |
| Anthony White, Jr./William Smyrl, Blue Bell CC | 72 | 76 | 148 |
| Nat Lauver/Frank Balcavage, Lost Creek GC/Hickory Valley GC | 75 | 73 | 148 |
| Robert Amen/Michael Quinn, Edgmont CC | 72 | 77 | 149 |
| William Jefferis/Stephen Walton, Downingtown GC | 74 | 75 | 149 |
| George Elias/Anthony Kondracki, Irem Temple CC/Fox Hill CC | 70 | 79 | 149 |
| Thomas Mairone/Bob Stewart, McCall G&CC/Westmoreland CC | 74 | 76 | 150 |
| Robert Howell/Rich Webber, GC at Felicita | 74 | 76 | 150 |
| Jeff Daniels/Gregory Adams, Daughin Highlands GC | 75 | 75 | 150 |
| Frank Boensch/Joe Coulson, PGA Indiv. Members | 76 | 76 | 152 |
| Tim McNerney/Tony Carroll, Philadelphia Publinks GA | 75 | 77 | 152 |
| William Rolli/Dan Koffel, Hickory Valley GC | 79 | 74 | 153 |
| Kyle Clark/Ralph Steeves, Scranton Municiple GC | 76 | 77 | 153 |
| Andrew Parker/Steve Verde, St. Davids GC/Spring Ford CC | 75 | 80 | 155 |
| Drew O'Neill/Mark O'Neill, Whitemarsh Valley CC/Sandy Run CC | 81 | 76 | 157 |
| Brian Dobisch/Mark Smedley, Talamore CC/Bellewood GC | 79 | 78 | 157 |
| John Deacon/Jim Lanzalotto, Llanerch CC | 80 | 93 | 173 |
[ Back ]