Fownes Player of the Year Points Standings
Senior Player of the Year Points Standings
Smith and Bartolacci Named
PAGA Players of the Year
A dream golf season has left Nathan Smith with a lifetime of memories, some new friends and a lot of hardware. Nathan began the year with a win over, close friend, Sean Knapp in the finals of the R. Jay Sigel Amateur Match Play Championship at Fox Chapel Golf Club. Smith proceeded to finish first in the Western Pennsylvania Amateur Championship and the Pennsylvania Amateur Championship.
Then he went on the USGA circuit, starting with the US Amateur Championship where he qualified for match play. After that, he received the call from Buddy Marucci to invite him to be a member of the victorious US Walker Cup Team; he contributed 2 valuable points. With the taste of champagne still on his lips, a week later he won the USGA State Team Championship along with teammates Sean Knapp and Mike Van Sickle.
Smith wasn't finished, though. He concluded his miraculous season with a second US Middle-Amateur Championship win; his first coming in 2003.
Nathan made very strong showings in invitationals such as the Sunnehanna Amateur, Western Amateur, and Southern Amateur. Smith was also named Western Pennsylvania Golf Association's top amateur prize for the second year in a row.
Senior Amateur Player of the Year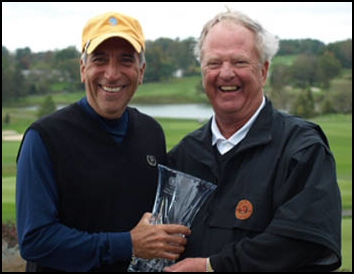 Tom Bartolacci, Jr. began the season with a match against Roc Irey, as the 9th seed in the R. Jay Sigel Senior Amateur Match Play Championship at Fox Chapel Golf Club. He lost that match 4 & 3. The two players made up afterwards and proceeded to win the Pennsylvania Senior Better-Ball Championship by 4 shots, at Commonwealth National Golf Club.
Bartolacci made a very strong showing at the Pennsylvania Senior Amateur Championship at Huntsville Golf Club, with a 2 shot lead after the first round. He was caught by Dave DeNezza on the last hole, but still finished with a second place trophy. He then finished 4th overall and 1st in the Senior Division at the Art Wall, Jr. Major, held at the Country Club of Scranton. He also finished in second place in the Pennsylvania Senior Team Championship, a team best 3 of 4 competition.
[ Back ]