Scorecards / Super-Sr. Scorecards
DeNezza Posts Final Round 69 to Win Senior Amateur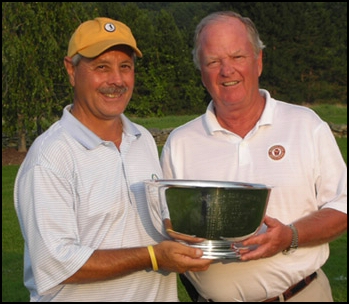 Dave DeNezza accepts the Senior Amateur Championship
trophy from Ray Mott, President of the Association
August 3-4, 2009; Huntsville Golf Club; Dallas, PA; 6611 yards, par 72.
Dave DeNezza, of Greensburg, PA, was the only player in the field to break 70 with a final round 69 to win the Senior Amateur Championship at Huntsville Golf Club in Dallas, PA.
DeNezza began the second round two shots back of Senior Better-Ball Champion Tom Bartolacci, Jr., of Washington Crossing, PA.
DeNezza said of his chances before starting the second round, "You just have to stay within yourself, don't make too much of any hole, just play your game, and that's what I did."
In the first round Bartolacci had a stretch of four birdies in a row, starting with the tough 409 yard, par 4, 11th hole, and ended with one on the trecherous 478 yard, par 5, 14th hole. He finished the day with five birdies and three bogeys to have the overnight lead.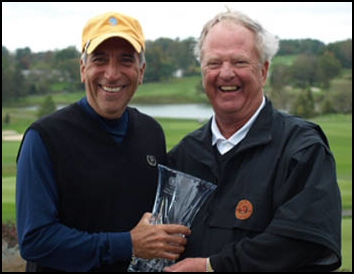 Tom Bartolacci, Jr. with Association
President, Ray Mott
The final round, for DeNezza, must have seemed like a blur. He remained flawless through 14 holes, carding 3 birdies and 11 pars, before a misstep at the 177 yard, par 3, 15th hole, where he made a bogey to get back into a tie with Bartolacci at 2-under-par for the tournament.
"I've really been working hard at my game the last four weeks, and the game is starting to come to me," said the Greensburg CC Club Champion.
Bartolacci gave the lead back on the 16th hole, after tapping in a bogey putt, but recovered with a birdie on the 159 yard, par 3, 17th hole. They stood on the 18th tee tied for the lead and didn't have another competitor within 3 shots.
Bartolacci had the honor, after his birdie, and hit his drive down the left hand side of the fairway and ended up with an unfortunate down-hill lie just outside of the bunker. DeNezza striped his drive down the right hand side of the fairway and was left with 171 yards uphill, on the hardest hole on the course.
Bartolacci's only option was to advance his shot up the fairway, and was left with 130 yards in the first cut of rough. All he could do was watch as DeNezza placed his shot 8 feet right of the difficult hole location on the 18th green. He had only one 3-putt the entire tournament, which left him feeling pretty confident.
Bartolacci's 35 foot par saving putt did not drop and DeNezza rolled in the final blow, as he finished with a birdie to win the event by two shots.
"This is the biggest win of my life. It's a dream come true."
SUPER-SENIOR AMATEUR CHAMPIONSHIP
Jay Howson, Jr., of Malvern, PA, recorded a rare feet on the first day of the Super-Senior Amateur Championship, by carding a 2-under-par score of 70. A score that beat his age by one.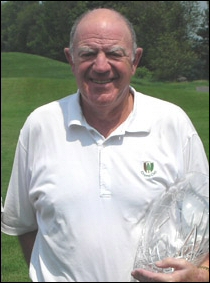 Jay Howson, Jr. with his Championship trophy
"I have shot my age 17 times, but only a handful in competition, so it was pretty special," said Howson after his first round 70.
Howson had a five-shot-lead to start the second round, but had a couple of competitors on his heels after he posted a 40 on the front nine. Don Lamb, of McMurray, PA, was one of those players trailing Howson.
Lamb started off the second round with a birdie on the 471 yard, par 5, 1st hole and rode some stellar play down the stretch to tie for second place with Ed Hennigan, of Exeter, PA. Both players picked up five shots on the leader in the second round, but Howson did what he needed to do to get the job done.
"Once I made it to the green in two on the 18th hole, I knew I had a 3-shot cushion and could finally relax," said Howson.
This is the first time Howson has won a state championship.
The 2010 Senior Amateur Championship and Super-Senior Amateur Championship will be held at Chester Valley Golf Club, in Malvern, PA.
[ Back ]