Nathan Smith Wins 6th R. Jay Sigel
Match Play Championship
Paul Schlachter Repeats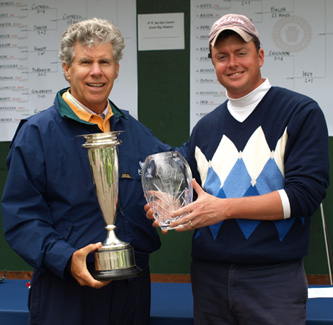 R. Jay Sigel awards Nathan Smith the hardware.
The competition was extremely tight for the final 2 rounds of the R. Jay Sigel Amateur Match Play Championship. In the semifinals, Nathan Smith, of Pittsburgh, PA, edged out 3 time champion Arnie Cutrell, of Greensburg, PA, and Sean Knapp came from behind to beat Robert Galbreath, Jr., of Huntingdon Valley, PA, 1 up on the 18th green.
The two staples of the amateur golf scene in Pennsylvania squared off for the final round on Tuesday. Knapp took the early lead going 2 up through 5 holes with a birdie on the 483 yard par 5, 2nd hole, and a bogey by Smith on the 485 yard par 4, 4th hole.
Smith took back the lead with incredibly steady play reeling off 9 straight pars to go 2 up through 13 holes. Knapp didn't let him out of his sight though. He got the match back to all square through 15 holes. Knapp stumbled down the home stretch, missing a 3 1/2 foot par putt on the 17th green to give Smith a 1 up lead on the 18th tee. Both players parred the 574 yard, par 5 to give Smith his first Sigel Match Play Championship.
"I'm honored to even be associated with the guy who set the standard for amateur golf" said Smith. "I had a tough road to hoe, having to beat the club champion, Bennett Smith, and Adam (Hoffman), and to have to follow that up with Arnie (Cutrell). It was a toss up (with Sean Knapp) and I happened to make a few putts."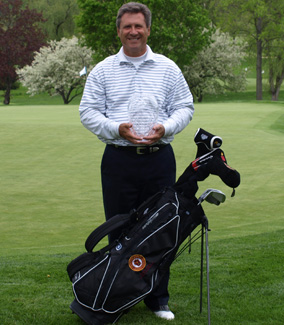 Paul Schlachter poses with his trophy
and new Ogio Vaporlite CC golf bag,
courtesy of Ogio
In the semifinals of the Senior Division, both matches were won on the 185 yard, par 3, 17th green which features a Biarritz green complex. Paul Schlachter, of Bridgeville, PA, fought off Bill Baloh, of Herminie, PA, who won his 2nd round match in 21 holes.
Roc Irey, of Furlong, PA, beat Don Erickson, III, of DuBois, PA, 2 and 1 to set up a rematch of sorts between he and Schlachter. The 2008 Senior Amateur Championship at Nevillewood Country Club came down to the final hole with Irey and Schlachter in the fairway of Paul's home course. Irey took that title, but Schlachter got even on this day beating Roc 5 & 3.
"It's really quite cool to have Jay (Sigel) present the trophy, and just have him at the event named after him. He has been a role model for me for a long time and to have 2 trophies with his name on it is really special," remarked Schlachter.
The 2010 Championship will be held at Lookaway Golf Club in Buckingham, PA.
Amateur Division
Senior Division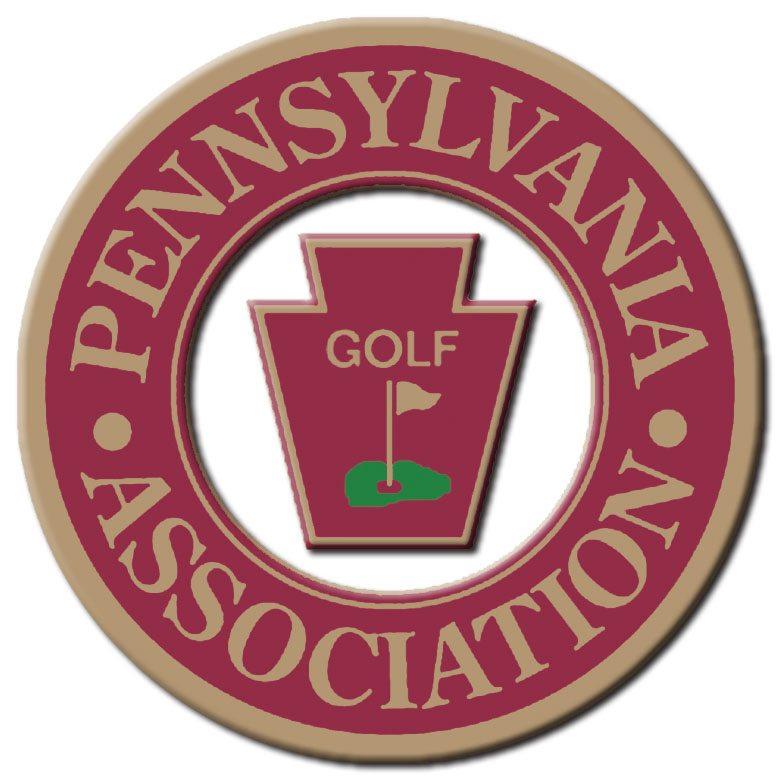 [ Back ]