*Amateur Division Semifinal matchups
*Senior Division Semifinal matchups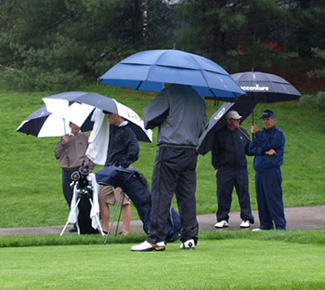 P. Chet Walsh (middle) and R. Jay Sigel (far right),
along with Adam Hoffman's father and his caddie, try
to stay dry during the 1st round.
A nice, mild Pittsburgh morning turned into an all-day rainy affair, but the cold and rain didn't stop the Top 16 amateurs and Top 16 seniors from starting off the 2009 Pennsylvania Golf Association season. Mr. R. Jay Sigel was in attendance this morning following along with Adam Hoffman and his opponent P. Chet Walsh. The rain didn't keep them away and didn't stop some fierce competition either.
The morning matches concluded with eight players from each division moving on. The afternoon matches were fantastic:
Amateur Division
Nathan Smith vs. Adam Hoffman
Arnie Cutrell vs. William Smith
Sean Knapp vs. David DeNunzio
Robert Galbreath, Jr. vs. Robert Rohanna
All four matches in the Amateur Division went down to the wire. Nathan Smith, the top seed for the Championship, had some tough competition from the 2 "home team" players in Bennett Smith and Hoffman. The quarterfinal match was never more than 1up to either player, and Smith had to play him all the way to the last putt on the 18th green.
Arnie Cutrell, three-time defending champion, was 5-down with six to play and came back in spectacular fashion to beat the 2008 Middle-Amateur champion, William Smith of Newville, Pa.
Sean Knapp, of Oakmont, Pa., had a tough battle with David DeNunzio, who beat the 2008 Match Play runner-up, Eric Williams, of Honesdale, Pa., in the first round. DeNunzio never let Knapp out of his sight, keeping him to within a two-hole lead the entire match.
Robert Galbreath, Jr., of Huntingdon Valley, Pa., and Robert Rohanna, of Waynesburg, Pa., battled down to the 18th hole as well. Galbreath made a 4-foot putt to close Rohanna out to end the day.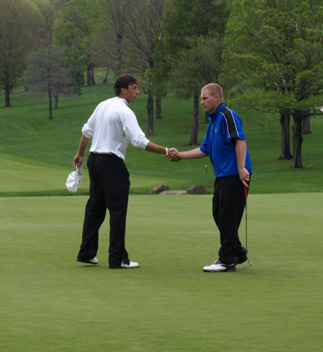 Robert Rohanna (left) congratulates Robert Galbreath on
his finish to push him into the semifinals.
Senior Division
Paul Schlachter vs. Mike McGuire
Craig Scott vs. Bill Baloh
Don Erickson, III vs. John Benson
Dave DeNezza vs. Roc Irey
Defending champion, Paul Schlachter, of Bridgeville, Pa., finished off his first two opponents, but it was no picnic. Fred Riley, of Centre Hall, Pa., took the champion to the 16th before losing 4&2. Then Mike McGuire, defending Art Wall, Jr. Major, Senior Division Champion, played Schlachter to the 17th hole before losing 2&1.
Craig Scott, of Marshalls Creek, Pa., and Bill Baloh, of Herminie, Pa., just couldn't get enough of Fox Chapel Golf Club on this rainyday. They finished their quarterfinal match in 21 holes, trading the lead four times. Baloh parred the 344 yard, 12th hole to beat Scott.
Good friends Don Erickson, III, of DuBois, Pa., and John Benson, of Punxsutawney, Pa., traded blows before Erickson took over on the back nine. Erickson will face Roc Irey, of Furlong, Pa., and reigning Senior Amateur Champion in the semifinals tomorrow.
The semifinal matches will begin on Tuesday, May 5 at 8 a.m.
[ Back ]