Moot and Drescher Demolish Better-Ball Field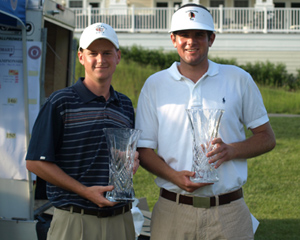 Matt Moot (left) and Zak Drescher with their
Championship trophies
Bedford, PA - Matt Moot, of Windber Country Club, and Zak Dresher, of Lancaster Country Club, cruised to a record breaking championship victory, posting rounds of 62 and 64, respectively. The previous record was 130. Their first round was nothing short of phenomenal, carding 3 birdies and an eagle on their opening nine holes to set the tone for the event. They finished their day 10-under-par (5-under-par over the last 4 holes). Matt Moot punched a six iron on the 170-yard, par 3, 17th hole, and initially thought he hit it fat...but regardless of how it came off of the face of the club, it went in!
On the first day of competition, the early leaders in the clubhouse were the father-son duo of Brandon Detweiler and Marlin Detweiler, of Lancaster Country Club. They posted a fine round of 6-under-par, 66, which included 6 birdies and no bogeys. Their lead did not last long, as Michael Kania, of Overbrook Golf Club, and Austin Wolf, of Bent Creek Country Club, posted a 7-under-par, round of 65.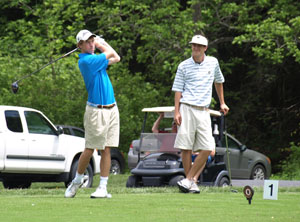 Michael Kania (left) and Austin Wolf
The low numbers did not stop coming in, even with an extremely wet, difficult course. The rough measured in the "US Open-esque" category for both days of competition due to one and a half inches of rain the day before competition. The Bedford Springs Resort's Old Course features five par 5's, which measure anywhere from 519 yards to 617 yards. With wet conditions, the 617 yard, par 5, 13th hole, played more like 700 yards!
Patrick Ross, of Elmhurst Country Club, and Peter Nelson, of Glen Oak Country Club, carded a first round 6-under-par, round of 66 to put some more pressure on the leaders for the second round. There were 7 teams within 5 shots of the leaders after day 1.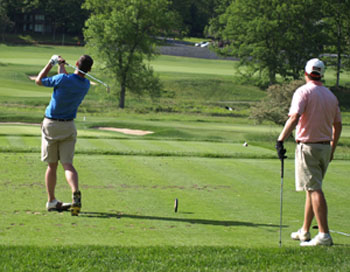 Peter Nelson (left) and Patrick Ross on the 14th tee
The rough kept growing and the wet course did not let up for the second round, but you wouldn't know it by the scores. Wes Turiano and Derek Hayes, both from Sunnehanna Country Club, tried to put a scare into the field on the second day of competition. They came out on fire, rolling in 7 birdies on the front nine for a nine-hole tournament low of 7-under-par, score of 30 (the front nine is par 37). On paper, they had moved into a tie for the lead, but that was before the leaders made the turn, and posted a 5-under-par, front nine 32 to extend their lead back to 5 shots.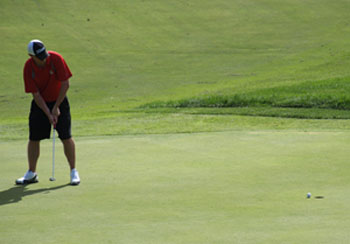 This must have been what Wes Turiano (pictured) and
Derek Hayes looked at all morning (their putts dropping).
It was cruise control from there on for the leaders. They finished with a pair of 32's for their final round to shatter the tournament scoring record by 4 shots. The previous record was held by Jason Bernstein and Alan Borowski, at 130, when they won the event in 2007.
The 2011 Better-Ball Championship will be held at the Country Club of Scranton on May 23-24.
A special thanks to the Bedford Springs Golf Professional, Ron Leporati and his staff, and to David Swartzel, Superintendant and his staff. Also, to Bedford Springs Resort for a fantastic job preparing for the championship.
Name

Club

Rnd 1

Rnd 2

Total

Moot, Matt / Drescher, Zak
Windber CC/ Lancaster CC

62

64

126

Ross, Patrick D. / Nelson, Peter
Elmhurst CC/ Glen Oak CC

66

66

132

Hayes, Derek J / Turiano, Wesley
Sunnehanna Country Club

67

65

132

Wolf, Austin A / Kania, Michael
Bent Creek CC/ Overbrook GC

65

69

134

Scott, Matthew / Schmader, Jared P.
Churchill Valley CC/ Mt. Hope GC

69

65

134

Denlinger, David L. / Burkhart, Matthew E
Lancaster Host/ Meadia Heights GC

68

66

134

Detweiler, Brandon / Detweiler, Marlin
Lancaster Country Club

66

69

135

Hofmann, Adam / Bope, Mark C.
Fox Chapel GC/ Oakmont CC

67

68

135

Fink, Jr., Artie / Gillam, Jimmy
Sinking Valley Country Club

.

68

67

135

Benson, John / Erickson, Don H III
Punxsutawney CC/ Indiana CC

68

68

136

Corsi, Joe / Baloh, Rick
Hannastown GC/ South Hills CC

70

66

136

DeNunzio, Ronald / DeNunzio, David
Greensburg Country Club

69

68

137

Gambacurta, Chris L / Reighard, Cory A.
Down River GC/ Llanerch CC

69

68

137

Hughes, Jim / Smith, William F.
Carlisle CC/ Chambersburg CC

67

70

137

Brown, Dan / Gibbons, Andy R
Pine Meadows Golf Complex

68

69

137

Will, Brent L. / Will, Shawn R
Longue Vue Club

68

69

137

Wears, Will / Gjebre, Benjamin H.
Latrobe Country Club

67

71

138

Markey, Brad / Ostrom, T.J.
Out Door CC/ Regents Glen CC

69

69

138

Cutrell, Arnie / Fairman, Frank
Greensburg CC/ Punxsutawney CC

72

66

138

Stiffler, Bobby T. / Poet, Jeff
Bon Air Country Club

70

69

139

Moose, Justin / Himler, Bob
Carradam GC/ Totteridge GC

70

69

139

Ferentino, Maurice / Usher, James B
Sewickley Heights Golf Club

68

71

139

Haag, Kevin T / Stoner, Jay R.
Deer Run Golf Club.

71

69

140

Slike, Curtis / Ulp, Gregory
Country Club of Harrisburg

71

70

141

Jones, Derek M / Dever, Pierce
Hill Crest CC/ Yardley CC

73

68

141

Saleme, Keith / Stultz, JP
Sunnehanna Country Club.

72

69

141

Opitz, Gordy / Meyer, Gregor F
Pittsburgh Field Club

71

71

142

Riley, Fred / West, Gray
Toftrees Golf Club

68

74

142

Sprowls, Cameron J / Logue, John
Down River GC/ Bedford Springs

70

72

142

Tamblyn, Jeff / Howe, Thomas
Honesdale Golf Club

73

70

143

Gardas, James / Emiliani, John
Honesdale Golf Club.

69

74

143

Scott, Rick A. / Wilhite, Ted
West Shore CC/ CC of Harrisburg

72

72

144

Barkley, Jason / Soares, Thomas M.
Huntsville GC/ Moselem Springs GC

71

73

144

Hanford, Stuart / Weaber, Ryan M
Lebanon Country Club

72

72

144

Lafoca, Santo T. / Whitman, Byron W.
Huntsville GC/ Golden Oaks GC

73

71

144

Dietrich, Matt / Simmons, Jim
Whitford CC/ Stonewall

71

73

144

Bincarowsky, Ralph / Podufal, Ed
Kahkwa Club/ Lake Shore CC

73

71

144

Allshouse, Bob / Baloh, Bill
Hannastown GC/ Greensburg CC

75

70

145

Biggica, Brett J / Swanger, Russ S
Sportsmans Golf Course

69

76

145

Rowe, Ben P. / Cooper, Brian
Conestoga CC/ Lykens Valley GC

75

70

145

Nichamin, Alex L. / Powell, Mark
Pinecrest CC/ DuBois CC

72

73

145

Spatz, Malcolm / Thomas, Jon E
Oakmont CC/ Pittsburgh Field Club.

74

71

145

Fairman, Michael M / Fairman, Richard M
Indiana Country Club

74

71

145

Fouse, Andrew P / Williams, Cory A
Huntingdon CC/ Sinking Valley CC

77

69

146

Booher, Daryl L. / Hinish, Spencer
Down River Golf Club

73

74

147

Strickler, Ryan W / Franks, Ryan M
Huntingdon CC/ Standing Stone GC

74

73

147

Knoll, Edward H. / Troutman, George E.
Deer Run Golf Club

72

75

147

Rohrbaugh, Patrick / Burkholder, Stephen C
Colonial Country Club

72

75

147

Hunter, Robert / Voltz, Mike
Sinking Valley Country Club .

77

70

147

Studer, Mark A. / Donahue, Dan C.
Oakmont CC/ Pittsburgh Field Club

73

75

148

Hrip, Max / Proietto, Robert R
Carlisle CC/ Dauphin Highlands GC

71

77

148

Potuzko, Jason / Torau, BJ
Hannastown GC/ Ligonier CC

74

74

148

Destefano, Stephen / Pheasant, Jay
Sinking Valley Country Club.

74

77

151

Ferguson, Gregory J / Ferguson, James E
Sinking Valley Country Club

79

72

151

Valenches, Jr., Fritz / Marzolino, Bryan C.
Elmhurst Country Club

81

71

152

Corbett, Brian T. / Gill, Robert
Huntsville GC/ Fox Hill CC

78

76

154

Stewart, Jr., Gary / Barbacci, Damon C
Country Club of York

77

77

154

Pompey, David W. / Joyce, Evan
CC of Scranton/ Glenmaura Nat'l

81

76

157

Strickler, Ed / Young, Matt
Huntingdon Country Club

78

80

158

Webber, Richard / Howell, Robert
Golf Club at Felitica

84

75

159

Clark, Kyle / Steeves, Ralph
Scranton Municipal Mens GA

77

84

161

Todarello, James / Crawford, Jim
Longue Vue Club.

79

83

162
[ Back ]