Ault Strides to Early Lead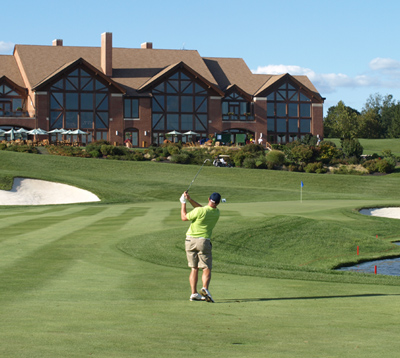 Ault hits his approach to the 18th green
Lafayette Hill, PA; The 19th Middle-Amateur Championship is being held at The ACE Club. This is the first time that the club has hosted a state championship, and it did not disappoint.
The primarily corporate country club in the suburbs of Philadelphia, is somewhat new to the amateur golf scene. Many of the players had never been on the property. However, most of the players were caught taking photos of the picturesque scenery.
All was not lost on the scenes, however. Chris Ault was all business in the first round. Ault, from Yardley, PA, shot out to a quick 3-under par round after birdying holes four through six.
"The greens are really good at ACE, so if you can get the speed, you can really get going," said Ault after his round.
Chris Ault has been working with Mike Dynda, his new coach since Spring 2012. They have been working hard on his short game and the mental side of his game.
Ault got into some trouble in the middle six holes of his round, but trouble only meant settling for pars on this day. He was able to get to 6-under-par through seventeen holes, and then left his approach to the difficult 18th green, 40 feet short of the flag. A three-putt, bogey finish was not what Ault was looking for, but was good enough for a 2-shot lead over Jack Wallace, from Philadelphia Cricket Club.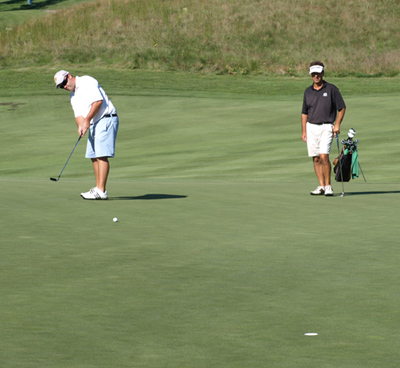 Jack Wallace hits a putt on the 8th green
Wallace put together a round with five birdies, but was offset by two tough bogeys on the 10th (389 yard, par 4) and 12th (194 yard, par 3) holes.
The final group is rounded out by Jeff Frazier, from Carlisle Country Club, at 2-under-par, 70. Frazier's round was highlighed by holing out his approach shot on the 11th hole (402 yard, par 4).
The lead group tees off at 1:10pm on Tuesday.
[ Back ]