Drawing for our winner: YouTube Video
Congratulations to Tim Gershey!
2013 Masters Contest
Nemacolin Woodlands Resort and PA Golf are gearing up for another fantastic Pennsylvania summer.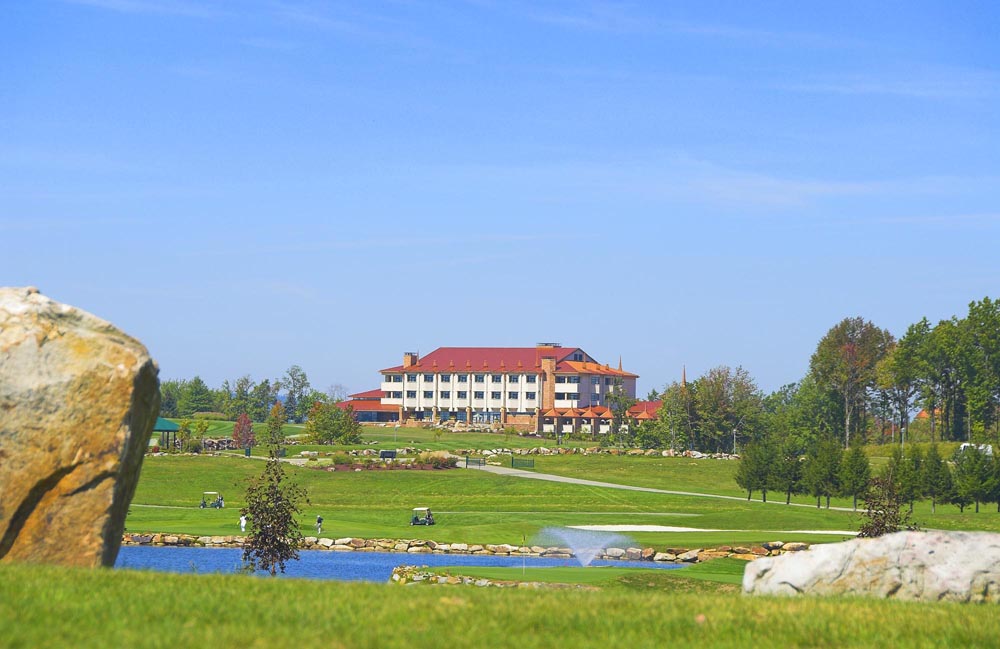 To kick off the golf season, let's give away a nice trip to the Laurel Highlands of Pennsylvania.
Prize: A One-Night Stay in our Two-Bedroom Townhome and a Round on the Mystic Rock Golf Course for Four!
Disclaimer: Prize must be redeemed by April 30, 2014. Not valid on holidays or holiday weekends. Blackout dates and other restrictions may apply.
Prize includes one-night accommodations in one Two-Bedroom Townhome and one round on the Mystic Rock Golf Course for four people including cart and greens fees. Gratuities are not included. Prize is non-transferable and has no cash value. Gift letter must be presented at the time of check-in.
Value: $1,200
To enter the contest all you have to do is guess the number of sub-par scores (birdies, eagles, double-eagles, albatross) that the Champion will have during the 4 rounds of the 2013 Masters Championship.
Tie-breaker: Who will win the 2013 Masters Championship
Reply to the post on our facebook page, tweet us or DM us @PA_Golf, or send an email to triggin@pagolf.org
Entries must be received by 7:00am on Thursday, April 11th.
Good luck!
| | | | | |
| --- | --- | --- | --- | --- |
| Sub-Par Scores | First | Last | Tie-Breaker | Source |
| 13 | Brian | Matthew | Keegan Bradley | FB |
| 14 | Dave | O'Donnell | Nathan Smith | FB |
| 14 | Rich | Quinn | Phil Mickelson | Twitter |
| 14 | Scott | Pearson | Tiger | Email |
| 14 | Dwayne | Tuthill | Tiger | FB |
| 14 | Dan | Herrmann | Tiger | Email |
| 15 | Rick | Hrip | Lee Westwood | Email |
| 15 | Dave | Helmstadter | Phil Mickelson | FB |
| 15 | Jared | Texter | Sergio Garcia | Twitter |
| 15 | Greg | Johnston | Steve Stricker | Email |
| 15 | Tim | Gershey | Tiger | FB |
| 15 | Jonathan | Germock | Tiger | Email |
| 16 | Kenny | Engle | Tiger | Email |
| 16 | Corey | Wenger | Tiger | FB |
| 16 | Buck | Jones | Tiger | Email |
| 17 | Joey | Schmidt | Adam Scott | Twitter |
| 17 | Phil | Rothermel | Jason Dufner | FB |
| 17 | fentoozlr24 | | Justin Rose | Twitter |
| 17 | Randall | Finn | Justin Rose | Email |
| 17 | Fred | Rudy | Justin Rose | Email |
| 17 | Andy | Sergi | Justin Rose | FB |
| 17 | Amanda | Gregory | Louis Oosthuizen | FB |
| 17 | Joe | Pesavento | Matt Kuchar | Email |
| 17 | Drew | Nedzinski | Phil Mickelson | FB |
| 17 | Matthew | Salera | Phil Mickelson | Twitter |
| 17 | Fritz | Valenches | Rory McIlroy | Email |
| 17 | Bill | Sarsfield | Sergio Garcia | Email |
| 17 | Rich | Holstein | Steve Stricker | Email |
| 17 | Devon | Swope | Tiger | FB |
| 17 | Ken | Phillips | Tiger | Email |
| 18 | Jared | Shoaf | Adam Scott | FB |
| 18 | Mike | Ogden | Brandt Snedeker | Email |
| 18 | Jeff | Howell | Graeme McDowell | FB |
| 18 | Matthew | Hoover | Ian Poulter | FB |
| 18 | Len | Coleman | Justin Rose | Email |
| 18 | Chris | Durko | Nicholas Colsaerts | FB |
| 18 | Dustin | Sundy | Phil Mickelson | FB |
| 18 | Joe | Small | Phil Mickelson | Email |
| 18 | Don | Shorts | Rory McIlroy | Email |
| 18 | Ed | White | Rory McIlroy | FB |
| 18 | Mike | Krantz | Tiger | FB |
| 18 | M. | Stoey | Tiger | Email |
| 18 | Kyle | Kobe | Tiger | Twitter |
| 18 | Will | Breskman | Tiger | FB |
| 18 | Gab | Lavin | Tiger | FB |
| 18 | David | Steele | Tiger | Email |
| 19 | Carl | Everett | Adam Scott | Email |
| 19 | Chris | Storck | Adam Scott | Email |
| 19 | Mario | Machi | Bubba | Email |
| 19 | John | Weber | Dustin Johnson | Email |
| 19 | Erin Michelle | Hudson | Justin Rose | FB |
| 19 | Greg | Blackburn | Keegan Bradley | Email |
| 19 | Elliott | Struble | Lee Westwood | Email |
| 19 | Jim | Lawler | Matt Kuchar | Email |
| 19 | Patrick | Pasquareiello | Oostie | FB |
| 19 | Matt | Peden | Rory McIlroy | Email |
| 19 | Mike | Paulson | Rory McIlroy | Email |
| 19 | John | Pash | Tiger | FB |
| 19 | Bobby | Stiffler | Tiger | Email |
| 19 | Michael | Murton | Tiger | FB |
| 19 | Stephen | Seiden | Tiger | FB |
| 19 | Adam | Thomas | Tiger | Email |
| 19 | Josh | Billups | Tiger | FB |
| 19 | Pete | Richter | Tiger | Email |
| 19 | Brian | Sterlitz | Tiger | Email |
| 19 | Ryan | Ritchie | Tiger | Email |
| 19 | Nick | Casagrande | Tiger | Email |
| 20 | Kyle | Bloam | Brandt Snedeker | Twitter |
| 20 | Mike | Van Sickle | Charl Swartzel | Twitter |
| 20 | Gene | Hannum | Dustin Johnson | Email |
| 20 | Andy | Hobbie | Graeme McDowell | Email |
| 20 | Kevin | Kleinschmidt | Hunter Mahan | FB |
| 20 | Thomas | Markley | Keegan Bradley | Email |
| 20 | Bob | Schiller | Matt Kuchar | Email |
| 20 | Wes | Turiano | Matt Kuchar | FB |
| 20 | William | Peden | Phil Mickelson | Email |
| 20 | Keith | Li | Rory McIlroy | Email |
| 20 | David | Kearney | Tiger | FB |
| 20 | David | Erfly | Tiger | FB |
| 20 | Jason | Loehrs | Tiger | FB |
| 20 | Gene | Olinger | Tiger | Email |
| 21 | Kevin | Haag | Brandt Snedeker | FB |
| 21 | Stephen | Presseau | Dustin Johnson | Email |
| 21 | Kirk | Luntey | Hunter Mahan | Email |
| 21 | Michael | Goldman | Justin Rose | Email |
| 21 | Drew | Nedzinski | Matt Kuchar | Twitter |
| 21 | Jim | Coleman | Matt Kuchar | FB |
| 21 | Shawn | Kloetzer | Matt Kuchar | Email |
| 21 | Karen | Mazzoni | Matt Kuchar | Email |
| 21 | Derek | Hayes | Phil Mickelson | FB |
| 21 | Jeff | Sechler | Phil Mickelson | FB |
| 21 | Bruce | Gwin | Phil Mickelson | Email |
| 21 | Jesse | Richter | Rory McIlroy | Email |
| 21 | Kyle | Wigfield | Tiger | Twitter |
| 21 | Russel | Nix | Tiger | FB |
| 21 | Brian | Sidone | Tiger | Email |
| 21 | Jason | Marlo | Tiger | Email |
| 21 | Charles | Trenk | Tiger | FB |
| 22 | Tim | Krzeminiski | Brandt Snedeker | Email |
| 22 | Chris | Roselle | Hunter Mahan | FB |
| 22 | Ron | Grzymkowski | Matt Kuchar | Email |
| 22 | Dennis | Persin | Rory McIlroy | Email |
| 22 | Bob | Ruby | Tiger | FB |
| 22 | Calvin | Mentzer | Tiger | Email |
| 22 | Bryan | Joseph | Tiger | Email |
| 23 | Tony | Regina | Bubba | Email |
| 23 | Craig | Kliewer | Justin Rose | Email |
| 23 | Chad | Bernotas | Keegan Bradley | Email |
| 23 | Matthew | Myers | Lee Westwood | FB |
| 23 | Sean | Byers | Matt Kuchar | Email |
| 23 | Chuck | Nettles | Michael Thompson | Email |
| 23 | Noah | Karn | Tiger | FB |
| 23 | John | Brennan | Tiger | Email |
| 23 | David | Goldman | Tiger | FB |
| 23 | Thad | Suzenski | Tiger | FB |
| 23 | Todd | Evans | Tiger | Email |
| 24 | Zac | Burley | Dustin Johnson | Email |
| 24 | Kevin | Koch | Matt Kuchar | Email |
| 24 | Derek | Price | Tiger | FB |
| 24 | Luke | Serbun | Tiger | Email |
| 24 | Brent | Will | Tiger | FB |
| 25 | Keith | Berlin | Lee Westwood | FB |
| 25 | Ed | Brzezowski | Phil Mickelson | FB |
| 25 | Allen | Novotny | Tiger | Email |
| 26 | David | Janerich | Tiger | FB |
| 27 | Cory | Reighard | Tiger | FB |
| 28 | Steve | Sader | Justin Rose | Email |
| 29 | Kevin | Huddy | Tiger | Email |
| 29 | O'Neil | Pyke | Tiger | FB |
| 30 | Justin | Reasy | Tiger | FB |
[ Back ]