Anchor Down!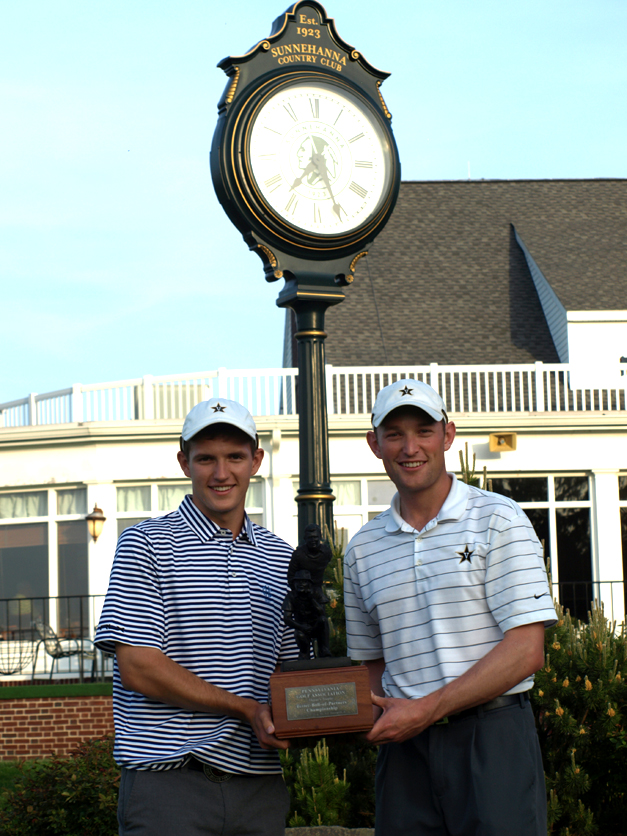 Zach Herr (left) and Adam Hofmann pose with the Mayor's Trophy
JOHNSTOWN, PA; Many of the best amateur golfers in the state will be playing in the prestigeous Sunnehanna Amateur Championship in a few weeks. So, it was no surprise that some of those players teamed up to play in the Pennsylvania Better-Ball Championship as a practice round of sorts. With that much talent in the field, there was bound to be some fireworks coming down the stretch.
This year will mark the 20th appearance in-a-row for Sean Knapp at the Sunnehanna Amateur. He teamed up with Anthony DeGol, perenial top 5 finisher in most state championships. Brandon Matthews has burst onto the collegiate scene, playing for Temple University, after winning the 2012 Junior Championship. Matthews will play in his first Sunnehanna Amateur this year. He partnered with Nelson Hargrove who plays collegiately for Brown University. Eric Williams and Jim Gardas are no strangers to the Better-Ball Championship. They won the 2008 event and are always near the top 10. Williams played in his first Sunnehanna Amateur in 2012. David and Ronald DeNunzio are always a threat to any championship, and have played Sunnehanna dozens of times.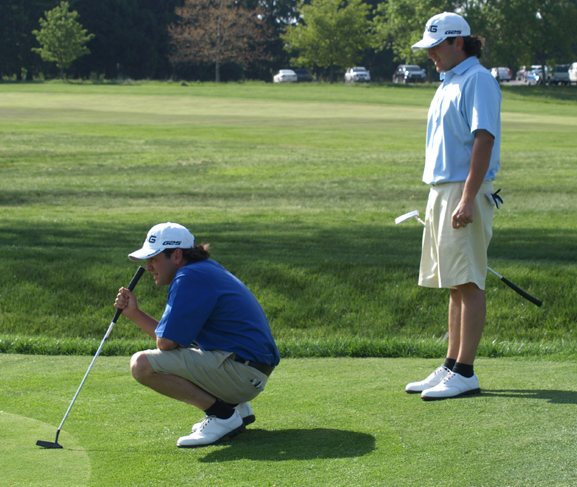 Ronald and David DeNunzio
The who's who of Pennsylvania amateur golf littered the top of the leaderboard after round 1, but it was two relative new-comer teams who would take the final pairing. Jason Barkley, Huntsville Golf Club, and Grant Skyllas, LedgeRock Golf Club, posted the low round of the day with a 7 birdie, 1 bogey showing. Marino Medico, Fox Hill Country Club, and Chase Makowski, Huntsville Golf Club, finished one-shot back of the leaders. Then there were 11 more teams within three shots. It was shaping up to be a heck of a finish!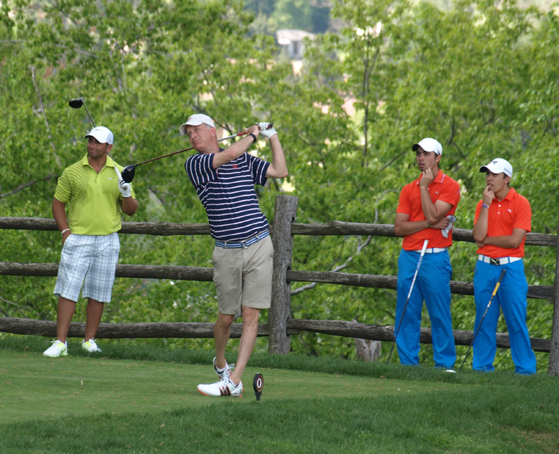 Final Group: (L to R) G. Skyllas, J. Barkley, C. Makowski, M. Medico
The leaders struggled through the opening four holes and the pack surged. A pair of bogeys for Barkley/Skyllas and a double-bogey for Makowski/Medico evened the playing field quickly. Before they knew it, Adam Hofmann, Fox Chapel Golf Club, and Zach Herr, Jericho National Golf Club, had posted an opening nine hole score of 31, to bring their total to 7-under-par. Hofmann and Herr are Vanderbilt University golfers. Hofmann recently graduated and Herr is an incoming freshman.
Matthews and Hargrove were also making a push after the turn. An eagle at the 519 yard, par 5, 11th, brought their total to 7-under, and followed that up with a birdie on the 13th. Hofmann and Herr kept pace with birdies at the 11th and 13th, to keep a one-shot lead at 9-under.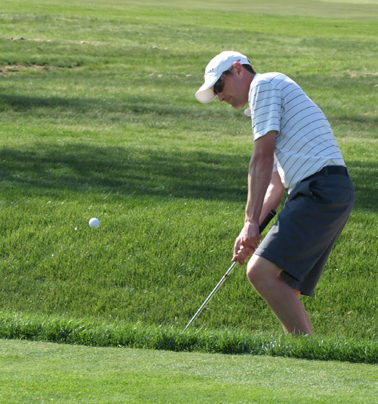 Adam Hofmann
Just a few groups behind them, the team of Barkley/Skyllas would not give up. They made the turn at 7-under, and then Barkley would smash his approach at the 11th and would tap in a 1-foot eagle putt, to tie at 9-under.
A bogey-birdie-bogey finish would seal the fate of the Matthews/Hargrove team, and the Knapp/DeGol, DeNunzio/DeNunzio, Williams/Gardas teams were unable to make up any ground. It was shaping up to be a two horse race to see who could get to double digits.
Zach Herr would take the reins and show the final group what they needed to do. Herr rolled in a 12 foot putt for birdie on the 36th hole to post a final round score of 63, and 10-under total. A few minutes later there was a loud roar from the 17th green. Grant Skyllas dropped a 60-foot bomb from the front of the green to match the 10-under score, with one hole to play.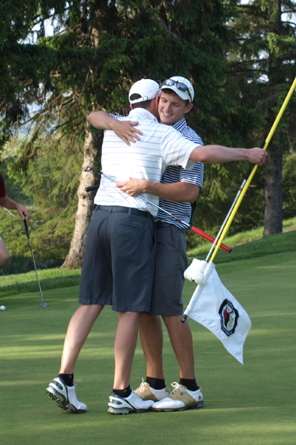 Hofmann hugs Herr after rolling in the birdie putt on 18
Skyllas would hit his approach, to the up-hill green at the 18th, long and left about 35 feet on the fringe. Some added pressure would be squarely on Barkley's shoulders. A perfect approach from the right rough nestled 8 feet under the hole.
It was not to be, as the putt never turned and rolled past. A tap in would force the playoff.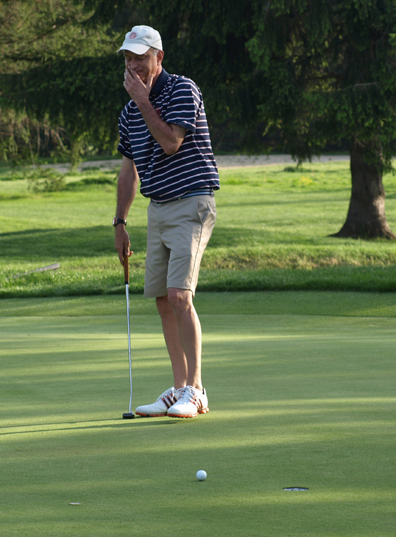 Jason Barkley misses his birdie try
So, the teams teed it up on the 18th for a sudden-death playoff. Hofmann and Herr roped irons to the center of the fairway and Barkley followed suit with a hybrid. Skyllas's iron would find the left hand rough, but had a clear view of the front left flag.
Skyllas was unable to find the surface, but he knew that his partner could handle the pressure once again. Hofmann and Herr both played their approach shots right of the flag with Herr coming up 25 feet beyond the flag and Hofmann 8 feet. Barkley's short iron would end up just beyond Hofmann's ball on a similar line, 10 feet from the flag.
Herr lined up his double-breaking, down-hill putt and put a perfect stroke on it. It was in from the start. The partner's fist-bumped Herr's second birdie on the 18th green in 20 minutes time.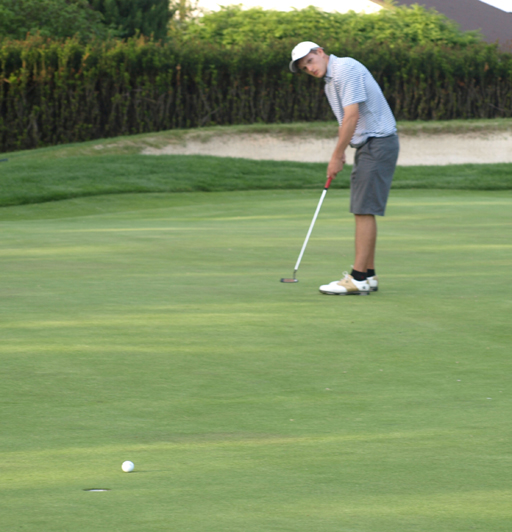 Zach Herr's winning putt
Barkley got a decent read from Herr's putt, but it was on a slightly different line. A great putt that lipped out would seal their Championship hopes. The Commodores from Vandy would hoist the trophy.
A big "Thank You" goes out to Sunnehanna Country Club's staff and membership!
The 2014 Better-Ball Championship will be held at Chester Valley Country Club, in Malvern, PA, on May 19-20.
[ Back ]