Tanabe Rides Hot Start to State Am Lead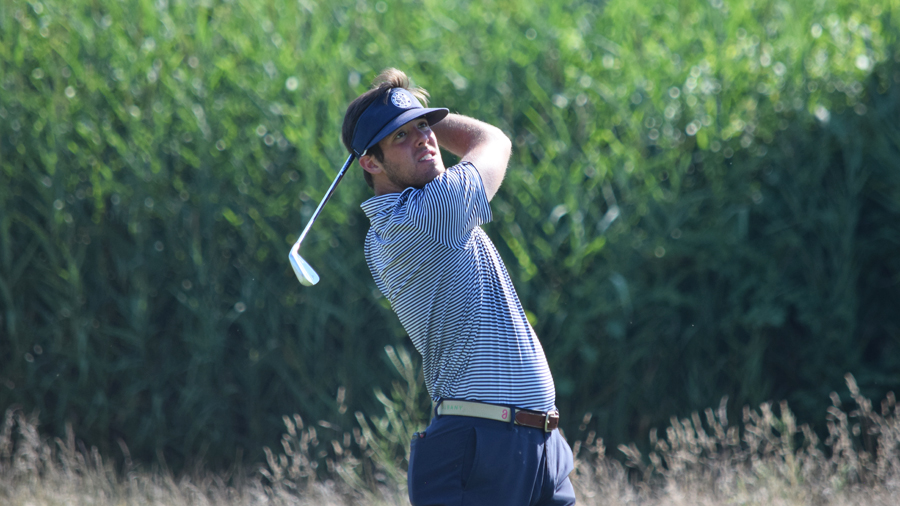 NEWTOWN SQUARE, Pa. – There are hot starts, and then there is what Christopher Tanabe did at Aronimink Golf Club in round two of the 106th Pennsylvania Amateur on Tuesday. Tanabe holed out for eagle on his second shot of the day and followed with five birdies in a six-hole stretch to post an incredible 7-under par score of 28 on the front nine. He slowed down a bit on the back but posted a 65 to finish at 6-under par overall for the championship, which is presented by LECOM. Tanabe will begin Wednesday's final round with a three-shot shot lead over Nate Menon and Zachary Barbin.
The round was even more impressive because Tanabe took six weeks off earlier this summer as he studied abroad in Grenada, Spain and didn't touch a club during that time.
Tanabe's round on Tuesday started with a nice drive that led to a fairway approach with his 8-iron that he liked, but couldn't see the final landing spot. But when he walked up, the volunteer on duty told him that the shot went in, and after he fished the ball out of the cup, he was off and running on the round that vaulted him to the top of the leaderboard.
"I don't think I've ever holed out on my opening hole like that before," said Tanabe, of Sewickley Heights Golf Club. "It was great to get off to a quick start like that."
A rising junior golfer at Bucknell University, Tanabe parred his next two holes before rolling in a 25-footer for birdie on No. 4 to move into the lead for the championship. That was the start of a string of birdies, and the short game was the key.
"Yeah, I had the putter working on the front," Tanabe said.
A 9-iron to 10 feet set up another birdie on No. 5. After a ho-hum par on the sixth, he hit what he termed his best drive of the day on the par-4 seventh, leaving him just 60 yards to the flag on the 396-yard hole. His wedge left him 15 feet from the hole, and he rolled in the downhill putt for another birdie.
With momentum clearly on his side, Tanabe's 5-iron tee shot on No. 8 was outstanding, leaving him just under five feet for another birdie. After sinking that putt, he headed to the par-5 ninth hole. A good drive and a solid 4-iron left him about 65 yards from the flag, and another great wedge left him 10 feet away. The putt fell for yet another red number, giving Tanabe a score of 7-under on the opening nine.
The birdie magic may have disappeared on the back, but Tanabe's scrambling came into play, as he had tough up and downs on No. 10 and No. 11 that he converted to save par.
"I had to grind a little bit on the back," Tanabe said.
He made it unscathed through the first six holes of the back but dropped his first shot of the day on the par-5 16th. His drive landed in the fairway bunker and after he laid up, his third shot ended up in the front greenside bunker. He couldn't get up and down this time, resulting in a bogey. That was followed by another bogey on the 17th, as his 5-iron tee ball hit the top lip of the bunker and he couldn't save par. Tanabe rallied with a solid drive and good approach on 18, but his birdie putt just missed and he tapped in for 65. He heads into Wednesday's final round trying to win his first PAGA championship, as he finished second in the 2017 Junior Boys' Championship at Hershey Country Club.
"I just want to continue to give myself good looks at birdie," Tanabe said.
Chasing Tanabe are a group of golfers including first round co-leader Menon of LedgeRock Golf Club, who shot a 1-over par 71 and is at 3-under for the championship.
"The course played a little tougher today," said Menon, who shot a 66 in round one. "It was a little windier out there."
Like Tanabe, Menon's round was highlighted by an eagle from the fairway. For Menon, it was on No. 13, where his 55-degree wedge from 125 yards went in for his first under-par score of the day.
"I knew the pin was in a bit of a bowl there," said Menon, a rising sophomore golfer at Stanford University. "Once I walked up and didn't see it next to the hole, I figured it was in."
Menon fought off struggles with his driver all day and cited the approach on 13 as a change in his approach from the rest of the round.
"That was probably the one shot all day I was a little more aggressive," Menon said.
Prior to the eagle, Menon had three bogeys on the round, and he made another on his next hole, the par-3 14th. But he rallied to birdie the par-5 16th after hitting his second shot from 245 yards to about 20 feet from the hole. He two-putted from there for birdie and closed his round with a pair of pars to finish at 71 (+1) for the round.
The second-best round of the day belonged to Barbin, a junior on the Liberty University golf team who fired a 66 to move into a tie for second place.
"To shoot a 66 here at Aronimink, it doesn't get better than that," said Barbin, who hit 15 greens in regulation on his way to the 4-under par round.
Barbin said his strategy for Wednesday is to just stay within striking distance early.
"If I can stay within three going to the back nine, that's all I can ask for," Loch Nairn Golf Club's Barbin stated.
Barbin had a bogey-free round until the par-3 eighth, his next to last hole of the day, where he hit what he termed "three good shots" but still made bogey due to some bad luck. But that was preceded by long birdie putts on No. 6 and No. 7, and as a result, he will be in Wednesday's final pairing with Tanabe and Menon.
Whitemarsh Valley Country Club's Will Davenport is in fourth place at -2 after carding a 1-over 71 on Tuesday. Aronimink club champion Max Siegfried is among a group of golfers at 1-under that also includes Marty McGuckin of Philadelphia Cricket Club, Brett Young of Nemacolin Country Club, Garrett Engle of Country Club of Harrisburg and PAGA Individual Member Kyle Vance.
There were only six golfers under par on the day, as the hot and breezy conditions made an already difficult Donald Ross layout even tougher. The field was cut to 42 golfers for Wednesday morning's final round, which will begin at 7:30 a.m. Spectators are welcome to attend.