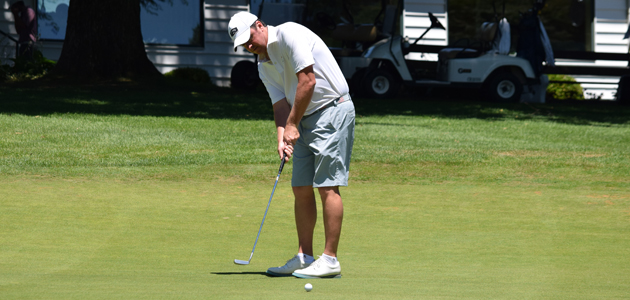 ORWIGSBURG, Pa. - There aren't many, if any, golfers in the Commonwealth of Pennsylvania with more experience in high stakes match play golf than Nathan Smith. A four-time winner of the USGA Mid-Am and two-time Walker Cup team member, Smith is also a five-time champion of the Pennsylvania Golf Association's R. Jay Sigel Match Play Championship. In Monday's stroke play qualifying rounds in this year's edition of that event, Smith put the field on notice that he's ready to win another crown, as his 36-hole total of 138 (-6) gave him medalist honors in the event at Schuylkill Country Club, which is presented by LECOM.
"I'm glad to put together a pair of nice rounds today," Smith said. "The course was in great shape and I'm looking forward to match play."
While there wasn't much drama at the top of the leaderboard, the battle for the final qualifying spots did produce plenty of thrills. Two-time past champion David Brown of St. Clair Country Club birdied the 18th hole to guarantee his spot in match play, allowing him to get out of what shaped up to be a big playoff, featuring 11 players gunning for the final two match play spots.
The players began on Schuylkill's 18th hole, and all 11 made pars. That included a nice up and down by Chambersburg Country Club's William Smith, whose tee shot went into the trees on the left, forcing him to punch out to 30 yards away from the green. He made a nice up and down there to extend his chances.
On the second playoff hole, No. 16 on the course, Smith made birdie but that score was matched by Brock Kovach from six feet, Eric Reisner from four feet and Patrick Mitchell from two feet.
The group then moved to the third playoff hole, No. 17, a par-5 spanning 535 yards. Smith had a nice up and down for birdie, while Mitchell hit the green in two and then two-putted for a birdie of his own. The pair of birdies gave the duo the last two spots in match play, which began Tuesday morning with the round of 16.