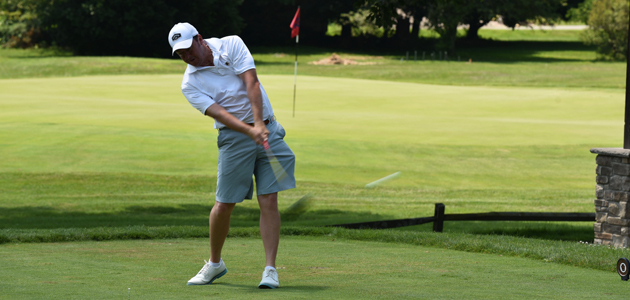 ORWIGSBURG, Pa. –A five-time winner, a former state Middle-Amateur champion and two college kids remain in the 15th R. Jay Sigel Match Play Championship presented by LECOM at Schuylkill Country Club (par 72, 6,818 yards).
Here's a look at how they all secured their place in the Final Four.
Nathan Smith, Pinecrest Country Club
The defending champion didn't sweat much in his 6&5 morning victory over Glenmaura National Golf Club's Patrick Mitchell. He needed all of the guts he had to defeat Nemacolin Country Club's Brett Young in 19 holes to punch yet another ticket to the semifinals of #TheSigel.
In Smith's match against Young, only two of the 19 total holes were halved. Smith would throw a punch and Young would punch back.
"Brett was playing really well and I was fortunate to keep hanging around in the match," said Smith, 39, of Allison Park, Pa. "He hits the ball a long way and is a really aggressive player. I am honored to be back in the Final Four because it is so hard to qualify. I was just lucky to sneak by."
Although a Sigel rookie, Young won the George Dressel Memorial Tournament in April. He has proven he belongs on this stage.
"I know Nathan decently well because we are from the same area," said Young, 25, of Bethel Park, Pa. "It was my first time going up against him and all I wanted to do was have fun. The match with Nathan was great because we kept trading blows."
For Smith, a five-time winner of this event (2009, 2011, 2013, 2015, 2017), this stage doesn't come with any discomfort.
"There definitely is pressure to keep putting yourself in this position but at this point in my golfing career, I think I am numb to it," said Smith. "That is the way it has always been for me. I don't feel as much pressure as I did when I was younger. When you are running the gauntlet, like in Walker Cups and such, you feel it more.
"You just don't know what the final day will entail. It is unpredictable out there and no lead is safe. It is one of the most fun golf courses we have ever played in this event."
Max Siegfried, Aronimink Golf Club
If you have ever watched Siegfried play golf, you see that he wears his heart on his sleeve. And if he is frustrated, you will know.
"If anything, my emotion probably hurts me out there," said Siegfried. "It is really hard for me to keep a level head. You never want to show anyone your cards but emotion plays a big part in these matches. I think it is great to have a big heart for the game but you have to keep it in check as best as you can."
Siegfried kept calm to take down Chambersburg Country Club's Scott Kegerreis, 2-up, in the Round of 16 and two-time champion David Brown, of St. Clair Country Club, 3&1, in the quarterfinals.
"My two matches today couldn't have been more polar opposites," said Siegfried. "I had control of the match early this morning. This afternoon David and I were just grinding out there with no one really in control. I said that I needed to manage my ball well today and trust every shot. I did that today as good as I have in a while."
Siegfried, a rising sophomore on the University of Virginia's men's golf team, cited Nos. 14 (par 5, 490 yards) and 16 (par 3, 138 yards) as holes that ultimately gave him the edge against Brown.
On No. 14, Siegfried got up-and-down from long right of the green after pushing his 6-iron from 195 yards. That birdie moved him to All Square.
Then on No. 16 after Brown airmailed the green, Siegfried hit an 8-iron to 45 feet below the hole and two-putted. He never looked back. He would close out Brown on No. 17 (par 5, 535 yards) with a conceded birdie.
"It would be huge to win this tournament as a member of Aronimink," said Siegfried, 20, of Villanova, Pa. "Mr. Sigel is one of my role models and what he has been able to accomplish is unbelievable. To win an event named after him would be very special. I definitely want to try and get that done tomorrow."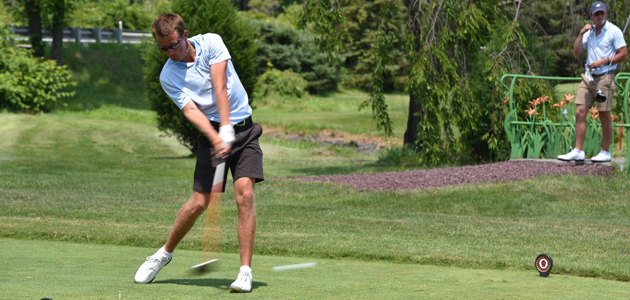 Glenmaura National's Chris Cerminaro came from behind in both matches to reach the semifinals of The Sigel
Chris Cerminaro, Glenmaura National Golf Club
Cerminaro was the comeback kid on Day Two of The Sigel.
After trailing by multiple holes in both of his matches against Hershey Country Club's Scott Micklewright and Huntingdon Valley Country Club's Kyle Sterbinsky, Cerminaro prevailed, 2&1, against Micklewright in the Round of 16 and, 4&3, over Sterbinsky in the quarterfinals.
"Reality hasn't set in yet that I am one of the last four left," said Cerminaro, 21, of Carbondale, Pa. "It has always been a goal of mine to be one of the better players in the state. It is exciting to put myself in this position. I have put in a lot of hard work over the last few years and it is finally paying off."
After being 3-down through six holes in his morning match against Micklewright, Cerminaro's 45-footer for birdie on No. 7 (par 4, 441 yards) turned the tide. He then went on to win four of the next 10 holes to claim victory.
After being 2-down through five against Sterbinsky, Cerminaro played his next 10 holes in 2-under-par to close out the 2014 Pennsylvania Amateur runner-up.
Famous course architect Donald Ross redesigned Schuylkill to 18 holes in the late 1940s. The tough playing conditions haven't scared the University of North Carolina (Chapel Hill) rising senior in the slightest.
"I grew up on a Donald Ross design at Elkview Country Club," said Cerminaro. "I am used to the poa annua greens and the undulation. I have been struggling with my putter of late but when you start to see putts go in you get some confidence and it frees up the rest of your game."
William Smith, Chambersburg Country Club
It has been a grind so far this week for the other Smith still standing in The Sigel.
Smith was one of 11 who was competing for the final two match play spots on Monday. Smith along with Mitchell claimed those last spots.
"I am very fortunate to be here considering the quality of the opponents that are left," said Smith. "I played very solid through the first couple of matches and was able to advance. I felt good coming into today even though I was tired from yesterday."
Smith took care of Pittsburgh Field Club's Andy Butler, 2&1, in the Round of 16 and rallied from a 3-down deficit to outlast Glenmaura's John Barone, 2&1, in the quarterfinals.
"In match play, you never give up," said Smith, of Newville, Pa. "I hit two of the worst tee shots on Nos. 1 (par 4, 400 yards) and 2 (par 4, 370 yards) against John. I hit it into the right woods on No. 1 and I hit the tree at the tee box on No. 2. I needed to refocus because I didn't start how I needed to. John and I really didn't have our best games but we kept trading holes."
At that point, Smith was 3-down through four holes after he three-putted No. 4 (par 3, 190 yards). But Smith rallied and took the advantage with a birdie on No. 13 (par 4, 417 yards). That was the start of another hard-fought victory.
"No. 15 (par 4, 456 yards) was a huge turning point for me," said Smith. "I hit a hook into the left trees and had to play down No. 14. I made a 25-footer for par to halve the hole, which was an incredible par. Then on No. 16, I hit a beautiful 7-iron to six feet and converted the putt for birdie. Those two holes were vital for my chances to get through the match."
2008 was the last time Smith was on top. He claimed the Pennsylvania Middle-Amateur at Rolling Green Golf Club. But he knows he isn't far away from getting it done again.
"I haven't thought about what it would mean to win," said Smith. "It has been awhile for me and at age 49 I don't sign up for these events to finish in the middle of the pack."
The semifinals will begin at 8:00 a.m. Wednesday with Nathan Smith taking on Chris Cerminaro and at 8:10 a.m. Max Siegfried and William Smith will square off.
Special thanks to our partner LECOM as well as the entire staff and membership of Schuylkill Country Club for being such gracious hosts.