PAGA adds Mixed Team; Parent-Child events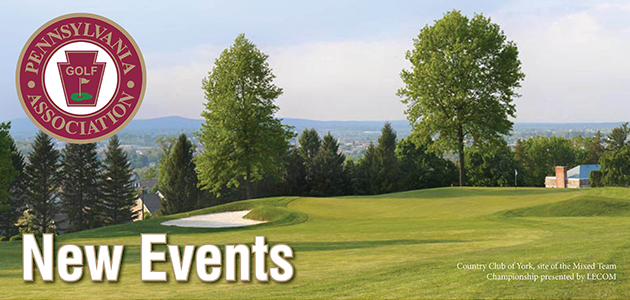 Country Club of York will host the inaugural Mixed Team Championship
BROOMALL, Pa. – The Pennsylvania Golf Association is excited to announce the addition of a Mixed Team Championship and expanding the existing Father-Son into a Parent-Child Championship.
The inaugural Mixed Team Championship presented by LECOM will be hosted by the Country Club of York on Monday-Tuesday, June 17-18. Teams will be comprised of one male and one female, both of which must be members of a Member Club, or Individual Members of the PAGA. The format of the 36-hole competition will be Modified Chapman and will feature Gross and Net Stableford scoring. Divisions will include a Championship division (Men's yardage approximately 6400-6500; Women's 5500-5700) and a Forward division (Men's yardage approximately 6000; Women's 5000). Teams will choose their division during application for entry.
Following the completion of play on June 17, the Association will host a dinner for participants and special guests to celebrate the merger between the PAGA and PSWGA.
The existing Father-Son Championship will expand into the Parent-Child Championship presented by LECOM to be hosted by Omni Bedford Springs Resort on Monday-Tuesday, July 15-16.
More details to come on both events as the Association prepares for the 2019 season and beyond. We hope to see you at an event this summer!
These new events are in addition to the Association now conducting the Pennsylvania Women's Amateur Championship, Junior Girls' Championship and two Women's Four-Ball events as a result of the recent merger with the Pennsylvania Women's Golf Association.
Please visit our Championship Schedule for more information.