Updike and Wrigley Claim Junior Crowns at Hershey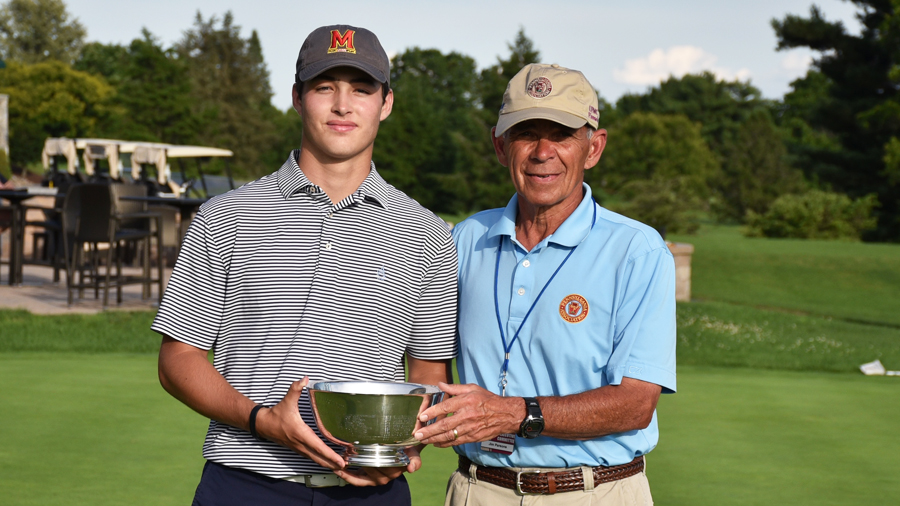 John Updike with Past President Jim Parsons
HERSHEY, Pa. - The chocolate may be sweet in Hershey, but for John Updike and Caroline Wrigley, Tuesday's victories at the 2019 Pennsylvania Junior Boys' and Girls' Championships, presented by LECOM and hosted by UPMC Pinnacle, tasted better than the flavor even the town's best candy bar could boast.
The pair of 18-year-olds topped their respective fields to emerge as the Boys' and Girls' Champions in the 36-hole, stroke-play event at Hershey Country Club's East Course.
Updike, of Aronimink Golf Club, and Wrigley, a member of Butler Country Club, finished with totals of 141 (1-under-par) and 144 (2-over-par) respectively.
With this week's triumph, Updike, who also won the tournament in 2016, becomes just the fifth player to win multiple PAGA Junior Boys' Championships.
"I really like the course," Updike said. "I've played it a bunch now so I think I just feel super comfortable."
Updike's familiarity with the track led to a relatively clean two days of golf. He recorded just five bogeys in the tournament while picking up six total birdies. During Tuesday's final round, Updike was propelled by birdies on both par 5s on the front nine. On No. 1 (par 5, 478 yards), Updike knocked a 9 iron 150 yards for his second shot, resulting in a two-putt birdie from 20 feet. He proceeded to birdie No. 6 (par 5, 515 yards) as well by getting up-and-down from a greenside bunker.
On No. 17 (par 4, 379 yards), Updike picked up his final red number of the day, rolling in what proved to be a crucial 10-foot putt. He would close with a par on No. 18 (par 4, 456 yards), and subsequently clinch a two shot victory over Brady Pevarnik, the runner up in the Boys' Division.
"I really like this tournament," Updike, of Wayne, Pa., said. "I think I was really due for a win because my last win was this same tournament three years ago. It feels really good to win the last one that I'm eligible to play in."
Having recently graduated from Malvern Prep High School, Updike will continue his golfing career at the University of Maryland next fall.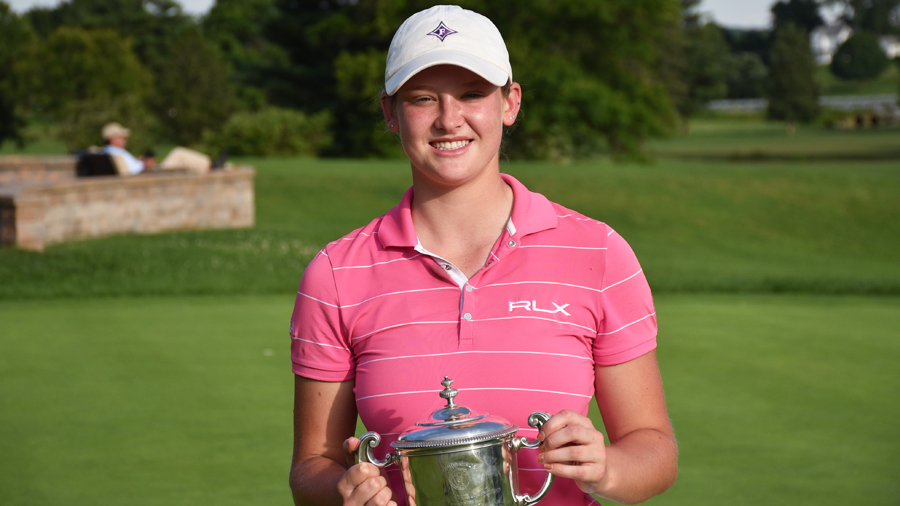 Caroline Wrigley poses with the Junior Girls Trophy
In the Girls' Division, Wrigley and Lehigh Country Club's Michelle Cox played in the final group, as Cox held a two-stroke lead after her opening round of 69. The group began on the back nine and both players were 1-under par after the opening four holes, as each made birdie on the par-4 12th hole. Wrigley erased the deficit with a string of pars while Cox bogeyed holes 14 and 16. But on the par-4 17th, Cox made a birdie while Wrigley made bogey, pushing her back into the lead by a pair of strokes.
Another birdie on No. 1 gave Cox a three-stroke advantage. But Cox made three bogeys in a four-hole stretch from No. 3 to No. 6, and Wrigley played those holes in 1-over par to get to within a shot of the lead. After each player made a bogey on the par-3 eighth hole, the championship came down to the 36th and final hole, the 359-yard par 4 ninth hole. As the last group approached the tee on No. 9, Cox held a 1-stroke advantage over Wrigley.
Both Cox and Wrigley found the fairway off the tee, leaving each player with decisive approach shots.
"I just wanted to put it in the middle of the green because I knew deep was just dead," Wrigley, of Wexford, Pa., said. "I knew where I stood the whole time so I was pretty nervous."
Despite the elevated heart rate, Wrigley, who next year will attend Furman University, executed her strategy to perfection. Her second shot finished 30 feet below the hole, leaving an uphill putt. Cox, on the other hand, proceeded to make the very error Wrigley was wary of. She flew her approach over the green and was left with a treacherous downhill chip.
Cox was unable to keep the ensuing shot on the green's upper tier. Three putts later, a double bogey six was etched onto her card. As a result, Wrigley's two-putt would be all that was required to capture the championship. Lake View Country Club's Lydia Swan shot rounds of 74-72 to finish in third place, two strokes back of Wrigley. The 2017 champion, Rylie Heflin of Hartefeld National, finished at 149 (+7) to earn fourth place.
Wrigley, who captured the PIAA State Championship as a senior at North Allegheny High School this past fall, hopes to use this week's victory as momentum heading into the rest of her summer schedule. She has qualified to play in both the U.S. Girls' Junior and the Girls Junior PGA Championship.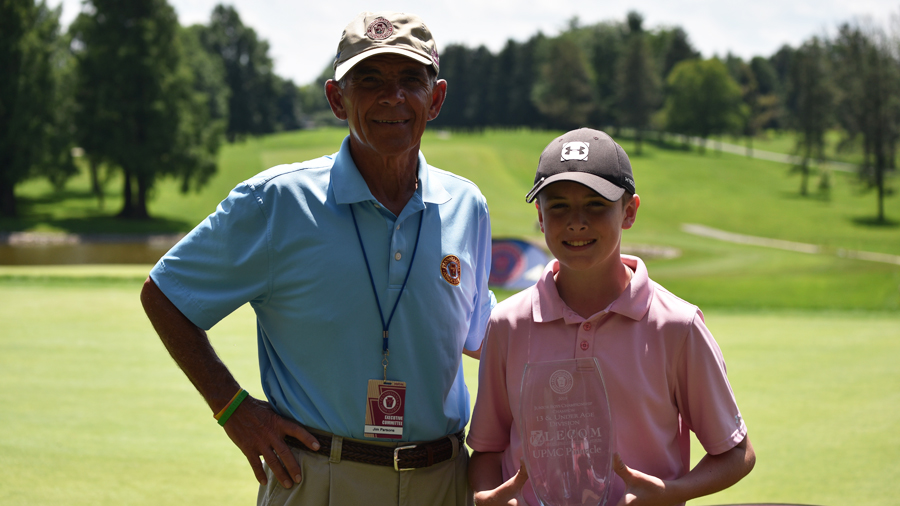 JP Hoban with Past President Jim Parsons
In the tournament's Junior-Junior Division, played at Hershey Country Club's Spring Creek Course (par 66, 4250 yards), JP Hoban and Rachel Joyce earned the victories in the Boys' and Girls' divisions respectively.
Hoban, of McCall Golf Club, improved upon his opening round 77 to fire a 6-over-par 72 in the second round. The 12-year-old finished the tournament 17-over-par, four shots clear of runner-up, Kasim Narinesingh-Smith. Hoban's second round was highlighted by an impressive back nine score of 35 (+2), which featured birdies on the par-4 13th and the par-3 17th holes.
"I putted better than probably any other week in my life," Hoban said. "I practiced a lot for this. I always get second so it feels really nice to win."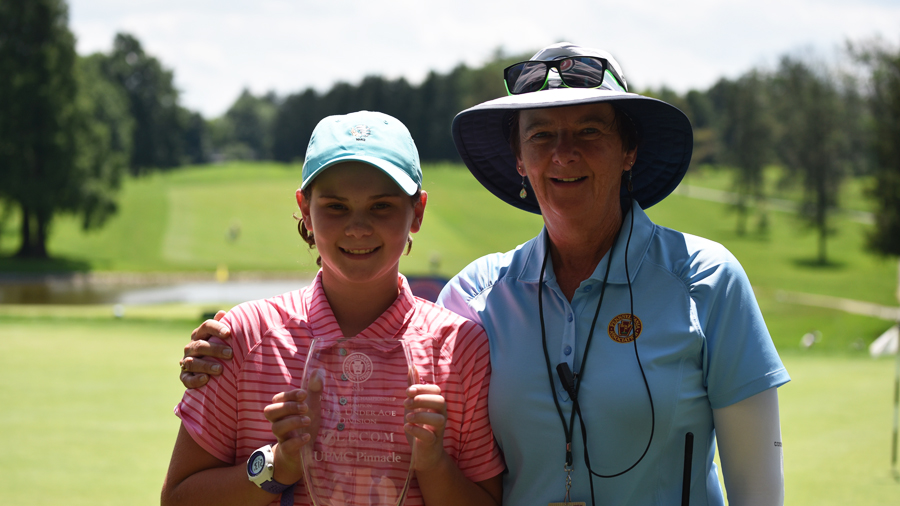 Rachel Joyce with Junior Girls Chair Noreen Mohler
Joyce, 11 years old, finished play with rounds of 74 and 81. Playing out of Indian Valley Country Club, Joyce completed the 36-hole event at 23-over-par. She credits a consistent 3-wood off the tee for her strong play this week.
"Hitting it [my 3-wood] into the fairway [was key]," Joyce said.
The Junior Boys' Team Championship was awarded to the club with the best 3 out of 4 cumulative scores in each round. Fox Chapel Golf Club's three competitors in the event led the club to the title, as Brice Delaney, Scott Bitar and Adam Lauer combined for a two-round total of 453 to win by four shots over Talamore Country Club (Patrick Sheehan, Christian Matt, Darren Nolan).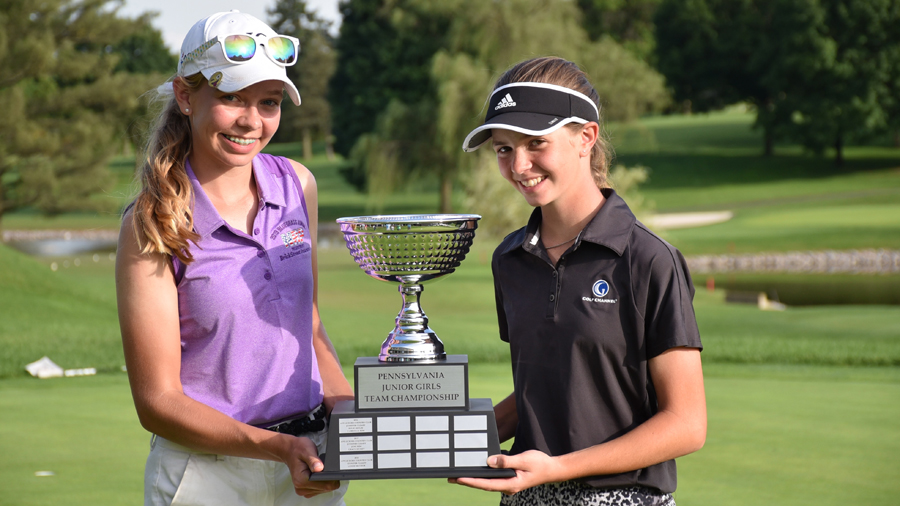 Lydia and Anna Swan with the Junior Girls Team Trophy
For the Junior Girls' Team Championship, the best 2 out of 3 scores for each club are considered, and the duo of Lydia Swan and Anna Swan led Lake View Country Club to the victory. The Swans followed up an opening round of 159 with a second round of 150 for a 36-hole total of 309, topping Whitemarsh Valley Country Club (Clare Gimpel and Olivia Wirsching) by 23 strokes to win the title.
Special thanks to our sponsors LECOM and UPMC Pinnacle, as well as the entire membership and staff at Hershey Country Club for their continued generous hospitality and support of the Pennsylvania Junior Championships.