Knapp and Donatoni Seize Senior Titles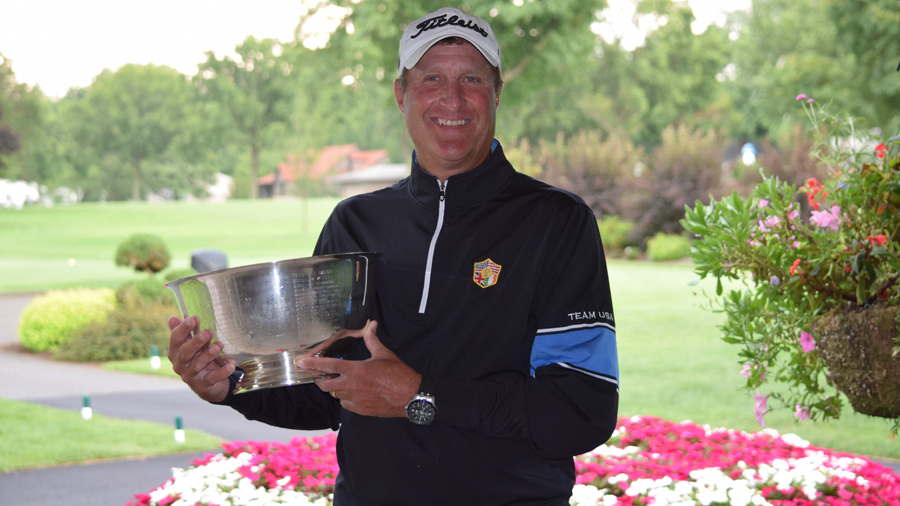 BUTLER, Pa. – At the conclusion of the 60th Pennsylvania Senior Amateur Championship, presented by LECOM, at Butler Country Club, it was a pair of familiar names at the top of the leaderboards, as Hannastown Golf Club's Sean Knapp won his second consecutive Senior title and Don Donatoni of White Manor Country Club won the Super-Senior crown for the third time in five years. A weather front caused the Senior portion to be reduced to just 18 holes, while the Super-Seniors were able to complete 36 holes over two days.
Knapp shot a 67 (-4) in Monday's first round, which ended up being the only round of the senior portion of the competition, and that ended up being good enough for him to claim his second-straight win in the event.
"Well, I'm not going to give it away," Knapp said of winning the rain-shortened event.
The win is the 17th PAGA championship of Knapp's legendary amateur career, and it came at the expense of good friend David Brown of St. Clair Country Club, who shot 68 (-3) to finish second. Those two played in the same pairing on Monday with former USGA Senior Amateur champ Chip Lutz of LedgeRock Golf Club, and all three finished in the top five for the event.
Knapp began the round with a pair of pars before bogeying the third hole, and was still 1-over par after seven holes before his first birdie of the day on No. 8.
"I've been in this sort of funk, if you will, of playing a little bit better than I'm scoring," Knapp said. "I think we all think that, but it's been particularly evident in the past month, and it manifested itself in a real way at various points in this round."
After making the turn at even par 35, Knapp turned it on for his final nine holes. After an opening par, he made a birdie on No. 11 to get under par for the day. He moved to -2 with another birdie at No. 14. At the par-5 16th, he unexpectedly found trouble off the tee. Knapp's drive started just slightly down the left side of the fairway, and somehow kept kicking to the left and ended up on the lip of a fairway bunker.
He couldn't even stand in the bunker and aimed nearly to the 17th hole, punching out to the right rough. From there, he hit a good approach on the green, which set him up to take advantage of a frequent assist he had on the day.
"It seemed like I always had someone putting over my line to help me see," Knapp said. "And in this case, it was Chip Lutz and he gave me a good read on mine."
Knapp made the birdie putt on 16. He then approached the 17th tee and wasn't sure of his standing and in fact thought he was trailing Brown (they were tied), so he took an aggressive swing on his approach shot and ended up 60 feet past the hole. Faced with a putt that he said was "eminently three-puttable", Knapp took the harsh right to left break and rolled it into the hole.
For Knapp, part of the reason for the aggressive play on Monday was due to the Tuesday forecast.
"I'm an amateur golfer, but I'm a professional weather man," joked Knapp. "I didn't think it would be to the point today of cancellation, but I did think it was going to be problematic."
The win marked another big victory at Butler CC for Knapp, as he captured the West Penn Amateur at the club in 2001. He was impressed by all facets of the club's operation.
"I love it here," Knapp said. "I haven't played it recently prior to this week, but that said the improvements that I've seen in the course are so substantial and now I feel like it's one of the best courses in Western Pennsylvania.
Knapp's 18-hole score was one short clear of Brown and two ahead of Loch Nairn Golf Club's Steve Walczak (-2). Sandy Run Country Club's Duke Delcher was the only other player in the division to finish under par, as he shot a 1-under par score of 70.
Super-Seniors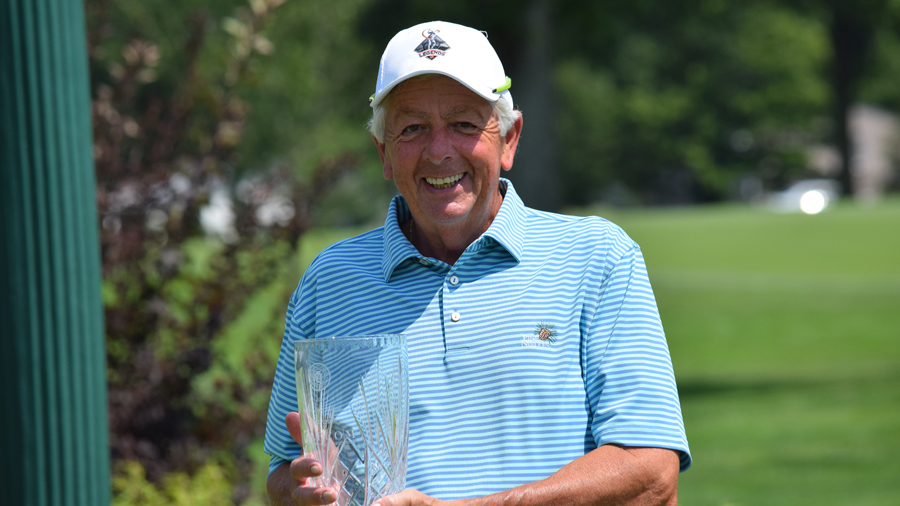 Heading into the second round of the 36-hole portion of the championship, Donatoni was in good shape to win another title, as his opening round of eight birdies against just three bogeys gave him a four-shot advantage heading to Tuesday morning.
Despite opening with a bogey, Donatoni made eight straight pars to make the turn at 1-over for the round and with a healthy lead. Birdies at No. 10 and No. 11 appeared to make the lead insurmountable. But a lost ball off the tee on the 13th lead to a triple-bogey, and the lead slimmed.
"I hit a tee ball that rattled in the trees and couldn't find it," Donatoni said. "The rough was really, really thick, and next thing you know, lost ball, I made triple there."
Donatoni was able to bounce back with a clutch birdie on the 16th. A good drive led to a hybrid that he yanked into the bunker, but he was able to get up and down from there for the birdie.
After a nice par on No. 17, he headed to the 18th with a seven-shot lead. But another big number reduced the final margin of victory.
"I kind of swiped it left to right off the tee and it went into the trees," Donatoni explained. "We all thought that we'd find it, but next thing you know, my three minutes were up, and I had to go back to the tee. So what do I do? Make another triple."
Despite the closing 7, Donatoni was able to card a 75 in round two and win the championship at 1-under par for the 36 holes, finishing ahead of a trio of golfers at 145 (+3) in Hartefeld National's Tom Borsello, Philadelphia Publinks GA's Buck Jones and Nittany Country Club's Vincent Scarpetta.
The Pennsylvania Golf Association would like to thank the staff and membership of Butler Country Club for their hospitality during the championship. Also, thanks to LECOM for the generous sponsorship of the championship.