Rogowicz, Mohler and Haines Claim Women's Am Crowns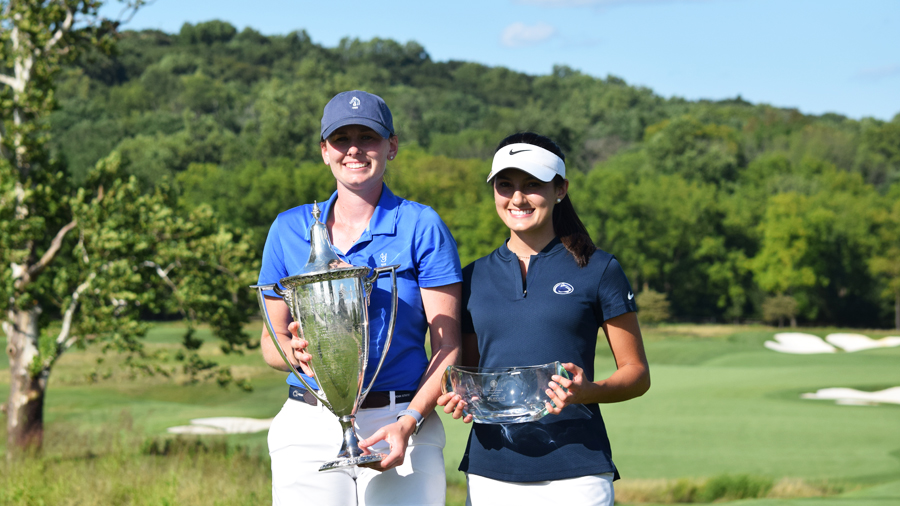 FLOURTOWN, Pa. – While the map showed that the competitors were 239 miles from State College, it sure felt like the final match of the 83rd Pennsylvania State Women's Amateur championship were in Centre County. Penn State alum Jackie Rogowicz and former PSU teammate Olivia Zambruno waged a back and forth battle that lasted to the 18th hole at the Philadelphia Cricket Club's Militia Hill course, where Rogowicz made a par to hold on for the 1 up victory to win the championship, which was presented by LECOM.
"Sometimes its hard playing against someone you know so well," Rogowicz said. "But we kept it fun out there."
Rogowicz, who recently graduated from Penn State, advanced to the final by defeating co-medalist Morgan Frazier of Carlisle Country Club, 1 up, in Saturday morning's semifinal round. The Yardley Country Club standout had to rally after trailing with two holes to go to get the win in regulation time. She trailed by 1 heading into No. 17 of the semifinal but made birdie to tie the match and then won it on the 18th with a par.
"My morning match was tough with a lot of ups and downs," Rogowicz said of the win over Frazier.
In the final, Rogowicz got off to a quick start by winning the first two holes. While she dropped the fourth hole, she rallied to win No. 6 and No. 7 to move to 3 up against her former college teammate. That was still the margin when the pair headed to the 15th hole. But a Zambruno win there narrowed the margin to two, and another win by Zambruno on No. 17 meant that the match was heading to the 18th hole of the Hurzdan/Fry layout.
"When I was up three with five to go, I was just trying to hang on, which is hard to do," Rogowicz said. "All it took was a bogey by me on No. 15 and then a birdie by Liv on No. 17 and we're headed to the 18th hole."
On 18, Rogowicz had a 50-footer for birdie and she was able to successfully lag it up and knock in the par putt to clinch her first title in event history.
"It was fun playing against Jackie since we're such good friends from playing at Penn State together," Zambruno said. "We kept it pretty light out there and had some good conversation going."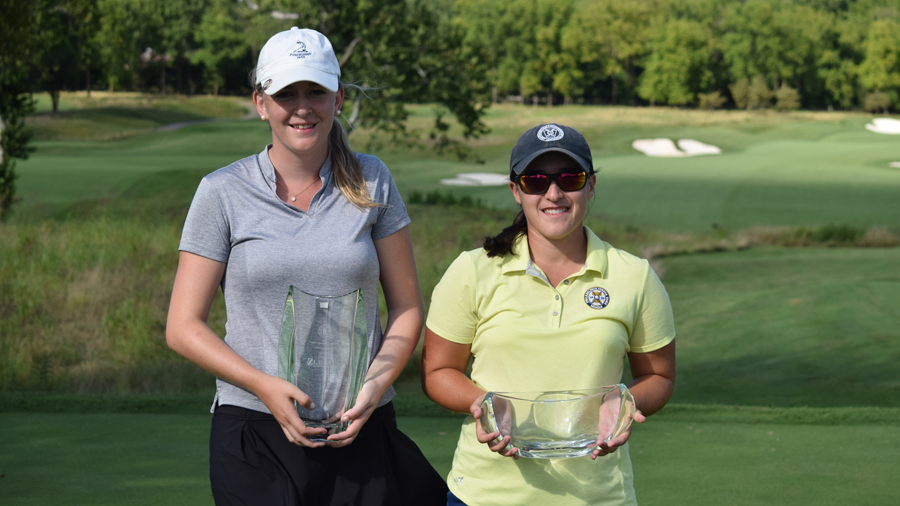 In the Amateur Division's First Flight, Lancaster Country Club's Adelyn Deery edged Samantha Fritzinger of Allentown Municipal Golf Course, 2 up, in the final match. Deery never trailed but also never led by more than two holes throughout, but in the end she held off Fritzinger to win.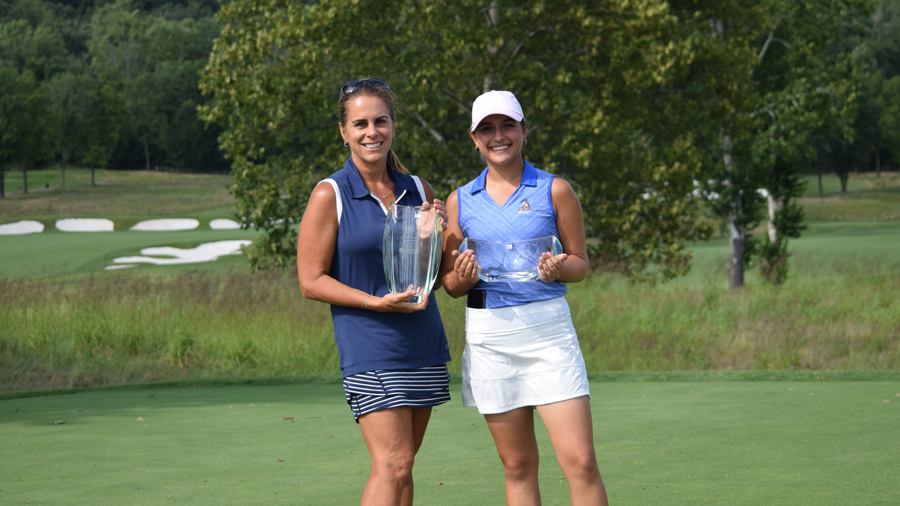 The Second Flight saw Megan Grosky McGowan of Blue Bell Country Club take out Oakmont Country Club's Nina Busch, 5 and 4, for the title.
Senior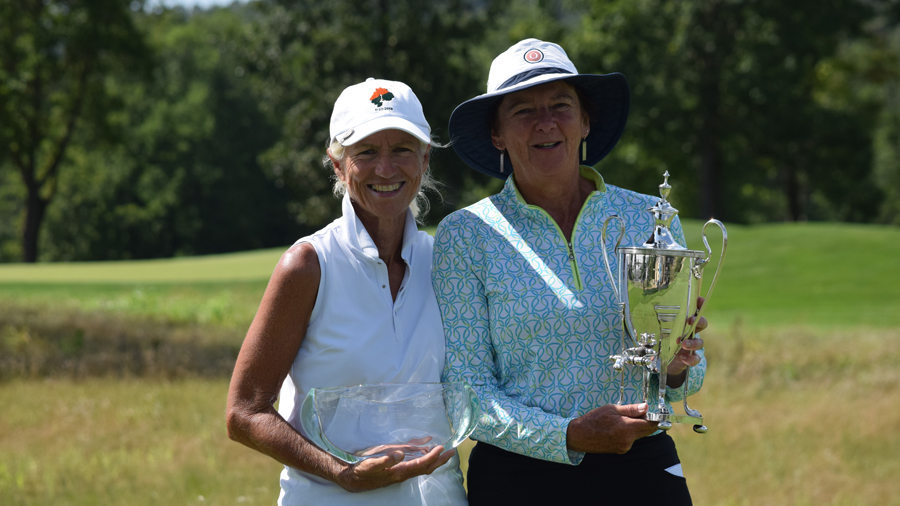 The Senior flight's championship division was captured by Northampton Country Club's Noreen Mohler, who knocked off home course hopeful Kerry Rutan by a score of 6 and 5.
Mohler never trailed in the championship match, closing it out on No. 13. She won three of the first four holes and added wins on holes 6, 8 and 9 to move to a nearly insurmountable advantage. After pars from each player on the first four holes of the back nine, the match was conceded and Mohler captured the title.
"I really putted well and it was probably the best I've played in awhile," said Mohler. "The good thing is that after this, we're still friends,."
Rutan concurred, complimenting Mohler on the outstanding play throughout the match.
"Noreen just played terrific," Rutan said. "That was as well as I've seen her play, and we've played enough rounds together!"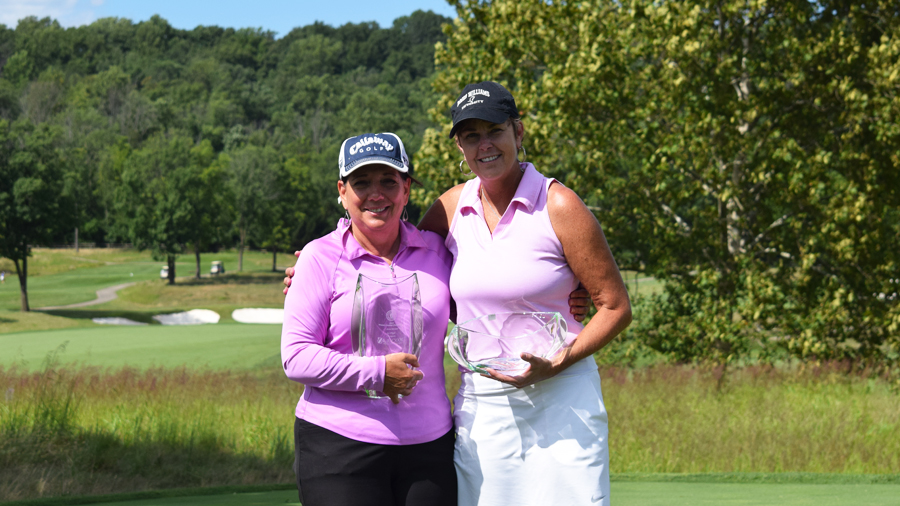 The Senior Division's First Flight final was between Sharon Melair of Sandy Run Country Club and Amy Hempt of West Shore Country Club. Melair won the title with a 2 and 1 win in an excellent match.
"It was a fun match and I feel like I played as well as I could but just got beat in a close match," Hempt said.
Melair agreed, saying "It was great to be here and come out with a win."
Super-Senior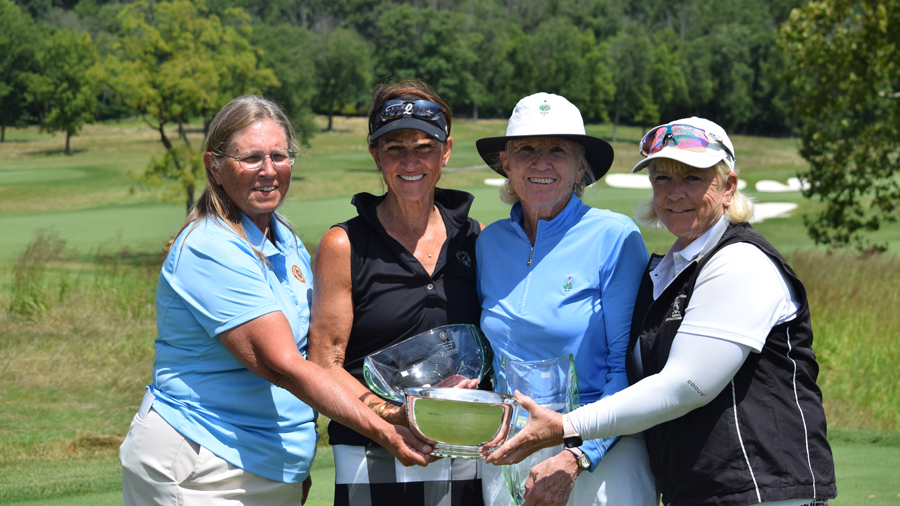 Merion Golf Club's Liz Haines improved her margin of victory for the third-straight match, as the top-seeded Haines dominated the field en route to the Super-Senior title. After winning her opening match 4 and 3, Haines defeated Paula Bauer in Friday's semifinal, 5 and 4. Then in Saturday's final, against Overbrook Golf Club's Karen McFadden, Haines won the first three holes and lost only one hole in the round to defeat McFadden, 6 and 5.
The contestants raved about the conditions at the Cricket Club throughout the week.
"The golf course was great and it was so nice to be here this week," said Zambruno.
McGowan had a similar reaction, stating that "it was a great time all week playing here."
Mohler, the Senior champion, was complementary of how the course stood up against the conditions.
"The course was great, and with the wind today, it was a really good challenge," Mohler said.
The Pennsylvania Golf Association would like to thank the staff and membership of Philadelphia Cricket Club for the hospitality shown during the championship. Thanks as well to LECOM for the sponsorship of the event.