Willcox Leads Open After One Round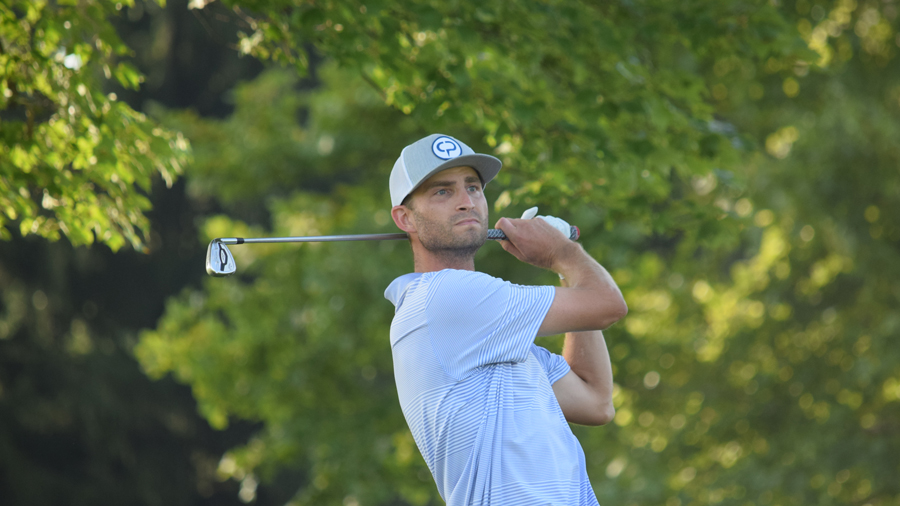 PAOLI, Pa. – With Cole Willcox's current status, his opportunity to play competitively is limited. Willcox is awaiting reinstatement of his amateur status, and until that happens, he cannot play in amateur events. Willcox was eligible to play in the 103rd Pennsylvania Open and he took full advantage, firing a 4-under par 67 to lead after the opening round of the championship being held at Waynesborough Country Club and presented by LECOM.
"This is the only tournament I can play in," said Willcox, who has been a professional golfer for the past three years. "Maybe there's less pressure now because I'm not playing for my job."
Willcox, a 31-year old whose parents live about a mile from the host site, was even par for the day through six holes. But he caught fire, starting with a birdie from the front bunker on the par-5 seventh. He made the turn at -1 and began his move up the leaderboard with another birdie on No. 10, where he hit a wedge from 112 yards to two feet. That was followed by a 9-iron approach to 20 feet on No. 11. The ensuing downhill left to right putt fell in for another birdie.
The former University of Virginia standout kept it up on No. 13, where he nearly holed out a sand wedge from 116 yards, leaving him just six inches for yet another birdie. The barrage continued on the 15th, where his tee shot landed in a bunker and he had to lay up. At a distance of 150 yards from the hole, Willcox hit pitching wedge past the hole and the ball came back to about two feet which resulted in his sixth birdie of the round. Despite a hiccup with a bogey on No. 16, Willcox was able to get in with 67 and the first round lead.
"I might have only missed one green today," Willcox said. "I kept it in good position and rolled in a couple of putts. It was just a pretty decent round."
Jack Katarincic, a rising senior at Miami (OH), birdied three of his last five holes on his way to an opening round 68 (-3) and is in second place. Katarincic continued a strong summer which saw him finish as the low amateur at the Tri-State PGA's Frank B. Fuhrer Invitational at the Pittsburgh Field Club in June followed by a runner-up finish at the West Penn Amateur at Oakmont Country Club in early July.
Katarincic began his round on the front nine and quickly got into red numbers with a birdie on No. 1, where his 3-wood off the tee left a wedge in his hand for the approach, which settled about 20 feet away. He gave that shot right back with a bogey on the second hole.
On the par-5 seventh hole, the 21-year old Pittsburgh resident made another birdie. He hit driver and then 2-iron to 20 feet from the flag, and two-putted from there to get back under par for the day. Despite making another bogey on No. 11, he was still in solid shape at even par for the day as he reached the 14th tee. That's when he made his move up the leaderboard.
Facing a 175-yard tee shot on the par 3, Katarincic's 7-iron settled about 10 feet from the hole. He sank the birdie to move under par for good on the round. He made it back-to-back birdies on the next hole, as again he hit a 2-iron approach on a par 5 and just like No. 7, he two-putted for the birdie.
On the par-3 17th, Katarincic's 5-iron tee shot from 208 yards resulted in a 10-foot look at birdie, which he promptly drained. After a par on the last hole, he was in a 3-under and firmly in contention at another major event this summer.
"I was hitting it good all day," Katarincic said. "I just started making some putts down the stretch on the back nine."
Katarincic had never played the golf course prior to a practice round on Sunday, but he was impressed.
"The golf course was awesome," he said. "You've just got to get at the easy holes and make some good pars on the harder holes."
A group of five golfers finished at 2-under par 71. Among those was Williamsport professional Jordan Eck, who had just one bogey all day. His three birdies came in style, as he made a downhill seven-footer on the 12th hole and followed that with a tee shot on the par-3 14th that ended up inches away from an ace.
"I didn't realize it was that close but then I heard somebody whistle," Eck said.
He headed to the front nine and his tee shot on the par-3 fourth hole landed in the back left of the green on the fringe. But the 26-year old knocked in the 50-footer for another birdie, and he parred out the rest of the way to card a 69.
Amateur Brian Isztwan of Huntingdon Valley was struggling after his first nine holes at 3-over par. He then made the turn to the front side (he started on No. 10) and promptly shot a 5-under par 30 on that nine to get to 2-under for the day.
"That's definitely my best nine ever," Isztwan said.
Isztwan birdied No. 2 and No. 3, and after a slight slip-up with a bogey on the fourth, he turned it on by making birdie on his final four holes to get into contention.
On the par-3 sixth, he made a three-footer for birdie. That was followed by a great approach that left just a foot for another birdie on No. 7. The putter remained hot and Isztwan drained a 15-footer on the eighth hole and closed out the round in style with a six-foot birdie on No. 9.
"I didn't feel like I hit it so well but once the putter started rolling it got a lot easier," Isztwan remarked.
Joining Eck and Isztwan at 2-under are professionals Brian Bergstol, Craig Hornberger and Kevin Shields. Bergstol, of Bangor, Pa., had six birdies in his round on Monday. Hornberger, the first round leader last year in his hometown at Lancaster Country Club in this event, birdied two of his last three holes to reach 2-under par. Shields, of Pittsburgh, had a bogey on No. 7 for his only blemish on the day, with three birdies otherwise.
Defending champion Kevin Kraft fired a 2-over par 73 and is tied for 33rd place.
Round two play begins Tuesday morning at 7:30 a.m.