Logue and Bergstol Lead Open After Round 2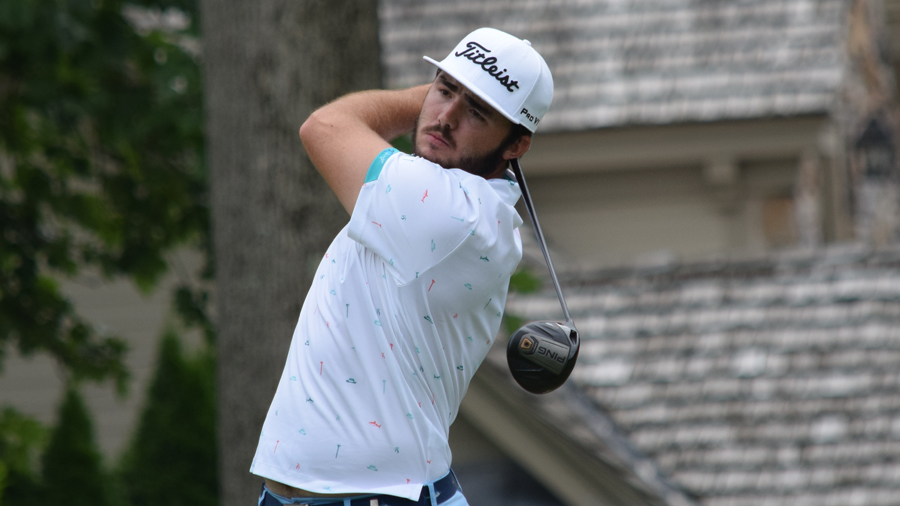 PAOLI, Pa. – From looking at the leaderboard of the 103rd Pennsylvania Open, one would not have guessed that Isaiah Logue took a nine-month hiatus from golf last year. But that time spent clearing his head and saving up some money is paying dividends with a successful 2019 season. That continued on Tuesday with a round of 68 at Waynesborough Country Club to put Logue into a tie for first place at 4-under par heading into the final round of the championship, which is presented by LECOM.
Logue is tied with fellow professional Brian Bergstol, who shot his second straight round of 69. For Logue, the 2015 Pennsylvania Amateur champion, it's a nice return to competitive play after his time off in 2018.
"Mentally I wasn't wanting to play the game," the 23-year old from Fairfield, Pa. stated.
Logue spent the year saving up money working and returned to the game with appearances on The G Pro Tour, a Georgia-based minitour. His hard work paid off when he captured a minitour event in Georgia in March. But for Logue, a win tomorrow would be the capper in his comeback to the game.
"It'd be nice to get a big check this week, and a trophy as well," Logue said.
Logue began his round on the back nine and got on the board early with a birdie on No. 13. He added another on the par-5 15th where he chipped his third shot to tap-in range.
Adversity found Logue with a pair of bogeys after he made the turn, on No. 1 and No. 5. Even more frustrating than the score was the fact that Logue hit good shots on each.
"I hit a great shot off the tee on No. 1 and was in the middle of the fairway and my approach was just a little short and spun back down," said Logue of his eventual bogey on that hole.
Then on No. 5, Logue fell back to even par on the day with another bit of disappointment.
"I actually hit another great drive there," Logue said. "But my approach landed right next to the pin and skipped over the back of the green where it's very tough to get it up and down."
But rather than let the bogeys derail him, Logue refocused and rallied to birdie three of the final four holes to post 68 for the day.
"After that second bogey, I was definitely a little frustrated," said Logue. "But I'm glad I was able to get some shots back on that closing stretch."
Bergstol, meanwhile, began his round on the front nine with back to back birdies to quickly move into the lead. But the professional from Bangor, Pa. lost those two shots with bogeys on No. 8 and No. 9. But he rallied with three birdies on the back nine to put himself in a tie for the lead and in the final pairing of Wednesday's final round.
"Yeah, it was frustrating because I definitely felt like I left a few out there today," Bergstol said. "But I'm happy with where I'm at, all things considered."
In a tie for third place at 3-under par 139 are Craig Hornberger and Cole Willcox. Hornberger, who led last year's Pennsylvania Open after round one, fired a 1-under par 70 on Tuesday to stay in the hunt.
"I definitely learned from that experience," said Hornberger, who led on his home course of Lancaster Country Club last year after 18 holes before finishing in 27th place.
Hornberger's Tuesday round was a bit uneven on the front side, as he alternated bogeys and birdies and had just three pars but made the turn at even par 35. On the back side, he settled down and had a clean card with the lone birdie on No. 15.
Willcox, the event's leader after day one, fired a 1-under par 70 in round two. After playing his opening nine in even par, Willcox went to Waynesborough's front side, where he rallied after back to back bogeys to card birdies on No. 7 and No. 8 before closing with a bogey on the ninth. Willcox, a former professional who has applied for reinstatement as an amateur, stated that he wasn't comfortable in his game during the round.
"Today was a lot tougher," Willcox said. "I was never in rhythm, from the get go. It was a grinding day and I just wanted to stay in it and give myself a chance tomorrow."
Brian Isztwan of Huntingdon Valley, Pa. is currently the low amateur after shooting an even par 71 and is 2-under for the championship. Isztwan followed up on his closing nine score of 30 on Monday with another solid round.
"The course definitely played much softer today," Isztwan said. "On No. 9 yesterday, I had 105 yards in for my approach and today I had 166 after hitting the same club off the tee."
The field was cut to the low 43 players in advance of Wednesday's final round. The low professional will win $8000.