Bangor, Ellis hold halftime lead in Middle-Amateur at Longue Vue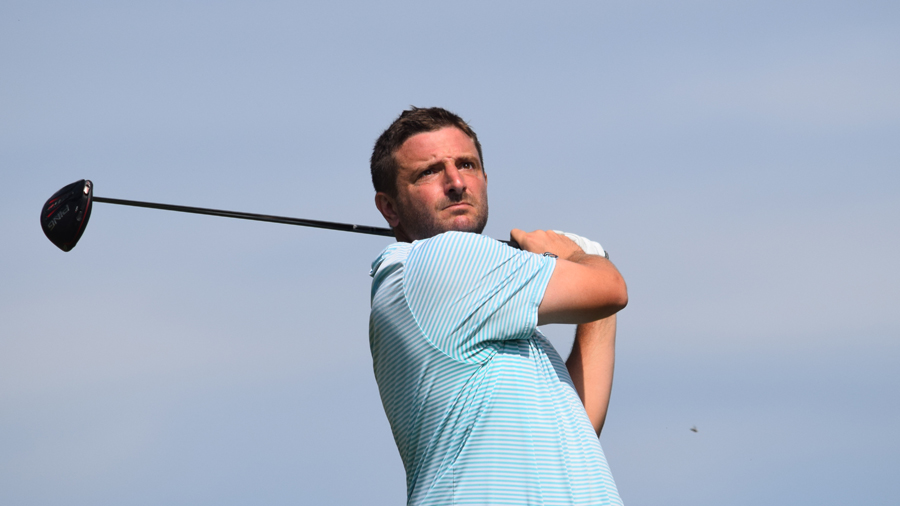 VERONA, Pa. - After 18 holes of the 26th Middle-Amateur Championship presented by LECOM, two 4-under 66s left a pair of players with the overnight lead.
Jimmy Ellis of Hickory Heights Golf Club and Ian Bangor of Montour Heights Country Club both turned in cards of 4-under 66 to take the halftime lead over a 96-player field Monday at Longue Vue Club (par 70, 6,482 yards).
Bangor, a former Carnegie Mellon University player, came back to familiar grounds for today's round. Bangor collected five birdies en route to the 66.
After making the turn at 1 under, Bangor picked things up on the second side. A birdie on the par-4, 400-yard 11th arrived after a 15 footer dropped over the cup's front lip. Another was jarred on No. 15 (par 5, 540 yards) after Bangor's chip checked up short to 15 feet, but a clutch birdie putt followed that up. The fifth and final red figure was carded on No. 18 (par 4, 441 yards) thanks to a beautiful Bangor birdie conversion from 12 feet.
"This year, the [mid-range putts] haven't been working that well. I haven't been putting well this season," said Bangor, 27, of Moon Township, Pa. "The game has felt pretty good all summer, so it was nice to see some mid-range looks fall today. It was a nice change."
A 2014 graduate of Carnegie Mellon, Bangor feels right at home at Longue Vue. He feels his experience on these fairways gives him a step up on the field heading into tomorrow's final loop.
"I feel very comfortable here as this was our home course. We had two tournaments a year here," he said. "I typically play this place well, and it's a pretty intimidating course, so local knowledge is a big advantage."
For Ellis, a scorching 3-under front side got things started off hot. His second nine began with a red number on the par-3, 151-yard 10th to continue the low streak. A pitching wedge came to rest at six feet away, leading to the 2 there. The final birdie of the day arrived on Longue Vue's fantastic finisher after a wedge from 124 yards out wiggled up to 3 feet. The putt was converted resulting in the tie for the lead.
Contrary to Bangor's past, Longue Vue hasn't been as welcoming to Ellis until today's spectacular showing. The last time he competed here in the 2016 Western Pennsylvania Golf Association Open, he carded rounds of 78 and 79.
"Today was a little better than the last time I've played Longue Vue. I think I missed the cut by like 20 that week," said the former Ohio University Bobcat.
Ellis, who earned a Middle-Amateur qualifying medal at Chartiers Country Club with a 1-under 69, heads into Tuesday's final round with the trophy as the end goal. A handful of close calls, including being involved in a number of USGA Qualifying event playoffs, will be fueling his hardware motivation.
"I've been close a number of times this season. It's been really close, and I've been playing good golf, but I just haven't been able to win anything," said Ellis, 33, of Venetia, Pa. "People are just really good players nowadays, so I'll need more of the same tomorrow. I'd say 4-under par will be the number again."
In the Team Competition, which takes the best two of three scores for the day, Diamond Run Golf Club currently holds the lead. Rick Stimmel's 3-under 67 paired with Bob Crnjarich's even-par 70 set Diamond Run up for a chance at the club crown.