Mercer takes Mid-Am trophy on home turf at Longue Vue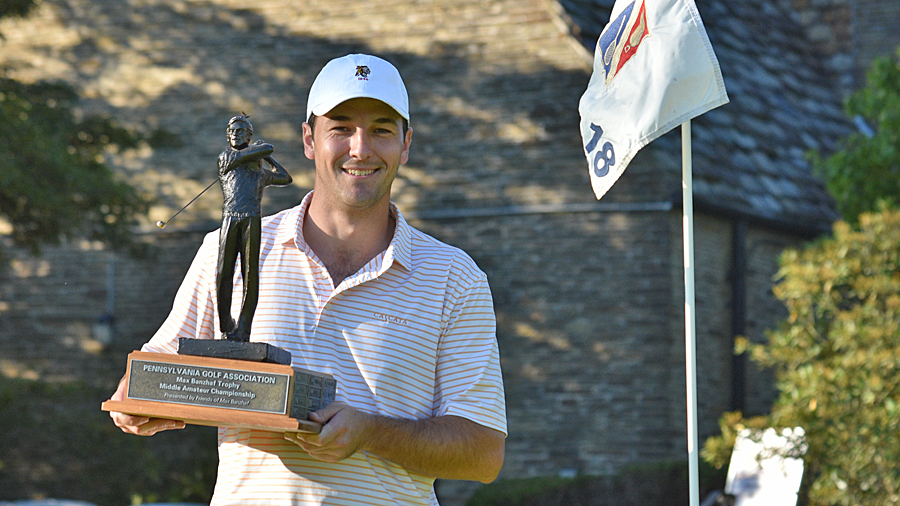 VERONA, Pa. - If it's a dramatic finish you desired, you got it Tuesday in the Final Round of the 26th Middle-Amateur Championship presented by LECOM. Trophy rights came down to a sudden death playoff between two of Pennsylvania's finest Mid-Amateur talents.
Tuesday at Longue Vue Club (par 70, 6,606 yards), home club hopeful Mitch Mercer rode a second day surge to get into a playoff and ultimately win the sudden-death overtime over Hickory Heights Golf Club's Jimmy Ellis on No. 18.
"This feels great. I just joined earlier this summer and it's only been a couple of months, but it's been an amazing summer," said Mercer, 32, of Pittsburgh, Pa. "We had five Longue Vue guys playing this week, and I wanted everyone to play well, but to bring it home myself is special."
With "added pressure" playing on home turf, Mercer teed off in the second-to-last group after a 2-under 68 Monday. He found himself two back of the leaders – Ellis and Ian Bangor of Montour Heights Golf Club, who held shares of the lead at 4-under 66. Sitting one back was Diamond Run Golf Club's Rick Stimmel at 3-under 67, who rounded out Tuesday's final group.
Compared to the first 18, scores weren't as red come the second loop. The day's lone red round belonged to Scotch Valley Country Club's Anthony DeGol who finished with a scorching 3-under 67.
Mercer, the winner of the Western Pennsylvania Golf Association Middle-Amateur in 2017 across the river at Green Oaks Country Club, jarred three birdies on Longue Vue's front side to get his name into the mix.
As the lead groups made the turn, it was Bangor and Mercer who sat tied at 4 under, setting up a dramatic final nine. However, flatstick failures began to surface, letting both players down in clutch moments.
Bangor would go on to three putt three of his last four holes to finish at 1-under par. The eventual champion himself missed a two footer on No. 18 (par 4, 471 yards) that forced a playoff.
"I just stepped up and knew I pulled it right away," said Mercer.
In the final grouping, Ellis jarred a 15-foot downhiller from the back of the green to send spectators into a cheer, meaning a playoff was in order. However, the good fortune for Ellis would soon fade.
Beginning back on Longue Vue's finisher, Mercer stepped up and found the left rough. Ellis' tee shot darted right and lodged in and underneath tree. An unplayable was the only move, meaning advantage Mercer.
"Jimmy got a really bad break there in the playoff. It was unfortunate, but because of that, my mindset changed. It was like match play from then on," said Mercer, a former collegiate player at Susquehanna University.
Mercer's approach shot from 163 yards out found the center of the green, and from there, a three putt gave him the crown.
Winning his second Mid-Am Championship is a monumental victory for his amateur career that also features an appearance in the 2013 U.S. Mid-Amateur at the Country Club of Birmingham.
"This is a big one for me. A really big one, for sure," said the champion.
The Pennsylvania Golf Association would like to thank the staff and membership of Longue Vue Club for their hospitality during this week's championship. Also, thank you to LECOM for the generous sponsorship of the championship.