Tri-fecta for Knapp as Senior POY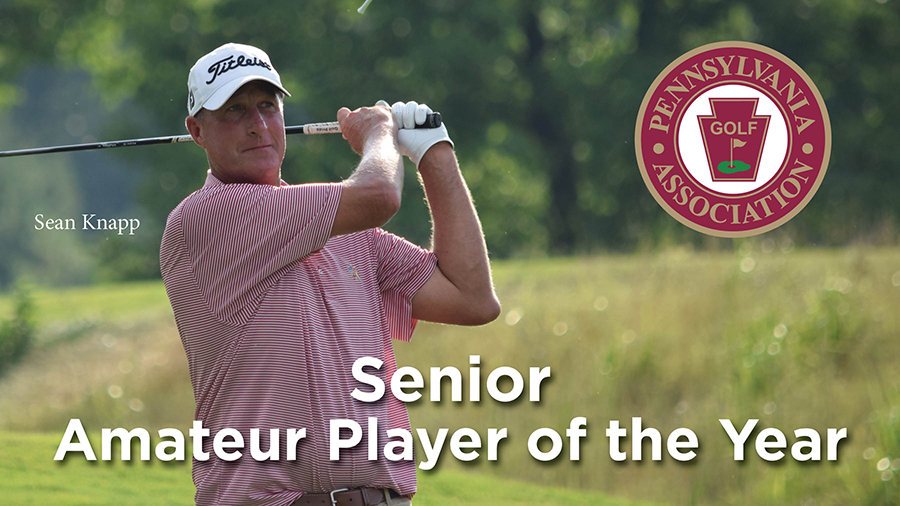 2019 Senior Amateur POY Standings
BROOMALL, Pa. – It's now a three-peat for Sean Knapp of Hannastown Golf Club; he is the William C. Fownes, Jr. Senior Amateur Player of the Year. Knapp was propelled by wins in the 60th Senior Amateur Championship presented by LECOM at Butler Country Club and in the 30th Four-Ball Championship presented by LECOM at Philadelphia Cricket Club's Militia Hill Course alongside Nathan Smith. In addition, Knapp finished runner-up to Bob Beck, Lehigh Country Club, in the 13th Senior Match Play Championship presented by LECOM at Allegheny Country Club. He also made national appearances in the U.S. Senior Open, U.S. Senior Amateur, and in sectional qualifying for the U.S. Open. Knapp finished the season with 600 points to top Steve Walczak (367 points) and David Blichar (357 points), respectively.
"It means a ton to win the Player of the Year Award," said Knapp. "Looking back, it's hard to compare the 2019 season with that of 2017 or 2018, but there were definitely some memorable moments and I'm happy with the results. Just looking at the talent we have in this state and to say you came out on top is humbling for sure. I'd rank our collection of players with any other state in the country, and especially so on the senior level. The [Player of the Year Award] isn't the primary reason why I compete. I compete because I love the game and the camaraderie with the other players. It's a very important award and distinction and it's a byproduct of playing well all season."
Knapp also repeated as the Western Pennsylvania Golf Association's Senior Player of the Year. He has been a model of incredible consistency throughout his career, compiling three Fownes Amateur Player of the Year awards (2004, 2010, 2012) to go along with a record 14 West Penn Amateur POY titles.
On what drives him to be the best, Knapp noted, "I just read an article the other day that involved the motivation of athletes of all sports and why they compete. Intrinsic motivation comes from within, for the love of the game. Extrinsic motivation involves motivation to win championships. I'm definitely intrinsic by that definition. I just love to play and compete."
Looking ahead to 2020 and going for four-in-a-row, Knapp expects to play in more PAGA events. "Quite frankly, I was disappointed that I couldn't have played more in 2019. I love playing in Association events and this year I played in as few as I can remember. Next year, I plan on playing in a lot more, so I might go from playing the least amount to the most I've ever played."
What's in the Bag?
Driver – Titleist TS2 – 10.5 degree
3-wood – Titleist TS2 – 15 degree
Hybrid – Titleist 915H – 19 degree
Irons – Titleist 718MB 4 – PW
Wedges – Titleist Vokey Design SM7 (54, 58, 62)
Putter – Edel Custom (Anser Style)
Ball – Titleist ProV1x
About William C. Fownes, Jr.
W.C. Fownes, Jr. was the quintessential amateur golfer who led by example and whose good influence - personal and institutional - was extensive. W.C. Fownes' major golf credits include being a Pennsylvania Amateur and U.S. Amateur Champion, Walker Cup organizer, player and team captain, and USGA president.
The William C. Fownes, Jr. Senior Amateur Player of the Year Award is given to the player who exemplifies the highest standards of excellence on the golf course in skill, sportsmanship, and etiquette in the Commonwealth of Pennsylvania.