Donatoni grabs second Super-Senior POY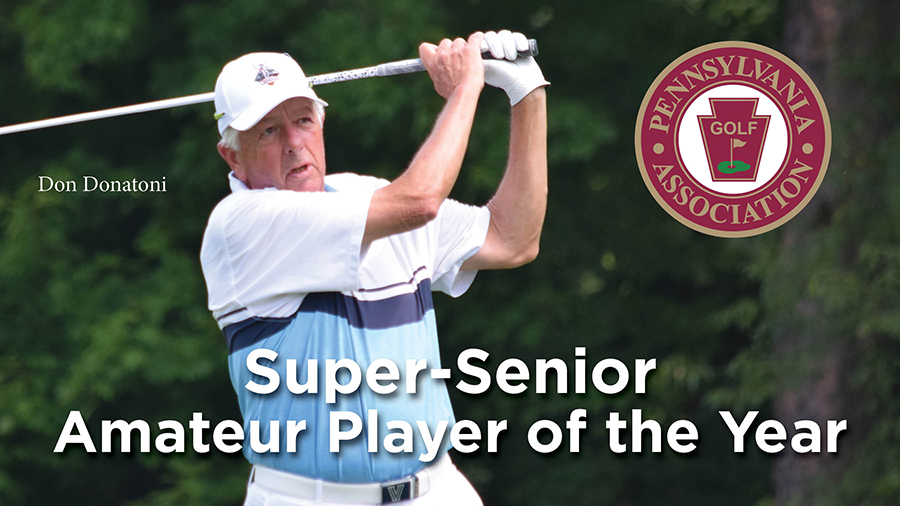 2019 Super-Senior POY Standings
BROOMALL, Pa. – White Manor Country Club's Don Donatoni added yet another season-long accolade in winning the 2019 William C. Fownes, Jr. Super-Senior Player of the Year Award. The 'Don-inator' collected victories in both the 60th Senior Amateur Championship presented by LECOM at Butler Country Club as well as the 13th Senior Match Play Championship presented by LECOM at Allegheny Country Club. He added a runner-up finish to Gary Daniels, Applebrook Golf Club, at the 79th George Dressler Memorial Championship presented by LECOM at Union League Golf Club at Torresdale and then tied for 8th place in the 15th Art Wall, Jr. Memorial Championship presented by LECOM at the Country Club of Scranton. Donatoni compiled 565 points to finish ahead of Daniels.
"I guess when you don't expect much out of your game, that's when good things seem to happen," said Donatoni.
On April 1, Donatoni had surgery to repair a hernia and his golf status was up in the air. "I couldn't do anything for two weeks, then all I could do was chip and putt. I wasn't hitting driver until a couple days prior to teeing it up at the Dressler. I was thrilled to somehow get it around at Torresdale and finish second behind my good friend Gary Daniels. Those good things just carried over into the Senior Match Play and Senior Amateur, where some of my best play of the year occurred," Donatoni said.
This is Donatoni's second W.C. Fownes, Jr. Super-Senior Amateur Player of the Year Award. He last won in 2017 in a close race with both Paul Schlachter, Sewickley Heights Golf Club, and Dave DeNezza, Hannastown Golf Club.
"It's a tremendous honor to win the POY Award, especially when you consider the depth of the field and talent the state has at the senior and super-senior levels. I don't want to name names for fear of overlooking someone, but we all know who they are and they are super competitive and from all over the state. When you tee it up in a state event, you better have your double-A game when up against them. I'm really proud to come out on top this year," said Donatoni.
Donatoni also collected his eye-popping seventh consecutive, Golf Association of Philadelphia Super-Senior Player of the Year Award in 2019. That award was created in 2009 and only three other individuals have won it; Jay Howsen, Jr., St. David's Golf Club, (2009), Charlie McClaskey, Back Creek Golf Club, (2010-11), and Michael Rose, Talamore Country Club, (2012).
"I take each tournament one at a time and don't really consider it [POY Award] until the middle or latter part of the season when you have a sense of where you might stand. If you play well, the standings take care of themselves. Consistency dominates my thinking each season and I believe I've been able to accomplish that each year. I identify my weaknesses early on and turn my focus immediately. This year, it was my short game, especially bunker play and those five-footers for birdie or to save an important par. I spend a lot of lonely hours at the White Manor short game area. What drives me simply the love of golf and good competition. As they say, winning never gets old!"
"I also give credit to the Association for selecting venues like Allegheny, Butler and Scranton. Guys in the east don't like to travel west for an event as much as the western players don't enjoy traveling east, but when you have the consistently great venues it makes all the miles worthwhile. The courses and conditions were excellent and a pleasure to play."
Donatoni will look to add more hardware to the mantle in 2020 as he defends his POY at familiar venues such as Stonewall (North) in the 61st Senior Amateur Championship.
What's in the Bag?
Driver – Ping G410 Plus (set at 8 degrees with Atmos Tour Spec 65 shaft)
3-wood – Ping G410 14.5 degree
2 Hybrid – Cobra Bio Cell
3 Hybrid – Titleist H1
4 Hybrid – Ping G30
Irons – 5 – PW – Taylor Made P790
Wedges – Callaway Mack Daddy 4 (52, 58)
Putter – Tommy Armour Impact or Taylor Made Spider X
Ball – Titleist ProV1x
About William C. Fownes, Jr.
W.C. Fownes, Jr. was the quintessential amateur golfer who led by example and whose good influence - personal and institutional - was extensive. W.C. Fownes' major golf credits include being a Pennsylvania Amateur and U.S. Amateur Champion, Walker Cup organizer, player and team captain, and USGA president.
The William C. Fownes, Jr. Super-Senior Amateur Player of the Year Award is given to the player who exemplifies the highest standards of excellence on the golf course in skill, sportsmanship, and etiquette in the Commonwealth of Pennsylvania.