Remembering Mike Schanne, Jr.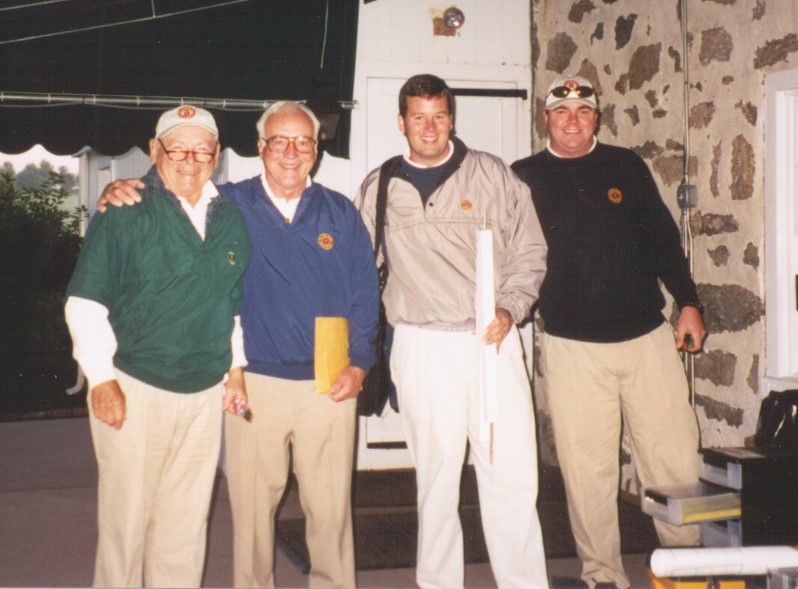 (L-R Newbie Cooper, Rod Eaken, Mark Peterson, Mike Schanne)
It is with tremendous sadness that I regret to inform you of the loss of our friend and longtime Pennsylvania Golf Association colleague, Michael T. Schanne, Jr. Mike,42, who served as the Pennsylvania Director of Competitions from 2001-07, passed away suddenly last week near his home in Portland, Ore.
A Newtown Square, Pa., native, Mike, from a young age, grew up in the game, perfecting his smooth swing at Rolling Green Golf Club. He competed in junior golf events throughout the Philadelphia region. This love for the sport was fueled with a victory in the 1989 Francis X. Hussey Memorial Junior-Junior Division, annually held at Rolling Green, and two years later earned runner-up honors in the Golf Association of Philadelphia (GAP) Junior-Junior Boys' Championship.
He continued to excel. His ability and dedication to the game led Mike to the University of Rhode Island, where he was a four-year letter-winner from 1996-99. He remained a supporter of the University's golf program after his playing days.
After graduation, Schanne returned to the Philadelphia area to work at GAP for a year, before taking on the role of Director of Competitions with the Pennsylvania Golf Association. In that role, he handled the day-to-day administration of the Association's then 11 statewide championships.
His next golf role was with an even larger group, the PGA of America. Schanne served as a Championship Manager for 10 years starting in 2007. With the PGA, he ran several championships including 2016 Junior Ryder Cup and 2017 Boys and Girls Junior PGA Championships.
In 2018, Mike joined the golf events division at Lagardere Sports where he was part of a team that managed several events on the PGA Tour and Korn Ferry Tour.
As two young guys relatively new to running the Pennsylvania Golf Association, Mike and I were a team determined to make improvements. We spent countless days and nights together on the road, setting up golf courses and working the long event days. I will never forget Mike's offers to take the first shift in driving back home across the state, only to fall asleep a few minutes into the ride. Mike will always be my man, my friend and even my partner when we took on Jim Bryan and Arnold Palmer at Latrobe Country Club in the most memorable round of our lives. Without Mike, PAGA would not have advanced so much in such a little amount of time.
Mike's pleasurable demeanor, hard work, humor and warm smile will never be forgotten. Mike leaves behind a loving family with two parents, a sister, brother-in-law and two nieces. Please keep all of them in your thoughts and prayers through this difficult time.
Sincerely.
Mark E. Peterson