Peters Picks Up Junior Boys Title at Hershey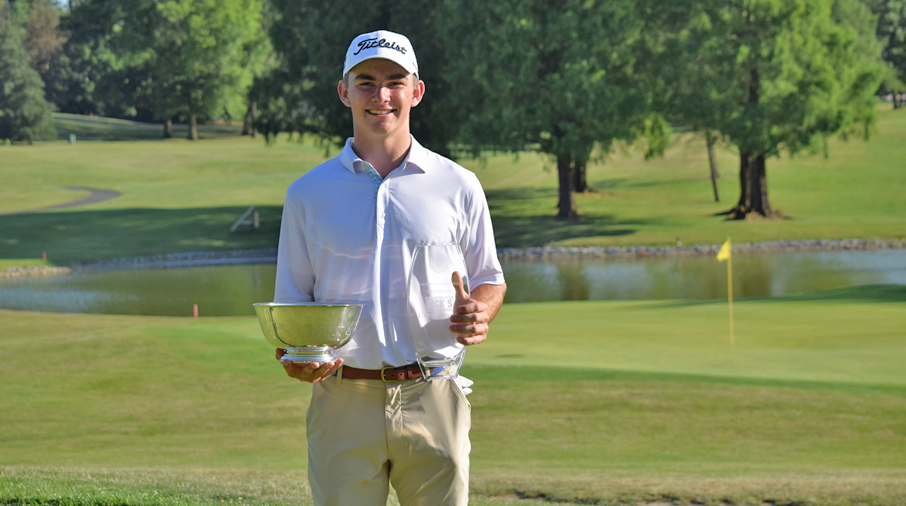 HERSHEY, Pa. – After three holes in Monday's opening round of the Pennsylvania Junior Boys' Championship at Hershey Country Club's East Course, it appeared that it wasn't going to be John Peters' week. The 17-year old from Carlisle Country Club had two bogeys followed by a double bogey to start his quest in the 36-hole championship. But after that, Peters showed his toughness, playing the next 33 holes in six-under par including a final round 67 for a two-round total of 140 (-2) to capture the championship, which was presented by DICK's Sporting Goods and hosted by UPMC Pinnacle.
"I had a tumultuous start yesterday," said Peters. "But I told myself to keep my head down and keep playing golf because there were a lot of holes left out there."
For Peters, the key to Tuesday's final round was avoiding the sluggish start for a second consecutive day.
"Today, I felt like if I could just get off to a solid start, I'd be able to shoot a good number and put up a good result. And then I birdied No. 2, No. 4 and No. 5 and I was right in contention," Peters remarked.
That trio of birdies was followed by another on the par-4 ninth hole, enabling Peters to make the turn at 32. But he knew he needed to keep up the strong play to stay with first round leaders Carson Bacha and Rocco Salvitti, who teed off in the final pairing a few groups behind Peters. He got what he needed with key birdies down the stretch on the par-5 14th as well as a clutch roll on the penultimate hole, the par-4 17th. But even with that, he assumed he would be playing extra holes.
"I was expecting a playoff," Peters said. "It wasn't until Chip (Richter), my club pro, told me that Carson and Rocco made bogeys on 17 that I thought I could win it outright because I knew that 18 was a tough birdie today."
Peters was right, as 18 proved to be too tough for Bacha and Salvitti as both had chips to force a playoff but couldn't convert, giving the crown to the Duke University commit.
Bacha, of Out Door Country Club, and Salvitti, of Oakmont Country Club, each shot an opening round of 69 (-2) for the clubhouse lead. But neither could make enough birdies on Tuesday to keep up with Peters as they each posted second round scores of 72 to finish at 1-under par for the championship, a stroke behind Peters.
The only other player to finish par or better was Phoenixville Country Club's Morgan Lofland, who fired rounds of 70-72 to come in at even par.
In the team competition, which saw the best 3 of 4 scores each day tallied up for golfers from the same club, the winner was Aronimink Golf Club, which edged out Carlisle by a stroke. The Aronimink team consisted of Nick Ciocca, Jake Maddaloni and Jack Davis.
The Pennsylvania Golf Association would like to thank the staff and membership of Hershey Country Club for the hospitality in hosting the championship. Additionally, a special thanks goes out to DICK'S Sporting Goods and UPMC Pinnacle for sponsorship of the event.