Meng Masters Lebanon for Junior Girls Crown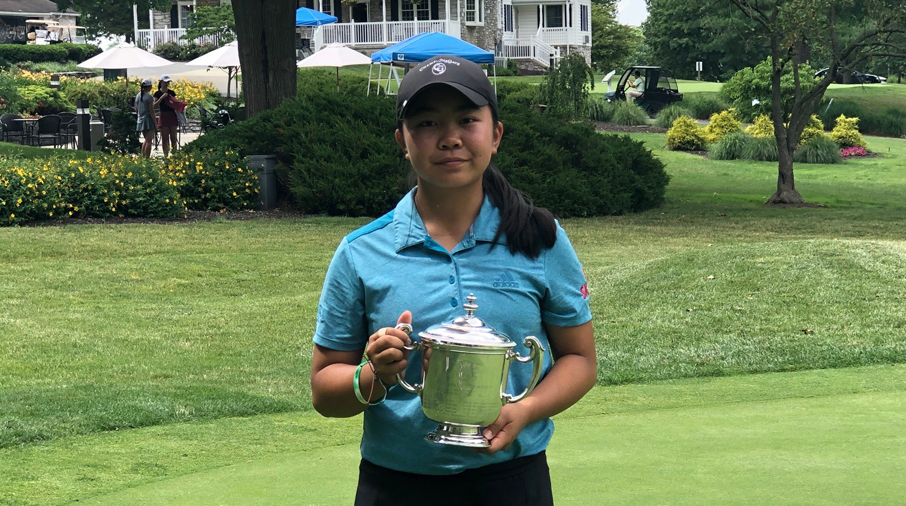 LEBANON, Pa. - Megan Meng set the pace and the rest of the field never caught up. Meng followed up her first round score of 68 with a solid second round of 70 to capture the Pennsylvania Junior Girls' Championship at Lebanon Country Club. The championship, which is presented by DICK'S Sporting Goods and UPMC Pinnacle, was the first statewide win for the 13-year old Meng.
"I came to this tournament just hoping to place because I've never played here before," said Meng, who plays out of Jericho National Golf Club. "I had not played here and had not played in this event so it was a really nice experience to come out with the win."
Meng was the most consistent player in Monday's opening round as she made five birdies en route to the 4-under par 68, and she continued that strong play in Tuesday's final round. The one-stroke lead she held after the opening 18 holes of the championship turned into a three-shot victory, as Meng's 36-hole total of 138 (-6) bested Applecross Country Club's Jennifer Cleary, who carded rounds of 71-70 and was the only other player under par in both rounds.
For Meng, the secret to success was the putter.
"Yeah, it was my putting mostly," Meng said. "I figured out a way to putt without thinking about it too much. It was just easy going."
Meng made the course look easy at times, as she ended up with 10 birdies over the 36 holes. In fact, the only hole to give her fits was the par 3 third, which she bogeyed both days.
Cleary entered Tuesday's round three shots back and did her best to put the pressure on as she birdied two of the first five holes. She then parred the next nine holes before making another birdie on the par-5 15th, but it was too little, too late.
Meng put herself in position to win with a steady opening nine of 1-under par 35 that included a pair of birdies. After a bogey setback on the 11th, she put the championship away with a string of three birdies in four holes (No. 13, No. 14, No. 16).
The Pennsylvania Women's Amateur Championship will be held on Aug. 3-5 on the same grounds as Meng's triumph this week. And after this showing, she just might make an appearance to try to win her second state championship of the year.
"I'll think about it," Meng said of the Women's Amateur.
The Team Championship, with a format of best 2 of 3 scores for golfers from a club, was awarded to Jericho National Golf Club, as Meng and clubmate Natasha Kiel combined for a score of 280 (-8) in that format.
The Pennsylvania Golf Association would like to thank the staff and membership of Lebanon Country Club for the support and hospitality this week. Additionally, a special thanks goes out to DICK'S Sporting Goods and UPMC Pinnacle for sponsorship of the championship.