Stimmel Shines as Medalist for Sigel Qualifying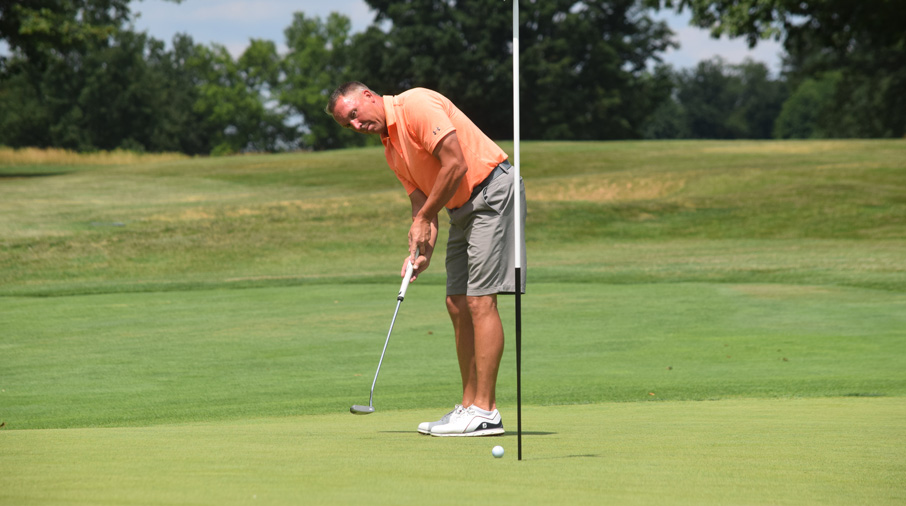 YORK, Pa. -- Rick Stimmel had never stepped foot on the grounds of the Country Club of York before Monday's stroke play qualifying round of the 17th R. Jay Sigel Pennsylvania Amateur Match Play Championship. The 52-year old Western Pennsylvanian did have a few friends who had played the course and offered some tips. Whatever those pointers were, they must have worked, as Stimmel played the last 14 holes in an incredible nine strokes under par on his way to a score of 64 (-8) and the top seed in the match play portion of the championship, which is presented by DICK'S Sporting Goods. Stimmel's round included an amazing 29 on the front 9 of the Donald Ross design.
"To be honest with you, I thought the course was pretty hard today," said Stimmel, of Diamond Run Golf Club. "But sometimes you just get it rolling out there."
For Stimmel, that began on No. 14, the first of back to back par 5s on the back nine, which was the side on which he began play. After a slow start that saw him 1-over par through the opening four holes, Stimmel made his move. Both No. 14 and the following hole are reachable par 5s, and Stimmel did just that, hitting 7-iron into each green and safely two-putting for birdies to move to under par for the round and it was on from there.
After three routine pars to close out his opening nine of the day, Stimmel moved to CCY's first hole, a 429-yard par 4. A good drive set up a sand wedge that he knocked to seven feet before rolling in the putt to move to 2-under for the day. On No. 2, a bad drive put him in a tough spot but he knocked a hybrid to about 60 yards from the green and then flipped a wedge to kick-in range for another birdie. Another birdie looked possible on No. 3, but a 10-footer down the hill didn't fall.
Stimmel bounced back from that miss with consecutive birdies on holes 4 and 5. On the fourth hole, it was a nice approach to six feet for a birdie, and on five, he had to work a little harder as the birdie putt was all of ten feet. But two more birdies later, and Stimmel sat at 5-under for the day and was in good shape to qualify for match play.
"I thought if you shot even today, you would be a lock for match play," Stimmel said of the cut line that eventually settled at 2-under par. "
At that point in the round, playing partner Ryan Gelrod asked Stimmel if he was planning on saving any birdles for the match play portion. But Stimmel didn't let up, citing a philosophy he's had since letting a USGA Mid-Am championship slip away in 1997.
"When I lost that event in 1997, it was because I kind of let my foot off the gas pedal a little bit and I told myself I wouldn't do that anymore," Stimmel said. "From there I just said when you get it going, try to keep it going."
The aggressive play almost led to another birdie at the par-3 6th, but his putt circled the hole nearly completely without touching the flagstick and he had to settle for a three. The birdie binge continued, though, on the seventh hole, as Stimmel continued his strong iron play with another solid approach to just inside ten feet, where he converted his seventh birdie of the day.
Stimmel stepped to the tee on his final hole of the day, the 490-yard par 5 ninth, at 6-under for the round. Another good drive set up a 9-iron approach to about 15 feet, and from there, Stimmel closed out the day in style, rolling in the eagle putt to finish at 8-under par. The eagle meant that Stimmel had played CCY's four par 5s in a total of 5-under par for the round.
Despite the lack of competitions this summer due to the COVID-19 pandemic, Monday's round marked yet another solid showing from Stimmel. The Sigel marks his fourth competition of the summer. He won the Western Pennsylvania Golf Association's Spring Stroke Play championship, finished fourth at the Tri-State Open and qualified for the upcoming Pennsylvania Open at Oakmont Country Club. Not a bad start to the competitive schedule for the 52-year old Pittsburgh resident.
Sixteen players made match play, as players who shot 70 (-2) or better made the cut. Stimmel will open against University of Maryland golfer Austin Barbin, of Loch Nairn Golf Club. The second seed is Mark Goetz of Hannastown Golf Club, who nearly kept pace with Stimmel en route to a 7-under par 65. Goetz will take on Nemacolin Country Club's Brett Young.
Six-time event winner Nathan Smith qualified for match play as well, carding a 4-under par 68. He'll take on Scott Kegerris of Chambersburg Country Club in his opening round match Tuesday morning. Defending champion Sean Semenetz failed to make the cut, though Louis Olsakovsky, who Semenetz bested in the final at Llanerch Country Club in 2019, qualified again for match play and will face Joshua Ryan on Tuesday.
The Pennsylvania Golf Association would like to thank the staff and membership for the hospitality shown in hosting the event. Also, thanks to DICK'S Sporting Goods for sponsorship of the championship.