Ryan runs to 17th R. Jay Sigel Match Play crown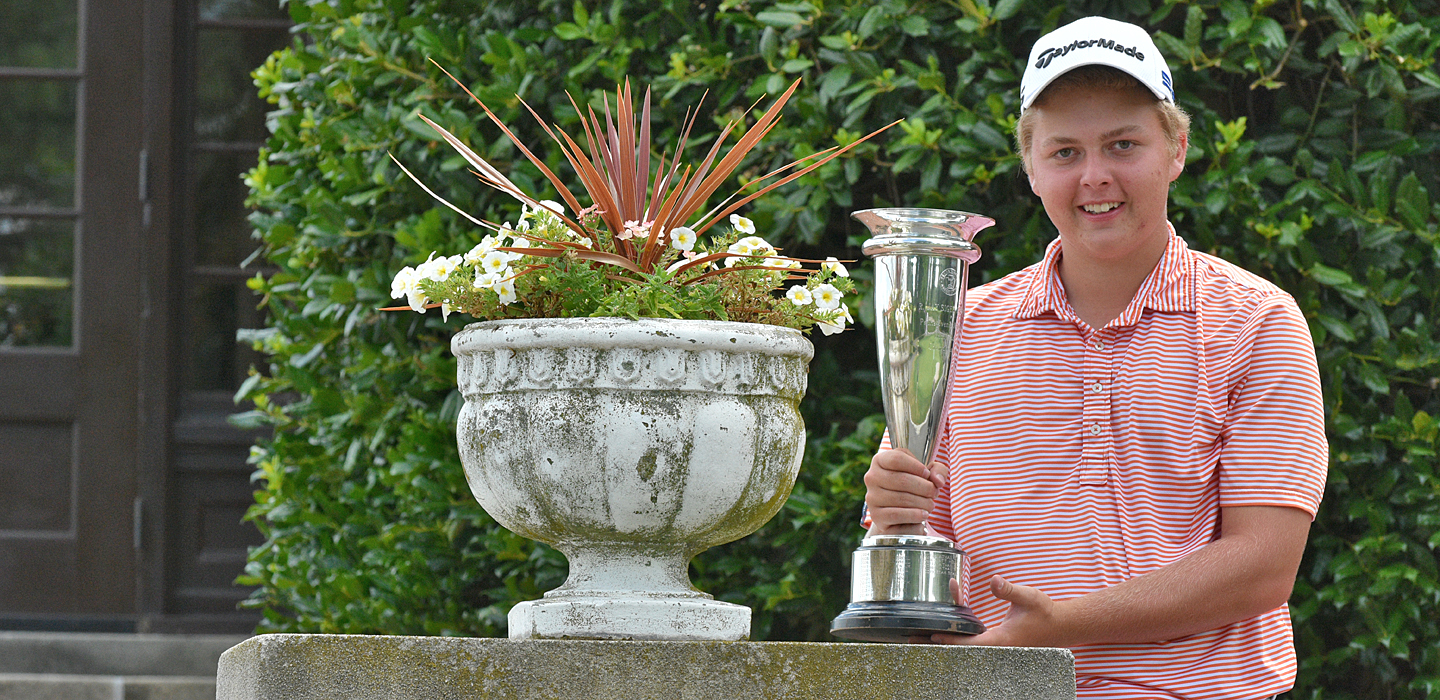 Josh Ryan's impressive summer of match-play victories continues.
The 16-year-old took home another crown Wednesday at the Country Club of York (par 72, 6,732 yards) in the 17th R. Jay Sigel Match Play Championship presented by DICK'S Sporting Goods. In a battle for the York ages, Ryan bested Diamond Run Golf Club's Rick Stimmel in the Final, 1 up.
In the morning's Semifinal matches, with ideal skies overhead, Stimmel and Ryan both put on impressive displays in their respective victories. Stimmel defeated Aronimink Golf Club's Max Siegfried, 5&3, to advance to the afternoon portion of the day. Ryan's 3&1 victory over Brett Young of Nemacolin Country Club punched his ticket to the Final.
Teeing off at 12:30 p.m., Ryan and Stimmel halved No. 1 (par 4, 429 yards) with pars before the match truly began on No. 2 (par 5, 530 yards). Stimmel's 30-foot eagle attempt there found nothing but the bottom of the cup, giving him the momentum he would seize early on. He'd get another one immediately after on No. 3 (par 3, 220 yards) when Ryan yanked his tee shot left and failed to get up and down while Stimmel tapped in for par. For the third hole in a row, Stimmel continued to roll, tossing a wedge approach that nestled up besides the cup. A tap-in birdie there gave Stimmel a 3-up lead through five holes.
On No. 6 (par 3, 185 yards), Stimmel again played a beauty to within birdie distance, while Ryan was just short and right of the putting surface. He studied the green, stepped up and chipped in for the fantastic 2. Another gamechanging-chip surfaced on No. 7 (par 4, 368 yards) when Ryan rolled one in from just off the back of the green. A fist pump followed.
"I'm 52 years old. I really don't get rattled much," said Stimmel. "But when Josh chipped in back-to-back, that rattled me. His short game is so great."
"That's when the momentum kind of flipped for me," said Ryan. "Both of those were huge shots that I needed to make being 3 down, and I did."
A Stimmel bogey on No. 8 (par 4, 446 yards) and par, bested by Ryan's birdie, on 9 (par 5, 490 yards) brought the match back to tied at the turn. Ryan would get another one on No. 10 (par 4, 337 yards) after another Stimmel bogey blemish. A 3-up lead for Stimmel was now none with Ryan winning four holes in a row.
The deficit grew on the par-3 12th hole, when Stimmel three putted for bogey and Ryan tapped-in for 3. But the runner-up would get one back on No. 13 (par 4, 315 yards) after Stimmel blasted a drive into the left greenside bunker, escaped safely and made the short birdie putt. Ryan was now 1 up through 13.
Eagle No. 2 on the day arrived for Stimmel at the perfect time. A 15-footer on No. 15 (par 5, 489 yards) brought the match back to tied heading down the homestretch. However, Stimmel would give Ryan the lead on the following hole, No. 16 (par 4, 406 yards) with a three-putt bogey.
It was do or die time for Stimmel with two to play. His tee shot on the par-3 17th stuck within five feet, but he missed on the high side. The hole was halved with pars. On York's finisher, Stimmel had another chance to tie the match up with another good look from under 10 feet. He missed that one as well, leaving it on the low side.
Game, set, match to Ryan.
"I really should have made one of those last two putts coming in [on Nos. 17 and 18]. They missed on both sides, so somewhere in the middle probably would have been nice," said Stimmel.
Ryan hit 12 greens in regulation while seven of his tee shots found the fairway. Stimmel's stats tell a different tale, as he hit all 14 greens in regulation but only four fairways.
"It was such a grind because Rick was rolling in some longer putts, especially on those two eagles. It was one of the best matches I've ever played in," said Ryan. "It was a lot of fun."
CC of York has a history of producing important moments for talented Junior players. In 1999, Hunter Mahan, who has enjoyed a rewarding PGA TOUR career, won the U.S. Junior Amateur Championship at York, defeating fellow future TOUR player Camilo Villegas in the Final. Ryan was unaware of the 1999 matchup, as it was a little before his time. However, he says
"Oh, wow. That's pretty special," said Ryan. "It's really cool to have won here. It's a great track and I was lucky to have hit my driver well all week and roll nice putts for the most part.
It's been quite the run of performances for the young talent. Ryan racked up another marquee win this summer in the Golf Association of Philadelphia Junior Boys' Championship at his new home club. Even though Ryan said it's been a different type of season due to COVID-19, the champion also claimed all the practice and playing has paid off.
"It's been interesting for sure. I'm just really happy that I've been able to get a few victories," said Ryan. "I've been playing really well in match play all year. My mindset has been to get through the Qualifier and take each match, one by one, and not think ahead. You can't take anything for granted, and nothings ever over."
What is over is the R. Jay Sigel Match Play Championship, and Ryan has carved his name into the prestigious trophy forever.
The Pennsylvania Golf Association would like to thank the staff and membership for the hospitality shown in hosting the event. Also, thanks to DICK'S Sporting Goods for sponsorship of the championship.