Brown, Jr. takes Day Two Amateur lead at 7 under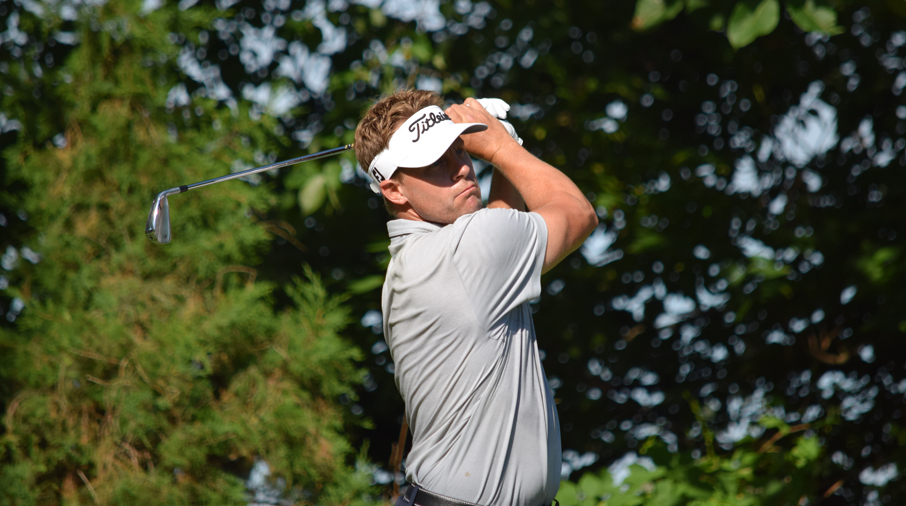 (Michael Brown, LuLu Country Club)
Sleeping on an overnight lead of one stroke, Brett Young's short edge was relinquished on Day Two of the 107th Pennsylvania Amateur Championship at Lookaway Golf Club (par 72, 6,949 yards).
Despite a 1-over Day Two performance from Young, the top spot was quickly overtaken by Michael Brown, Jr. of LuLu Country Club. Brown, who posted a 3-under 69 Tuesday, now holds a one-stroke lead over the field with just 18 holes left to play.
After two rounds, the cut line stopped at 3-over par, meaning 40 players moved on.
In the morning portion, making waves was Austin Barbin with a front-nine card of 5-under par. The early lead was tossed back and forth between Barbin and Brown, whose eagle on No. 17 propelled him to the top spot. Brown would get into the clubhouse with his 3-under round, cementing the early lead mark at 7 under. Barbin would finish with a 1-over back-nine 37, resulting in a 5-under overall score at for the day.
Also finishing at 3-under for the day and sitting 5-under overall is talented Junior golfer Calen Sanderson of Jericho National Golf Club, in addition to reigning GAP William Hyndman, III Player of the Year Jeff Osberg and GAP Amateur Runner-Up Michael O'Brien.
Elsewhere on the leaderboard, course records were being set. Conor McGrath of Huntingdon Valley Country Club fired an unbelievable 8-under 64, setting the new Course (Black Tee) and tournament course records at Lookaway along the way. With seven birdies and an eagle on the card, McGrath, a rising junior player for the Temple University Owls, now finds himself just four shots back of the lead despite a 5-over 77 in the first round.
The afternoon also hosted a sizzling 6-under 66 from Jimmy Meyers of Oakmont Country Club. Meyers, who finished at even par on Day One, has positioned himself for a run at the title on Day Three. He sits alone in second place and just one back of Brown.
Play resumes Wednesday morning, when the final round tees off at 7:30 a.m. at Lookaway.
Follow along with updates on pagolf.org all week, in addition to Twitter updates at @PA_Golf.
The Pennsylvania Golf Association would like to thank the staff and membership for the hospitality shown in hosting the event. Also, thanks to DICK'S Sporting Goods for sponsorship of the championship.