Brown delivers sterling Amateur performance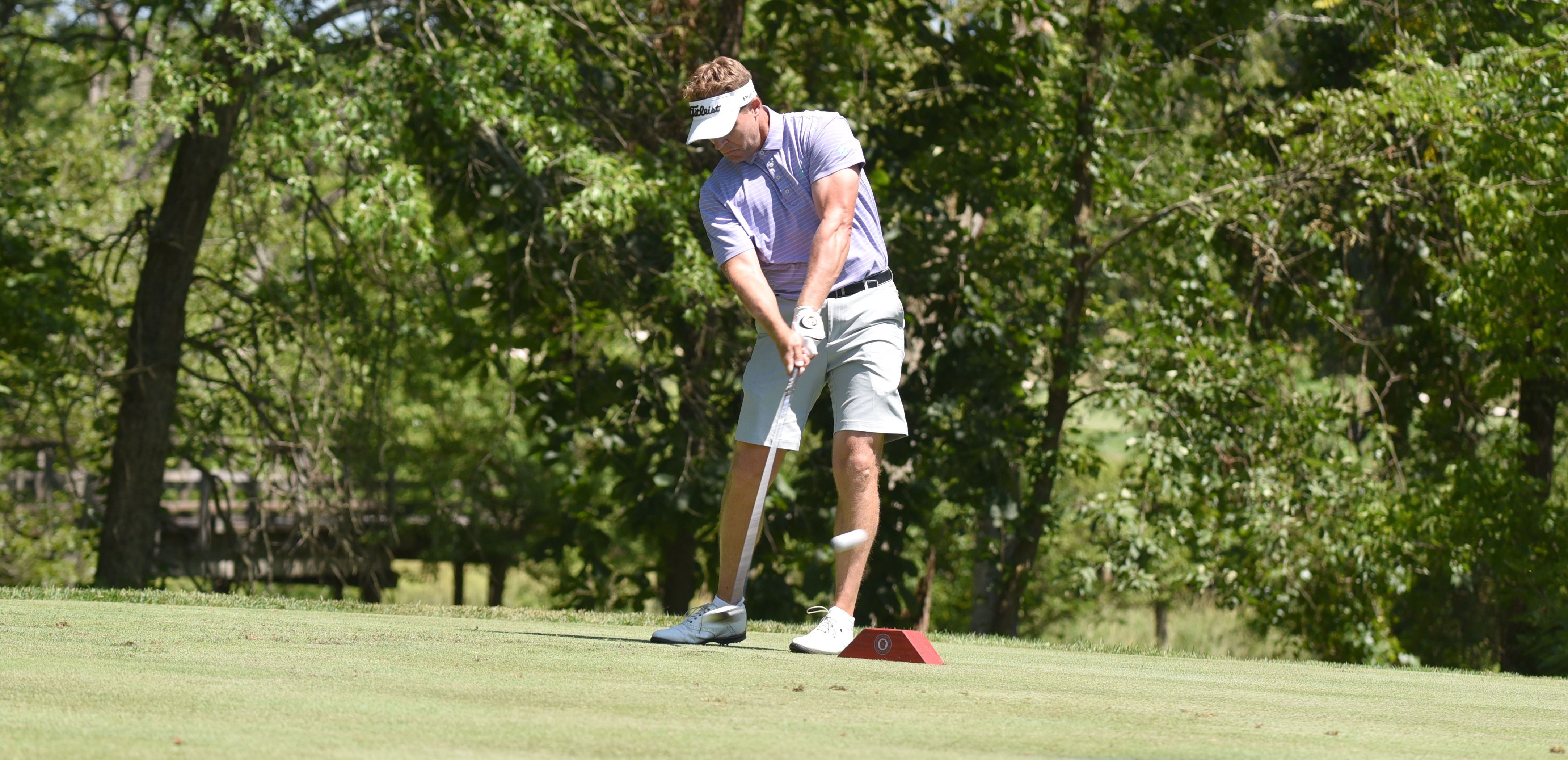 Michael Brown of LuLu Country Club launches a drive on No. 18.
**Scorecards**
BUCKINGHAM, Pa.–Michael R. Brown, Jr. turned a homecoming into a career achievement.
Brown, who played out of Lookaway Golf Club (par 72, 6,949 yards) in 2010 and 2011, navigated his former residence with diligence during Wednesday's final round of the 107th Pennsylvania State Amateur Championship presented by DICK'S Sporting Goods. He closed with a 69 to finish the 54 holes at a tournament best 10 under (68-69-69), one shot clear of Will Davenport of Whitemarsh Valley Country Club and former Amateur winner Rick Stimmel of Diamond Run Golf Club.
The victory was Brown's first state Amateur title.
"It almost seems like it was written ahead of time," said Brown, 47, of LuLu Country Club (Glenside, Pa.). "Coming back here, seeing my friends out there following me. I just can't believe [winning the title] happened.
"This morning I learned it was the birthday of both of my instructors, Scott Yurgalevicz and Mike Dynda. And then being here at Lookaway. I'm not really into that [signs pointing a particular outcome]. But there were enough coincidences to think maybe [this was going to be my day]. This is the greatest win of my career."
Brown has been a force in the Golf Association of Philadelphia (GAP) since regaining his amateur status in late 2007. A former mini-tour professional, Brown is a two-time GAP William Hyndman, III Player of the Year (2010, 2018) and three-time GAP Major victor. He has placed near the top in Delaware State Golf Association and New Jersey State Golf Association championships and is a 10-time USGA competitor.
Brown entered the final round with a lead for the first time in his career. A one-shot advantage on Jimmy Meyers of Oakmont Country Club. Though he said the nerves were frazzled, the early returns pointed to the contrary.
Brown birdied Nos. 1-4. On No. 1 (par 4, 378 yards), he lifted a 56-degree wedge from 114 yards to six feet. At the par 3, 201-yard second, Brown's 6-iron ended 10 feet from the cup. Next, on No. 3 (par 5, 572 yards), he two-putted from 40 feet after finding the green in two shots with a 6-iron from 180 yards. The Maple Shade, N.J. resident capped his blistering start on No. 4 (par 4, 387 yards), with a full sand wedge from 100 yards to six feet.
All was fine. Until it wasn't.
He bogeyed the next three holes after a poor drive into the right-side penalty area on No. 5 (par 4, 423 yards); a five-foot par miss on No. 6 (par 3, 182 yards) and a failed up-and-down on No. 7 (par 4, 399 yards). Brown bounced back on No. 8 (par 5, 542 yards) with a smashing 3-wood from the right rough that landed 30 feet from the hole. He would two putt from 30 feet for a birdie. He parred No. 9 (par 4, 355 yards) to make the turn at 9 under.
Calen Sanderson of Jericho National Golf Club, in the group ahead of Brown, in the meantime caught fire. He registered five birdies in his first nine holes to supplant Brown by a stroke with half a round remaining.
"The reason I didn't succeed as a professional was my self-image wasn't as strong as it needed to be," said Brown. "I told myself this morning, 'Who here is more prepared for today and Lookaway?' I said 'Nobody.' I spent last night and this morning pumping myself up because I believed I could win. And it was genuine. I love coming here and I know the golf course so well."
Brown birdied No. 10 (par 4, 341 yards) with another strong wedge from 113 yards to 10 feet to get to 10 under. The rollercoaster ride entered the station, sort of, after that. He finished with eight straight pars, though he needed to hole a 15-footer on No. 12 (par 4, 390 yards) and to drain a six-footer on No. 17 (par 5, 523 yards).
Davenport and Stimmel rose as Sanderson retreated. However, neither Davenport nor Stimmel could get to double-digits under par to apply even more pressure.
"My game got progressively better each day," said Davenport, 27, of Lafayette Hill, Pa., who closed with a 4-under 68. "Today, I gave it a good run. If I could have gotten a couple more putts to fall I could have been there but Mike was rock solid, especially down the stretch, and you have to tip your cap to him being double digits under par."
Stimmel, 52, of Pittsburgh, Pa., was a case of what could have been. He recorded two eagles and four birdies as part of his final-round 67, but made bogeys on Nos. 9 and 10 after facing ordinary 60-yard approach shots both times.
Stimmel was in search of a second Amateur title. He took the 1996 Amateur at Lake View Country Club and was runner-up in 1997 at the Country Club of Scranton.
Brown ended his title conquest with no stress on No. 18 (par 4, 434 yards). He went fairway and green. He faced a 30-footer, needing a two-putt for the win. His birdie try stopped inches from the hole.
"I checked the leaderboard one time and that was after the tee shot on 18," said Brown when asked about scoreboard watching. "There really is only one option for every shot on this course."
And one Amateur trophy to hoist.