Jade Gu Sets Pace in Round 1 of Women's Amateur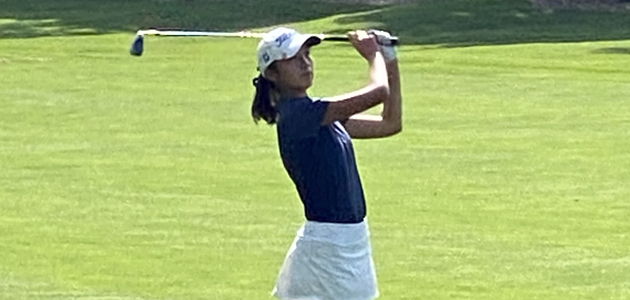 LEBANON, Pa. – Jade Gu is hoping for an early birthday present. The 16-year old from Yardley Country Club fired a 1-over par score of 73 to take the lead after the opening round of the Championship division of the 84th Pennsylvania Women's Amateur Championship at Lebanon Country Club. Gu, who turns 17 next week, used solid all-around play to put herself in position to try to win the championship in her first try.
"My iron play today was key," said Gu, who attends Pennsbury High School. "I made a few good par putts but I also missed two short par putts on the back nine within eight feet. So while I didn't have any three-putts today, I still had some slipups."
The strong round got off to a good start as Gu rolled in a 25-footer for birdie on the 502-yard par 5 second hole.
"I didn't hit my best wedge shot there, but was able to roll the putt right in," Gu stated.
From there, the only blemishes on her card were bogeys on the 6th and 15th holes, but with 15 pars over the rest of her scorecard, she closed at 1-over and in the lead for the championship division's 54-hole event.
Gu holds a one-shot lead over Katie James of Fox Chapel, who fired a 74. Country Club of Harrisburg's Allison Wix is in third place in the Championship division at 75.
In the Mid-Amateur division, 2017 Women's Amateur champ Katie Miller of Green Oaks Country Club shot a 6-over par 78 and is tied for first with Wyoming Valley Country Club's Molly Gorman. Northampton Country Club's Katrin Wolfe is one shot back at 7-over par in that 36-hole competition.
For the Senior division, Beth Ward, a two-time winner of the event (2016 and 2017), shot 76 (+4) to take the lead after round one. Ward, of Royal Manchester Golf Links, carded a pair of birdies on the day to move to the top of the leaderboard. Amy Kennedy of the Country Club of York is just one back at 77, while defending champion Noreen Mohler of Northampton Country Club is three shots back after an opening round 79 in the 36-hole championship.
The Super-Senior division has a familiar name sharing the top spot, with defending champ Liz Haines of Merion Golf Club tied with Huntsville Golf Club's Barbara Pagana. Both players scored a solid 77 (+5). Four-time Super-Senior champ Bonnie George of Philmont Country Club is lurking three shots behind the leaders.
The Pennsylvania Golf Association would like to thank the staff and membership of Lebanon Country Club for the hospitality in hosting the championship this week.