Fieger and Lykens Win Weather-Shortened Senior Amateur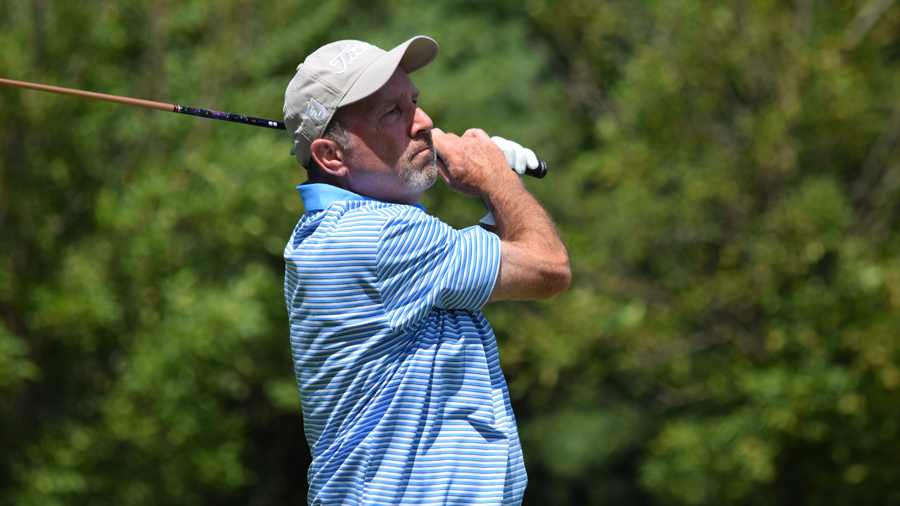 Scorecards
ELVERSON, Pa. – Chris Fieger, Sr. knows that he has an advantage over some of his fellow competitors in the senior realm of the Pennsylvania Golf Association. As one of the longer hitters among his fellow contestants in the 61st Pennsylvania Senior Amateur Championship, he knew that would be a big help after Stonewall's North Course received some rain prior to Monday's opening round. Fieger took full advantage, with good driving and short iron shots leaving him in a good position for most of the day as he fired a 2-under par 68 for the clubhouse lead. That lead eventually became a victory as the championship, which is presented by DICK'S Sporting Goods, was shortened to 18 holes due to inclement weather from Tropical Storm Isaias.
"My ball striking was really good today," said Fieger, of Philadelphia Publinks. "And hitting a wedge or a 9-iron versus someone who isn't as long is a huge advantage here."
The 57-year old from Denver, Pa. got off to a good start with a birdie on the opening hole, a 415-yard par 4. He smacked a good drive that left him with a 54-degree wedge in his hand. The approach was just under 15 feet from the hole and he rolled in the birdie putt to get in red numbers early. He added another red number on the third hole, a 490-yard par 5. Another good drive followed by a 9-iron left him just short of the green and he was able to successfully get up and down from there.
After dropping a shot on the fifth hole, Fieger bounced back to close out the front 9 with a birdie on the par 3 ninth, where he struck an 8-iron from 163 yards to about 8 feet and sank the putt. The back nine was a model of consistency for Fieger, who made pars on the first eight holes of that side before closing out the round with another birdie.
On the par 5 18th, Fieger's drive left him about 210 yards from the pin. He hit a 4-iron greenside and then got up and down to finish at 68 (-2). Not bad for someone who had never seen the North Course prior to a Sunday practice round.
"The greens are tricky here. There are lots of undulations," Fieger said. "I was fortunate to play well today."
By winning the title, Fieger held off two-time defending champion Sean Knapp of Hannastown Golf Club. Knapp, a former United States Senior Amateur champ, shot even par 70 and finished in second place. David Brown of St. Clair Country Club, runner up in the championship in both 2017 and 2019, finished in third place after shooting a 71 (+1) on Monday.
Super-Senior Division
While Fieger was proving his mettle in the Senior division, Indiana Country Club's Lee Lykens was putting his own stamp on the event, as he shot an incredible round of 66 (-4) to lead the Super-Senior division.
At 74 years old, Lykens shot his age or better for the 69th time in his life. But never before had he better his age by an incredible eight strokes.
"I was driving the ball well. I only missed two fairways all day and wasn't in too much trouble," Lykens said. "And anything under ten feet, I made. It was just one of those days."
Lykens started the success on the par 5 third hole. His drive ended up over the hill and he hit a 7-iron from 160 yards to three feet, where he converted the eagle putt. He stuck it close again on the par-3 sixth for a birdie to move to 3-under. And then on the 8th hole, his approach with an 8-iron ended up about 10 feet away, and the putt dropped. After a par on the ninth, Lykens made the turn at 31. Despite a momentary glitch with a bogey on the tenth, he settled down with three consecutive pars before another birdie on the 14th. He then parred out the rest of the way to finish with the sterling 66.
"I was lucky to make so many putts today," Lykens said. "There were very slow greens today and it was hard to tell yourself to hit the ball that hard to the hole."
Even more impressive about the round was the fact that Lykens had never played the golf course.
Don Donatoni, the defending champ and winner of three of the last five Super-Senior Amateurs, was among a group tied for second at 71 (+1), along with Vince Zachetti of Hannastown Golf Club and his clubmate Robert Allshouse.
The Pennsylvania Golf Association would like to thank the staff and membership of Stonewall for the hospitality in hosting the championship.