Katie James Wins Women's Am at Lebanon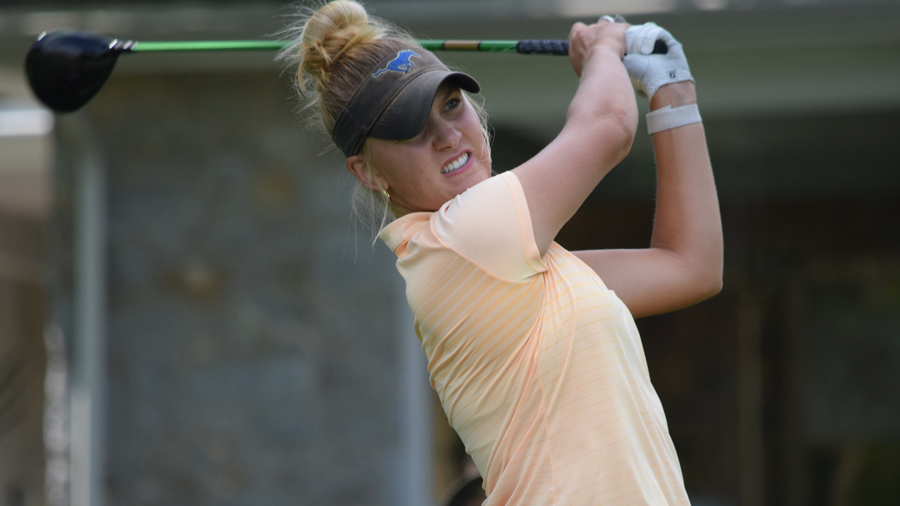 LEBANON, Pa. – The 84th Pennsylvania Women's Amateur Championship had a new wrinkle in 2020 as the event switched from match play to stroke play. For Fox Chapel Golf Club's Katie James, that was a welcome change. James lost in the first round of match play in extra holes in each of the past two years. But this year was different. From the format to the result, everything changed for James, who shot a 36-hole total of 149 (+5) at Lebanon Country Club to capture the championship, which is presented by DICK'S Sporting Goods.
"I knew my game was in a solid place," said the 21-year old James, a rising junior at Southern Methodist University. "I'm just glad I was able to play steady on the back nine and win."
James came to Lebanon on the heels of her second consecutive victory in the Western Pennsylvania Golf Association's Women's Amateur Championship, and she won that event in style as she fired a blistering 6-under par 67 at Green Oaks Country Club on July 30. But in round one at Lebanon, she shot 74 (+2) and trailed leader Jade Gu by a shot. The event, which was originally scheduled for 54 holes, saw the Championship division shortened to 36 holes and the Mid-Amateur, Senior and Super-Senior divisions shortened to 18 holes due to inclement weather from Tropical Storm Isaias. That meant that James had just one round to make her mark and move up the leaderboard.
"I knew that was going to be tough," James said. "There were a lot of people bunched up near the top of the leaderboard and having two rounds instead of three obviously is very different. A lot can happen out there."
James got off to what she described a "little shaky start" as she carded a bogey on the opening hole for the second time in as many rounds. But Yardley Country Club's Gu, her playing partner, bogeyed the first three holes, giving James an opening. She birdied the third hole and added two more birdies, at No. 7 and No. 9, and made the turn at even par for the round.
"I wasn't hitting it all that well today, but I hit a couple of good shots and fortunately made some birdies," James said.
While she knew where she stood against Gu, she wasn't certain where the rest of the field was on the leaderboard until she got to the ninth tee.
"I wasn't sure I wanted to look at the leaderboard today," James said. "But I told my mom, who was on my bag, on the ninth tee, can I see it?"
Once she saw her standing, she knew that she needed to continue to play aggressively. With 178 yards to the flag on the par 3, she debated hitting a safe 5-iron that could just reach the front of the green. But instead, she pulled a hybrid out of the bag and hit a smooth tee shot that settled just a couple of feet from the hole.
In the end, James survived despite a couple of bogeys down the stretch to card a 75 in round two and outlast runner-up Megan McLean of Saucon Valley Country Club. McLean shot the low score of the second round, a 1-over par 73, but ended up a shot back of James overall. Jericho National Golf Club's Megan Meng finished in third place with rounds of 76-75 for a 7-over par 151. First round leader Gu shot 83 in round two to finish tied for eighth.
In the rain-shortened Mid-Amateur division, Green Oaks Country Club's Katie Miller and Wyoming Valley Country Club's Molly Gorman shared the win after each shot a 6-over par score of 78. The Senior division went to Beth Ward of Royal Manchester Golf Links who shot 76 (+4) on Monday. The Super-Senior division had a tie between Merion Golf Club's Liz Haines and Huntsville Golf Club's Barbara Pagana, who each carded a score of 77 (+5) on Monday.
The Pennsylvania Golf Association would like to thank the staff and membership for their hospitality in hosting the championship. Also, special thanks to DICK'S Sporting Goods for sponsorship of the championship.