Oakmont's own Nettles shines in Open Round One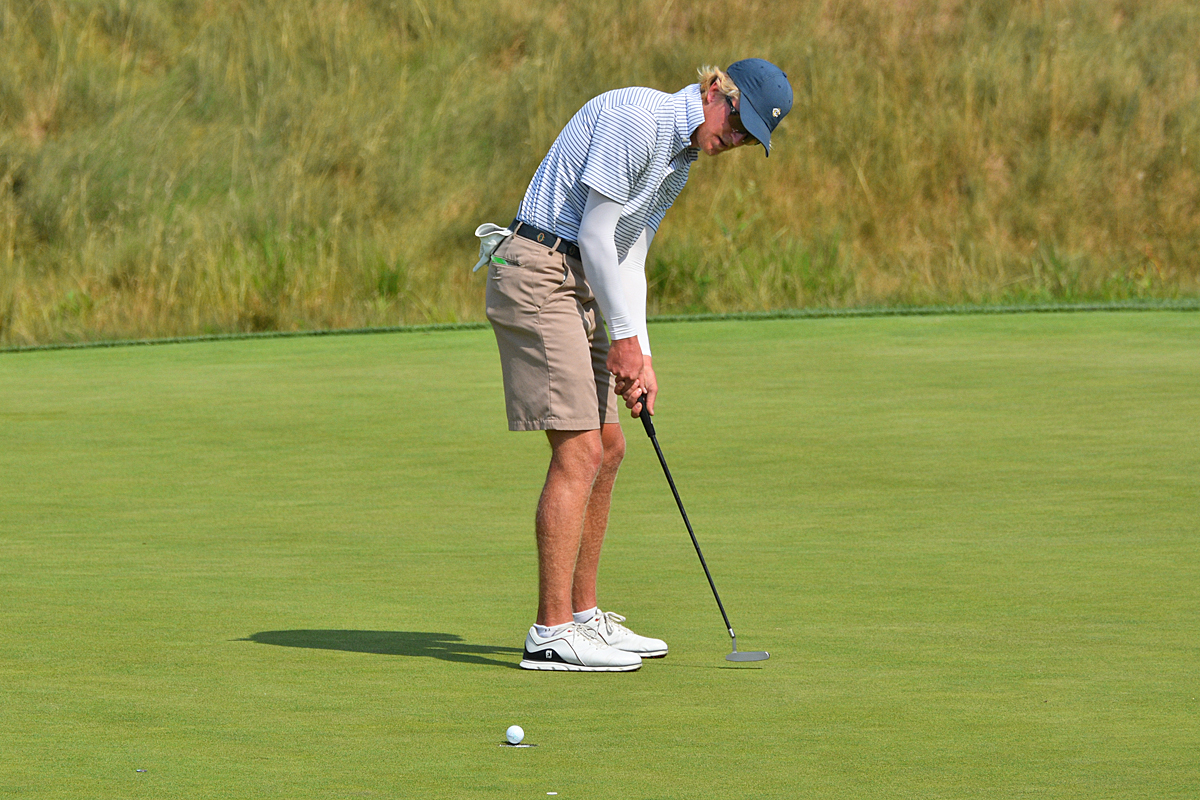 There's no denying Oakmont Country Club's Championship pedigree. This week, the course who has hosted more combined USGA and PGA championships than any other in the country, is playing home to the prestigious 104th Pennsylvania Open Championship presented by DICK'S Sporting Goods.
On Monday, the 120-player field teed off in hopes of positioning themselves at the top after Round One. After 18 holes, only a single player can claim such a feat – Oakmont's own Tom Nettles. Playing in the afternoon wave, Nettles' strong start steadied him over the rest of the talented field thanks to a glistening 4-under 67 at Oakmont (par 71, 6,835 yards).
Nettles, a professional with PGA TOUR LatinoAmerica status, collected five birdies across the lap around his home club, one he's played an estimated 75 times. Starting on the back nine, his first of the day dropped on the par-4, 353-yard 14th. A 4-iron off the tee set up a wedge from 107 yards, leading to a four footer for birdie No. 1. Next up came back-to-back red numbers on Nos. 16 (par 3, 212 yards) and 17 (par 3, 308 yards). On the par-3, a 4-iron was pulled to the left side of the green, but a birdie bomb from 50 feet found nothing but the bottom of the cup. Another 4-iron tee shot on No. 17 left just 89 yards coming in, which Nettles' wedge approach landed to 10 feet. He'd make that for the 3.
"After being 3 under at the turn, I was happy. It's really hard to get going here at Oakmont, so I was happy with that," said Nettles, of McMurray, Pa. "You can't be dissapointed in pars out here. Obviously you'd like to get a few more birdies here and there, but pars are good whenever you come by them."
Only one mistake was made on Nettles' card, a bogey on the par-4, 315-yard 3rd. Five more pars following that, plus a two-putt birdie on No. 9, his final hole of the day, left Nettles at 4 under when all was said and done.
With more local course knowledge than most at Oakmont this week, Nettles knows what it will take in order to hoist the trophy on Wednesday.
"Just keeping the ball in front of you and in good positions, that's the key," said Nettles. "Making sure you do that, you can stay away from going sideways, which is definitely possible. I've been feeling good with my driver, so if I can keep finding fairways, I feel like I'll be in good positions."
Sitting one back of Nettles is Carey Bina of King of Prussia, Pa. Bina, who turned professional before last year's Pennsylvania Open, jarred seven birdies on the day en route to his stellar round.
"I made the six or seven footers today that I needed to, whether it was for birdie or bogey. I was able to grind it out, and that's what you have to do here," said Bina.
Bina knows where his focus needs to be heading into Round Two. He's been in positions like this before.
"In the past, if I've ever tried to replicate or compare to a previous round, you usually end up focusing on something that won't get you the results," said Bina, 24. "I think tomorrow, I want to focus on just being present and enjoying the round. Not looking at things like bogeys as a disappointment, because they're going to happen, and just move on. If I trust that I'll arrive at my desired result, then I can just trust my game, and enjoy how I get there."
Before the afternoon showings, one player separated himself in the Open's morning wave. Matt Holuta fired a 2-under 69 to set the early clubhouse pace. His five birdies on the card helped propel him to the top early on.
Starting on Oakmont's second nine, Holuta got four birdies to fall on his final five holes to fall on that side.
"Absolutely, I was feeling good after finishing that front nine [at 3 under]. I was just trying to keep the ball in play and in good positions," said Holuta, 24, a 2018 graduate of Rutgers University.
His round's lone blemish arrived on No. 3 (par 4, 415 yards) in the form of a tough double bogey resulting from bunker trouble. However, he'd get one back before coming in the house with a birdie on the par-4, 373-yard 5th thanks to an eight-foot make for 3. Four pars rounded out his impressive 2-under round.
"When you're out there playing, you can't really think about any numbers because if you do, you're going to be making bogeys, or even worse," said Holuta."So I mean, I'm just trying to hit the best shot you can each time and try to leave yourself in spots you can make a decent score. I'm obviously happy with how I ended up. There's more golf to be played."
This week's Open joins a long list of historic championships at Oakmont. Nine U.S. Open Championships, five U.S. Amateurs, three PGA Championships, and two U.S. Women's Opens have been conducted on the Henry Fownes design. In terms of Pennsylvania Golf Association Championships, the first-ever #PAOpen was held at Oakmont when Tom Anderson took the 1912 crown. This week marks the 13th time Oakmont has hosted the Pennsylvania Open Championship.
"It honestly blew me away. Yesterday was my first time out here for a practice round. Today was unbelievable, too," said Will Davenport, who finished at 1-under 70. "It's arguably one of the greatest golf courses in the world, and one of the best courses I've ever played. It's relentless, and you don't ever get a breather out there, but it's fair and I'm excited to see how the rest of the week plays out."
The Second Round tees off Tuesday morning at 8 a.m. The field will be cut to the low 40 and ties after Round Two.
Follow along with updates on pagolf.org all week, in addition to Twitter updates at @PA_Golf.
The Pennsylvania Golf Association would like to thank Oakmont's staff and membership for the hospitality shown in hosting the event. Also, thanks to DICK'S Sporting Goods for sponsorship of the championship.