Young takes 27th Middle-Amateur at HVCC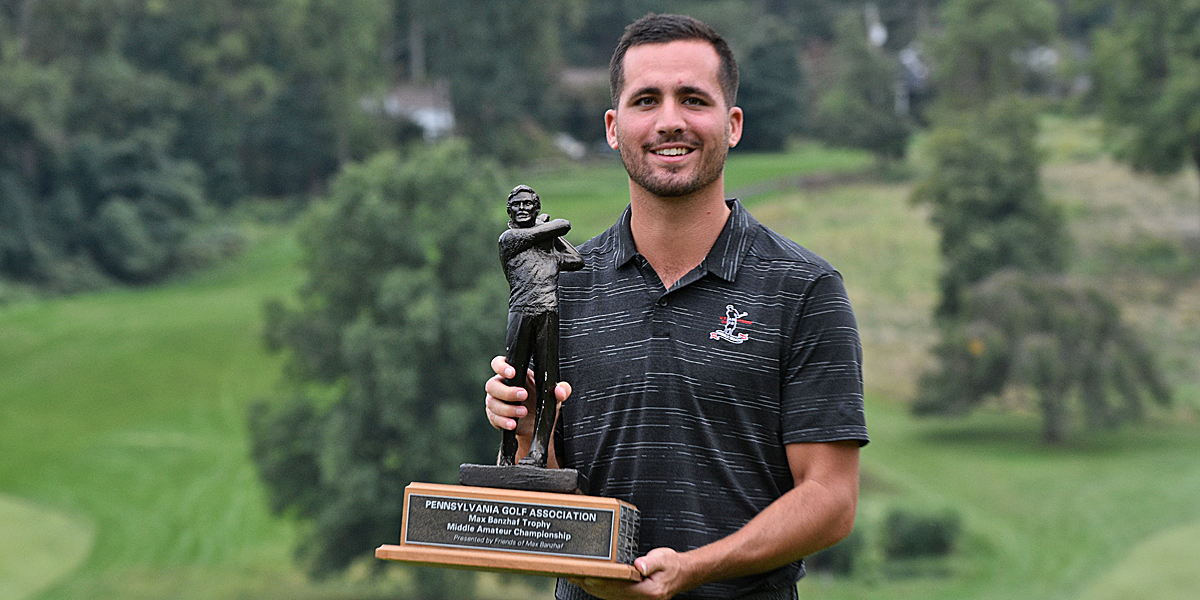 Young takes 27th Middle-Amateur at HVCC
HUNTINGDON VALLEY, Pa. – Brett Young is no longer just a collegiate hockey player. He's also no longer just any Mid-Amatuer golfer.
He's an absolute champion.
Young, who won the West Penn Mid-Am. Championship last week, did it again Thursday at Huntingdon Valley Country Club (par 70, 6,740 yards). Young fired a final-round even-par 70 to add to his first-round 1-under 69, resulting in the 27th Middle-Amateur Championship title presented by DICK'S Sporting Goods.
At the start of the day, Nemacolin Country Club's Young held a share of the lead with Merion Golf Club's Tug Maude. However, with 23 players within four shots of the top, Thursday provided its fair share of challengers from a field of 109. After a withdrawal by Maude's Merion clubmate Cole Wilcox, who was one back after the first round, the leaders teed off in a twosome.
The eventual champion got off to the right start with a birdie on HVCC's par-4 opener. Young blasted driver near the green, and chipped up to four feet for the easy birdie to start. However, that's the only red number he'd get on the front side with two bogeys coming on Nos. 4 and 9. Maude held a three-stroke lead at the turn.
"Tug was playing really well early on. At the turn, I knew I was three down, so I had to make something happen," said Young, 27, of Bethel Park, Pa. "Honestly, I was just trying to hang on at that point."
Par saves on Nos. 10 and 11 were clutch to begin the championship title run. Still, through 13 holes, Young remained three back. That is, until Maude double bogeyed No. 14 (par 4, 455 yards) after pulling his drive left, where he had to take relief from a penalty area.
"That's kind of where things began to happen for me," said Young.
Momentum completely swung in Young's favor after that. Back-to-back birdies arrived next. On No. 15 (par 5, 565 yards), Young's approach shot found a bunker 30 yards short of the green. A blasted wedge found the putting surface, and an eight-foot birdie dropped. Next, on No. 16 (par 4, 395 yards), Young lifted a 56-degree wedge from 115 yards out, leading to an eight-foot make. Maude and Young were now tied up heading to the final two holes.
On the par-3 17th, Maude found the bunker left off the tee while Young found the center of the green. Maude failed to get up and down and got in for bogey. Young two putted for par, taking the lead heading to No. 18 (par 4, 435 yards).
Young wouldn't let drama sink in there. His two-putt par bettered Maude's double bogey to win the title by a shot over runner-ups P.J. Acierno of LuLu Country Club and Matt Mattare of Saucon Valley Country Club, who both fired sizzling 3-under 67s Thursday to make a valiant run at the top spot.
"It was an absolute grind. This place is so challenging," said Young after coming off the golf course. "I've been in the mix a lot this summer, so I've had experience being near the top [of leaderboards], so I think that helped me down the stretch. I'm just honored to have been fortunate enough to get it done today."
After today's win, paired with last week's West Penn Mid-Am trophy at Longue Vue Club, Young is well on his way to an elite amateur summer. The kicker? He's not even a golfer by trade. Instead, he's a former collegiate hockey player turned amateur champion.
"I played golf in high school, but in college, I played hockey at the [California University of Pennsylvania]. Over the summers, I didn't really have much to do, so I started playing competitive golf," said Young, who also took the 2018 Dressler Memorial Championship at Country Club of York. "Now I love it."
It's easy to love it when you're racking up wins left and right. Add appearances in two U.S. Amateur Championships (2017 and 2018) and two of U.S. Mid-Amateurs (2018 and 2019), and you can see why he's all in on the game of golf.
"Especially to win a state event like this, with all these great players in the field. It's amazing," said Young.
The Pennsylvania Golf Association would like to thank Huntingdon Valley's staff and membership for the hospitality shown in hosting the event. Also, thanks to DICK'S Sporting Goods for sponsorship of the championship.